Di Canio knew the problem, but not the solution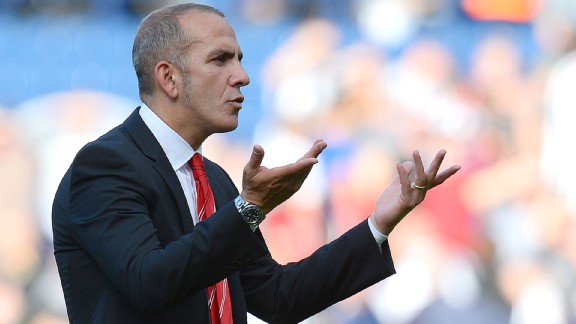 Andrew Yates/Getty ImagesPaolo Di Canio learned some painful lessons during his brief and stormy tenure as Sunderland's manager.
"Me, Myself and I" -- the title of a hip-hop classic, and it was also Paolo Di Canio's three favourite topics of conversation.

A "character" of English football, his 175 days on Wearside were brief but eventful, just like the fireworks with which he was so often compared. Referencing the likes of Sir Alex Ferguson and Jose Mourinho, it left few listening journalists in any doubt as to where the Italian saw himself in the context of management. The truth was somewhat different. Although Di Canio identified the problem at Sunderland --- a lack of discipline -- his approach was too chronic as he sought respect before achievement.

-Ball eyes permanent Sunderland job
-Randall: New Ball game for Black Cats

Perhaps it's the mention of Ferguson that suggests why Di Canio thought the famed 'hairdryer' was the only way to inspire those under his guidance. Had the two ever worked together (as was so nearly the case) then Di Canio would have quickly learned there's a time and a place, with public shaming rarely the best way to operate.

In the lower leagues, respect was instantaneously granted. After all, this was a manager who had played for Milan and Juventus, had worked with Fabio Capello -- famously pushing him over. In a Premier League dressing room, his career is cast in a different light -- a group of middling Premier League clubs, along with a penchant for being disruptive, was what Di Canio was better known for.

It meant a bond had to be forged. According to the Telegraph, one Sunderland player informed Di Canio that he would have ran through a brick wall for his predecessor Martin O'Neill. The Italian seemed to prefer throwing them at it. Yet not everything he proposed during his brief reign was abstract.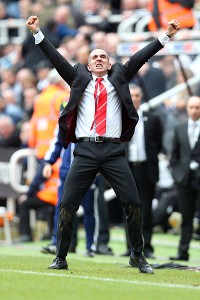 Ian MacNicol/Getty ImagesA 3-0 win over Newcastle was Paolo Di Canio's high point at Sunderland.
Sunderland needed change, and thus far his only public critics have been those who arguably needed ostracizing -- in truth, there were few defending those who publicly criticized him. The final days of O'Neill's tenure featured a downcast group of players who were drifting into the Championship. Di Canio stopped that. Two wins and two draws -- including an impressive 3-0 demolition of Newcastle at St James Park -- gave the club the points required as Wigan inhabited the final relegation spot. His contempt toward Phil Bardsley's late-night Casino antics were also understandable.

The famed twice-a-day training sessions also seem to have yielded solid results. Adam Johnson, while not only looking more svelte, now has the bounce and energy that was lacking last season. And while there was just a chuckle at the banning of condiments and ice with Coke, the laughs promptly died when he publicly slated captain John O'Shea following defeat to Crystal Palace. Respect, as Di Canio seemed at pains to grasp, is a two-way street.

When earned by intimidation, it rarely lasts -- instead, it helps foster grounds for rebellion. And it was that which cost Di Canio his job at Sunderland. Footballers are a delicate breed. At Swindon, he underwent similar moments of division. His unsavoury public fracas with Leon Clarke in the wake of a 3-1 League Cup defeat to Southampton forced the club's owner to make a decision over who would depart the County Ground. That time it was the Italian who emerged victorious as Clarke left. Robins chairman Jeremy Wray always opted for Di Canio, but in the wake of his resignation, ex-Swindon chief executive Nick Watkins deemed it "management by hand grenade".

Yet few can contest the success he brought Swindon. Perhaps it is for that reason that Sunderland fans were so willing to invest in Di Canio's revolution. Besting rivals Newcastle at the first attempt, cast him in Sunderland folklore weeks into the job. He also gave them little reason to show dissent when he spoke of how they deserved more -- which they do.

Forced to face the season with 14 players (none of whom he chose), the summer also saw him lose star goalkeeper Simon Mignolet to Liverpool, left back Danny Rose (following a bright loan spell), and his premier playmaker (Di Canio was adamant he did not want to sell Stephane Sessegnon.) Few talk of how he also desperately wanted Tom Huddlestone, and how he spoke of needing more English players. Di Canio was acutely aware that the majority of his new signings were forming a language barrier that would inhibit his progress.

However, that cannot excuse his displays of tactical naivete. An open 4-4-2 with little protection afforded to an inexperienced back line made Sunderland susceptible to the counterattack and easy to pierce. An unwillingness to try a different formation left fans confused. As did his treatment of certain players, most notably Cabral.

Signed in the summer from Basel, he was far from an enigma. A steady defensive midfielder, he began the season brightly in a 1-0 loss to Fulham. A mediocre performance against Milton Keynes Dons in the Capital One Cup (a night in which few of the home side shone) seemed to spell the end for him in the starting XI. Dropped and publicly placed down the pecking order by Di Canio, ostracizing Cabral to play with the club's development squad, which made little sense.

Given just 13 games, it would be naive to suggest that Di Canio's dismissal was another instance of knee-jerk ownership cutting the strings at the first sign of stress. The widely reported players' meeting represented a crescendo of animosity festering among players.

During what proved to be his final interviews as Sunderland manager, he remarked, "I'm never going to change," and with that utterance, signed his own death warrant. A young coach is supposed to represent a flexibility of approach that his older counterparts lack, yet instead Di Canio brought a rigid, unwavering stance that even the most loyal of charges would struggle to motivate themselves for.

Yet it must be noted the club no longer has Di Canio as its shield from criticism. The Head Coach may have gone but the infrastructure (including Director of Football Roberto De Fanti) remains. After a summer spent bargain-hunting across the continent, there is but a tinge of uncertainty creeping into the minds of patrons at the Stadium of Light.

For all the talk of "Italian internationals" in the squad and "established pedigrees" among the decision-makers, few of the new faces know much about playing in the Premier League.

The period of adaptation is a genuine requirement for new players. Just ask rivals Newcastle, who, despite adding a clutch of French internationals, still skirted the edge of the relegation precipice last season.

In their next appointment, it would seem wise for Sunderland to look toward someone with experience of the league, if not the situation. With former Chelsea manager Roberto Di Matteo a much-mentioned name, he appears to represent the antithesis of the now-former Sunderland head coach.