The reinvention of Wayne Rooney
The ball broke on Newcastle's right. Patrice Evra, a player of receding defensive qualities, was outnumbered and looking panicked. Then, as Hatem Ben Arfa advanced, a familiar player in an unfamiliar position came back and slide-tackled the ball out of play.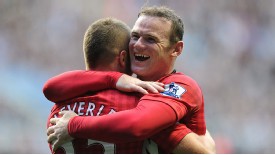 PA PhotosWayne Rooney is happy to see his team-mates claim the glory

In an era where tackling is seen as a dying art, Rooney's excellent technique supplied a moment to reveal a willingness to work for the cause. As against Newcastle in the Capital One Cup, a midfield role was suiting him. A player whose very future was being questioned six weeks ago looks to have found a place in the Manchester United line-up, and allowed his team-mates to flourish too.

"Really enjoying my new midfield role. Always involved in the game," tweeted the player who may just have solved his club's long-running midfield problems.

Chatting with Danny Welbeck and Tom Cleverley as the second half began on Sunday, Rooney cast a contented figure, a senior player offering advice and encouragement. Sir Alex Ferguson, after some mixed messages, has a need for Rooney when many predicted that the end of an uneasy alliance was nigh. Ferguson's post-match comments saw him single out Rooney for praise where previously he had often been terse and impatient to move the subject on when asked about his one-time leading man.

Rooney and Ferguson are said to have never fully patched up their relationship after the bust-up of the autumn of 2010 that eventually ended with Rooney signing a new deal when all signs pointed to his exit. The picture of the pair together that October day was telling. Ferguson's smile was as broad as ever, though tinged with relief. Rooney's smile meanwhile, exhibited strain and embarrassment, as many thought he should be after dragging his manager and club's fans through the mire. Despite Rooney walking away with a contract that those at Manchester City would have you believe makes him the best-paid player in the Premier League, it was Ferguson who retained the whip hand.

Two years on, and Rooney is no longer as dispensable as he once was. United's attacking options have seen to that. Welbeck is maturing into a decent line leader. Robin Van Persie is the finished article as a striker while Chicharito Hernandez, the runaway success of 2010-11, finds getting into the team highly difficult. The midfield, meanwhile, has long needed strengthening. It is now seen as Ferguson's blind spot as year on year, transfer window after transfer window, he has neglected to buy a central midfielder. The last of his purchases there came in 2007, and while Anderson may remain, few could view him as a trustworthy option. Shinji Kagawa is a forward player, while Nick Powell played much of his football at Crewe Alexandra as a striker. Neither is there the box-to-box player that United have lacked since Roy Keane took an angry leave of Old Trafford. Owen Hargreaves' knees gave way before he could ever establish himself.

Yet on Sunday, Yohan Cabaye and Cheick Tiote, two players coveted by Manchester United fans, were bested by a three-man central midfield that contained Rooney.
His energy is welcome there. A geriatric Paul Scholes remains the best passer of the ball in the English game, but he needs someone to do his running for him. Michael Carrick is at his best when given time to play his patient passing game. Tom Cleverley is improving, with two goals against Newcastle of late adding end-product to his promise, yet his presence in the team has often meant a high concession of chances. Oddly, at Newcastle, Manchester United looked more defensively sound when Rooney, a striker by vocation, was in their midfield.

When Rooney was the bright young thing of football a decade ago, it was said in the Everton ranks that he was capable of playing any position from left-back to goalkeeper. Yet, striker remains the toughest position to play in for a footballer, such is the psychological difficulty in convincing yourself that you can and will score goals. The best young players are often placed there because of that self-belief, yet Rooney is not a man blessed with the braggadocio of old friend Cristiano Ronaldo. Rooney is said to be shy and sometimes lacking in self-assurance. Evidence of this is that his problems often surface when he goes into withdrawal mode, when away from his home comforts.

His worst England performances have come at tournaments, where isolation is often unavoidable. The lockdown of Fabio Capello's Spartan regime in South Africa and the exile of being banned for the opening two games at Euro 2012 led to Rooney turning in performances that smacked of a distinct lack of confidence. Top players buy themselves time with the first touch being in their head before the ball is even received, but in Ukraine, Rooney's touch was awry. When his head is not right, that touch is often the first thing to go. That can make him look an average player at best.

In both outings against Newcastle, and in Cluj last week, Rooney's technique had recovered from the nadir suffered at Everton in United's first match of the season, where his physique suggested a summer of questionable refuelling. He has played midfield before, last doing so in the weeks before Scholes came out of retirement at the turn of 2011 into 2012, but then he looked over-eager, and too given to the 'Hollywood' ball.

The new Wayne Rooney is lean, working hard, and the key word for the man himself, involved. A fresh lease of life has arisen from his ability to adapt and self-sacrifice. Rooney once played second fiddle to Ronaldo, and looks happy to do so for Van Persie, who has taken on the burden of scoring the goals.

The hideous gash that Rooney suffered against Fulham may have been a blessing in disguise. It has allowed him to recover his fitness, refocus and perhaps become the player his club and manager have needed all along.