Fans are the biggest enablers of Suarez, Rooney, Cabaye
Luis Suarez knows it will happen.

To some extent, he is counting on it.

It does not matter whether the Uruguayan -- free from the 10-game ban he was handed for inexplicably biting Branislav Ivanovic -- returns to the Liverpool side at Old Trafford tonight or at Sunderland on Sunday. It does not matter whether he starts or appears as a substitute. He knows.

The reality will become evident as soon as Suarez's name is read out, or his number flashed up, it will be greeted by anger and poison and vitriol. Enmity will wash down upon him from the stands. He will not care about that. Most players learn to block out the opprobrium, to some extent, when it comes from rival fans.

No, what Suarez will be listening intently for is the note of defiant loyalty among the hate.

The Reds star will be listening for the cheers, for the first few bars of "Just Can't Get Enough," emanating from the section of the ground which houses Liverpool's fans. Suarez will be listening to know his public is on his side.

Whether he cares is another matter, of course. Whether he will be touched by their show of fealty, as no doubt they hope he will, only he will know. He is not speaking to the media at the moment, turning down invitations from his sponsors to fulfil his commercial commitments. When he does, though, he will doubtless say how much the Liverpool fans have moved him, how much they mean to him. Whether that will be truth or platitude, again, is for him to know and the rest of us to wonder.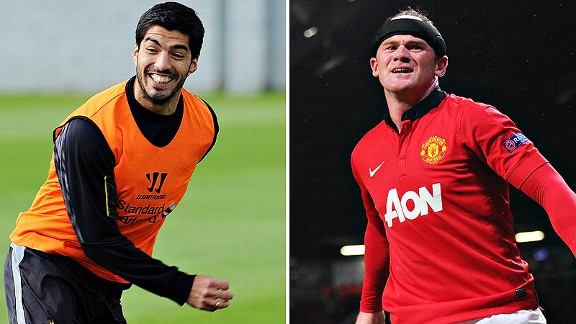 Getty ImagesSuarez is all smiles as he can look to fellow star Rooney as an example.

All we can be certain of is that, if Suarez had been able to leave, he would have done so. In his ideal world, he would not be at Anfield. He made that abundantly clear over the course of the summer, first outlining his desire to go to Sport890 in his homeland, and then, when that didn't work, to two national newspapers in England.

The former Ajax star contemplated legal action when he believed Liverpool had reneged on a clause in his contract; there was a brief period when he was relegated to training by himself, as punishment not just for his disloyalty but for his lack of respect. Still, when Suarez appears at Old Trafford or the Stadium of Light or back at Anfield, he will be applauded, he will be worshipped and he will be forgiven.

Suarez is an extreme case, but Liverpool are not alone in welcoming a prodigal son back into the fold. At Villa Park 10 days ago, Yohan Cabaye was awarded a rousing reception by Newcastle's supporters when he was substituted late on. That came less than two weeks after the Frenchman had tried to engineer a move away from St James' Park, even going so far as refusing to play for the club.

Wayne Rooney, too, has been left in no doubt as to the affection Manchester United's supporters hold for him. That's twice he's tried to leave the club now, first questioning their ambition in the autumn of 2010, and then complaining that he wasn't a first choice after they had gone and signed the calibre of player he had supposedly longed for.

Remember how dazed and confused he was when David Moyes kind of did but basically didn't suggest he would only play as a striker if Robin van Persie was injured? Remember wondering quite what needed to happen for Rooney to be happy? Remember the bit where it emerged he had fallen out with Sir Alex Ferguson and felt he couldn't play for the club again as long as the greatest manager in their history -- with all due respect to Sir Matt Busby -- was still at Old Trafford in some guise? Remember how absurd and arrogant all that seemed?

Because, like Liverpool's supporters, Manchester United's fans seemed to forget pretty quickly. Rooney seems to be more adored at Old Trafford now than he has ever been. Just like Chelsea's did when John Terry tried to leave for Manchester City, or Arsenal when Cesc Fabregas and Patrick Vieira and all the others wanted to go but were not allowed to do so, they have welcomed him back, his slate wiped clean.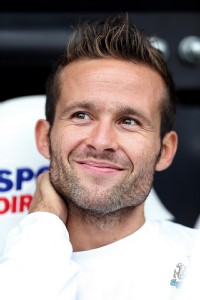 Ian MacNicol/AFP/Getty ImagesYohan Cabaye was unsuccessful in trying to force his way to Arsenal via Newcastle.

This is not a polemic detailing the stupidity, the illogic, of football fans. All supporters want the best players at their clubs; all supporters want to believe that the stars on the pitch value the shirt and the badge as highly as they would, if only they were blessed with the same talent; all supporters -- all people, probably -- want to believe in heroes. It is natural to forgive them their trespasses, believing what you want to believe, whether that is their desire to leave your club or their decision to bite a Serb.

But it is also enabling their behaviour. It is a cornerstone of contemporary discussion around football that the money that has washed into the game in recent decades has turned players into mercenaries.

Whether that actually is a modern trend, or simply a part of football's eternal fabric, warrants further examination -- certainly, there are enough examples across football's 125-year history to suggest players have always moved for money, what with them being normal human beings and that -- but what we can be certain of is that there is no deterrent in place to stop players following the dollar (nor, arguably, should there be).

Clubs will reward players who have tried to leave with new contracts, so as to retain their value when their feet grow itchy a year or so later. Managers will continue to play them, because results must always come first. Rival sides will try to sign them, despite their record -- if Cabaye is prepared to go on strike at Newcastle, why wouldn't he do the same to Arsenal? Suarez has created chaos at three clubs now; only a fool would expect him to enjoy a long and happy association with a fourth. Rooney seems to be permanently unhappy with something, and so on and so forth.

And then there are the fans. It is the fans who complain about how greedy players are, how disloyal they can be, how little they value the shirt and the history and the feelings of the supporters. Yet it is the fans who applaud those very same players, a reward for the fact that the move away they wanted did not come through.

What message does that send? It is not mere acquiescence, but active encouragement. Do all you can to try to get a move, and if it does not come off, we'll love you all the more.

What would that do if it was applied in your personal life? "Darling, I'm leaving you for someone else, someone with a bigger house and a better job, and the prospect of regular trips to a number of European cities." "OK, well, he'll have to pay for the divorce proceedings." "He won't." "Well, you'll have to stay with me, then." "I don't want to. I'm refusing to go on a date with you." "Tough." "OK, I'll stay. But I don't want to, and I wish I was with him." "I love you so much."

You cannot have it both ways. You cannot bemoan the mercenary streak that scars the sport and then do nothing to combat it. Suarez will be applauded tonight, or on Sunday, and so will Rooney, and so will Cabaye and all the others. And their team-mates will look at them and think maybe they could do it, too.