The steady decline of Federico Macheda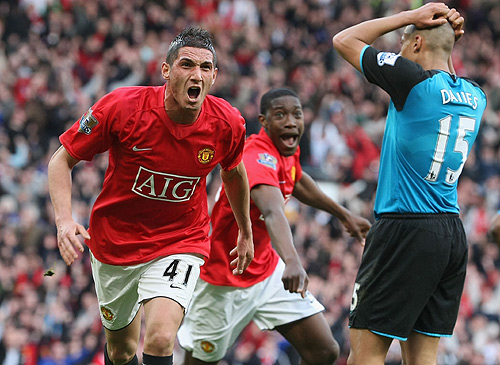 GettyImagesMacheda made a spectacular entrance into the Premier League with a debut goal against Aston Villa
A sharp turn, an instinctive shot, that was all it took for Federico Macheda to burst onto the Premier League scene. His match-winning goal against Aston Villa helped salvage Manchester United's title bid, while also carving his own name into folklore. A week later and the magician had repeated his trick up north at Sunderland.

"I am still happy about scoring those goals," he told the Daily Mail earlier this year. "I played for Manchester United. My dream came true."

It capped what had been an amazing month for the player. Just days before making the bench at Old Trafford he had dismantled Newcastle's reserves with an impressive hat-trick. I remember watching the game thanks to a free trial of MUTV, and I remember just how impressive he was. A touch like silk, his movement intelligent, it all came amid the caveat that this was reserve team football.

Yet there, just days later, was "Kiko" Macheda deciding a Premier League fixture all on his own. Still just a teenager, his rise to prominence had come after an awkward period of transition. "Manchester's a lot different from Rome and you hardly ever see the sun," he told Corriere dello sport. His first night in the north west was doused in his own tears, he hated his new surroundings.

His opinion quickly changed, however: "The next day I went and trained at Carrington and after had lunch next to Giggs and Ronaldo," he explained, before adding: "In five seasons at Lazio I never once met a member of the first team or the manager."

Chosen by some as Manchester United's next great star, that's also where the problems began. Accused of arrogance, pictures surfaced of the striker surrounded by a clutch of women in a city centre night spot. If the Italian had fallen into the well laid trap of arrogance he certainly was not showing it in interviews: "Here people think I'm a hero but at the end of the day I just scored two goals." (Corriere dello sport)

Sir Alex Ferguson promptly banned him from interviews. Retrospectively, Macheda refutes the claims of arrogance: "I just had confidence in myself," he told the Daily Mail. "For a player that's important, especially a striker. If you are not confident in front of goal then you will just never score. The people who know me and love me will tell you I am not arrogant. When it all happened at United everything did change from one day to another. But I tried not to change as a person and Ferguson always stuck very close to me."

In need of further match time to develop his potential, it didn't arrive. Instead just more than 12 appearances in 18 months would see a return of two goals before Sampdoria allowed him a temporary exit route. Seen as a replacement for the Milan-bound Antonio Cassano, a solitary goal in the cup would do little for his confidence as he was placed into the depths of a relegation battle.

Back at Manchester United that summer, he netted twice on the preseason tour of America. Unfortunately it would not prove the precursor to regular minutes for the Italian. Almost a year to the day from his last loan move and another place to temporarily call home -- Queens Park Rangers.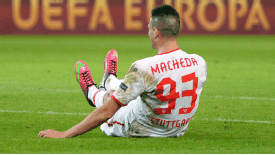 APFederico Macheda has had little success during his loan spells away from Manchester United.
Once again embroiled in a battle for survival, it wasn't quite the sturdy platform with which to perform and truly cultivate his talents. A handful of games saw little to suggest any kind of development since his first forays into the league before an ankle injury ended his campaign.

By now a pattern was beginning to emerge for the youngster. Steady preseason showings were meaningless given the wealth of more established options ahead of him. Unable to strike in the brief opportunities he was granted, it became a case of waiting for the January transfer window. Sure enough at the start of this year, he added the Bundesliga to his resume, with Stuttgart another unhappy hunting ground.

With the German side unwilling to take up a permanent option on Macheda, he returned to Manchester, the now annual routine of a foreign preseason tour commencing. Gifted a month's loan spell at Doncaster Rovers, his beginnings, much like at United have been bright.

A brace against Nottingham Forest on Saturday earned Donny a draw and just brief suggestions that the talent is still there. A recent interview to Calciomercato saw the former Under-21 international declare his intention to return home, in amongst a thinly veiled dig at Sir Alex Ferguson's replacement. "Disappointed about the choices of Manchester? No, I'm not because I already knew how things would turn out," he said. "In spite of the new coach, things have not changed. Moyes has decided to focus on more established players giving less space for youngsters.

"Now I only think about me, to continue to better my career, to grow and improve. I'd love to go back to Italy, of course, would be the most appreciated. What is certain is that I will not stay at United and until January I'm going to play on loan elsewhere. At the reopening of the market then we will see what opportunities there will be."

While it would be easy for Macheda to wallow and even regret his decision to depart for England, his focus remains more on the career ahead of him: "I need to get my career back on track," he told BBC Sport after joining Doncaster. "I've had some bad experience with loans recently, twice I've gone to a club and they've sacked the manager and brought in new players, so I see this as a great opportunity."

Now 22, the once bright-eyed teenager is beginning a different and all together more painful transition -- that of "former Manchester United striker." Although some may critique his decision to join the club, it seems harsh to knock a player for wanting to join one of Europe's elite. And knowing his future does not lie at the "Theatre of Dreams," Macheda must begin his search for a new stage to perform on.