Cesar or Lazarus? Tales of the Selecao goalkeeper
A witness as credible as team captain Thiago Silva said it was a master class in motivational speaking. With tears rolling from his eyes minutes before the Selecao stepped onto the Marcana pitch to face mighty Spain in the Confederations Cup final, Julio Cesar delivered a speech whose theme centered on second chances.

"Julio had us all fired up. He told us how he had to deal with failure at the Selecao and how he had to leave Inter Milan and go to England to play for a smaller club (Queens Park Rangers) and what being back to the national team meant for him. We were all thinking that we needed to run even more to make that guy happy," the Paris Saint-Germain defender said.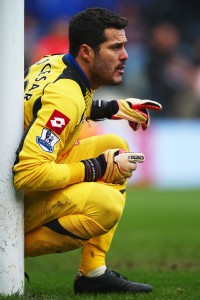 Clive Rose/Getty ImagesJulio Cesar brings much needed experience to Brazil's net, but he needs to regain fitness and get first-team minutes with Queens Park Rangers.
They did and Cesar, whose penalty save against Uruguay in the semifinals was crucial in Brazil's title run, seemed to have come full circle. Even the fact that QPR had been relegated to the English second division did not seem a massive problem at the time. Almost three months later, however, the situation couldn't be more different. After failing to secure a move away from Loftus Road even though he had been linked to Arsenal and Benfica, Cesar ate humble pie in an attempt to rebuild bridges with manager Harry Redknapp. Even that has now been derailed; a broken finger will keep the QPR goalie away from training for at least a month.

But didn't manager Luiz Felipe Scolari announce earlier this month that Cesar is guaranteed a place in the 2014 World Cup squad, apparently immune from the general rule that a lack of first-team appearances will close doors at the Selecao? Yes, but one needs to wonder which Cesar Big Phil was referring too: the goalkeeper or the motivational speaker. Much as the coach is a fan of the treble winner with Inter in 2010, a sidelined Cesar will be much more useful for him on the experience front than anything else.

Scolari, who has increased the average age of the Brazil squad since taking over from Mano Menezes last November, still possesses a group of players lacking international football mileage. If under normal conditions a World Cup campaign would bring butterflies to their stomachs, the insect population could proliferate in a home tournament where the Selecao not only face ghosts of losses past but also will come in having played only friendlies as preparation, Confederations Cup notwithstanding.

Worse, when Scolari considers candidates for the No. 1 spot, the list isn't huge. Cesar's downgrade from Inter, as a matter of fact, symbolized a decline in the prestige of Brazilian goalies in Europe. After a boon in the last two decades they are now a rare occurrence, even when we all know Brazilian outfield players have always been more in demand. The reason of the decrease could be bad publicity such as Heurelho Gomes' troubles at Tottenham or even Cesar's much documented fumble at the 2010 World Cup that many in Brazil still point out as determinant for their exit at the hands of Holland. But better wages in the Brazilian league are also to blame.

"Brazilian goalies are great professionals and a lot of them can push for places at the Selecao. But these days the league in Brazil is much stronger so maybe they don't feel tempted to go abroad. For me it was always a dream to test myself against the best players in the world," Cesar said.

The problem is that not many others have experienced that stage -- Champions League football and all that jazz. There are a few exceptions such as Valencia's Diego Alves, who actually held the No. 1 jersey under Menezes. But not before Scolari's predecessor tried to resuscitate Cesar's Selecao career, although the experiment was abandoned after the keeper conceded a soft goal in a friendly against Bosnia of February 2012. While Jefferson has undoubtedly been one of the best goalies in the Brazilian league in the last few seasons, one could see how nervous he was when given a starting place by Scolari against Switzerland.

No surprise then that Cesar was back under the crossbar for the Selecao friendlies against Australia and Portugal earlier this month despite having not played a match since the emotional Spain game. The task ahead of him is big: regaining fitness and convincing Redknapp to give him a game is fundamental, even if just to rekindle the interest of possible clubs for a January transfer. Also, it could determine his role next year. It would be strange if Cesar felt happy just to give pep talks to the Selecao. "Whenever I run into an obstacle, my motivation increases. It has always been an honor for me to represent my country and I have unsolved business after what happened in 2010. I work twice as hard as doctors and trainers tell me too," the keeper said.

If he pulls it off, Cesar could as well change his name to Lazarus.