The Mourinho of Elche makes Bernabeu's beloved team proud
When Iker Casillas takes his place among the Real Madrid substitutes on Wednesday evening at Elche, he might be in for a minor shock. If he looks at the opponents' bench, a very familiar face will be there. Iker knows that Jose Mourinho is 800 miles away now -- busy nurturing Juan Mata's talents at Stamford Bridge -- so what on Earth is he doing in Spain? It will take a couple of seconds to remember that the lookalike is actually Fran Escriba, the coach responsible for Elche's historic promotion.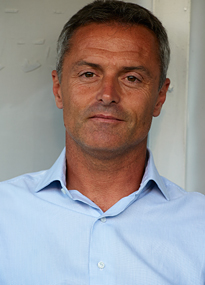 GettyImagesFran Escriba: 'Mourinho from Elche'
And while Escriba and Mourinho are not really related, Elche's historic ties with Real are very deep. Santiago Bernabeu Yeste, the most important figure in Los Blancos' history as a player, coach and president for three and a half decades, was in fact a very fervent Elche fan. He was born in Almansa, near the province of Alicante, and after his retirement moved from the Spanish capital to live in Santa Pola, a fishing village that is situated just 15 kilometres from the town of Elche. If you visit this picturesque tourist location, you will find that its most important street is Avenida Santiago Bernabeu, and there is also a beach of the same name.

That is the reason why Elche's home ground, Estadio Manuel Martinez Valero, is a miniature copy of Estadio Santiago Bernabeu in Madrid. It was built in 1976 on the same guidelines, and was thought to be one of the most modern stadiums in the country at the time, chosen to host three games during the 1982 World Cup and witnessing the biggest win in the tournament's history -- the 10-1 annihilation of El Salvador by Hungary.

That is also the reason why legendary Real Madrid forward Alfredo Di Stefano chose Elche as the first club of his coaching career after hanging his boots in 1967. Bernabeu convinced him to try his luck in the south, and while the experience didn't really work out, the fans were ecstatic to see an icon of the game coming to their town.

Elche were a respected Primera Division team in those days. They managed to finish fifth in 1964 and reached the Copa del Generalissimo final in 1969, eventually losing to Athletic Bilbao at the Santiago Bernabeu.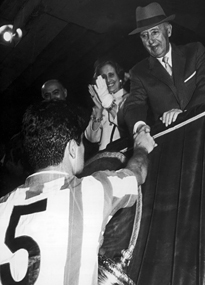 GettyImagesElche miss out on the Copa del Generalissimo to Atheltic Bilbao at the Bernabeu Stadium in 1969.
Quite interestingly, though, the man responsible for their first-ever appearance in the top flight is not a Madridista at all, but rather a Barcelona hero. Cesar Rodriguez, Barca's all-time top scorer before Leo Messi came along, finished his playing career at Elche, eventually becoming the team's player-manager and guiding them to two successive promotions; from the Tercera Division in 1958 and the Segunda Division in 1959.

The route started with one Barcelona great and ended with another, as Ladislao Kubala was Elche's coach in 1988-89, their last season in the Primera Division -- until now. Last season, Escriba guided them back to the stage on which all Elche fans believe the club belongs. They were desperately close to promotion in 2011 under Jose Bordalas, when some disputed refereeing decisions in the playoffs against Granada denied them. Bordalas left after an ugly dispute with the management a few months later, leading to a complete collapse, but in Escriba's debut season Elche were suddenly enjoying their best campaign for more than 25 years.

They call him "Mourinho from Elche," or more comically "The Special Two." Escriba never succeeded in his playing career -- he never made it into Valencia's first team and could have actually been better at judo. But his dedication as a part-time coach at Valencia's youth teams was noticed by Quique Sanchez Flores, and the charismatic former Los Che and Real right-back took him under his wing. Even though the pair are of the same age, Sanchez Flores was to Escriba what Mourinho was to Andre Villas Boas. The duo worked together at Getafe, Valencia, Benfica and Atletico Madrid, before finally separating.

Escriba wasn't the first choice for Elche when they appointed him as coach in the summer of 2012, but as it transpired they couldn't have found a better man for the job. With his fantastic interpersonal skills, the new boss created a perfect atmosphere in the dressing room, and his style of football is actually somewhat similar to that of Mourinho. Elche were not obsessed with ball possession last season, but cherished defensive organisation, liked pressing high up the pitch and were very effective on quick counterattacks. Their numbers speak for themselves: 54 goals scored in 42 games look like a poor piece of statistics for champions, but 27 goals conceded provided the best defensive record in Segunda Division since 2003.

The fans were exuberant. In 2011, they applauded the players with tears in their eyes after the Granada drama -- when the club missed out on promotion via the playoffs on away goals. Last season they sensed history pretty early. Elche led the table from the very first day, and when promotion was virtually assured with a fantastic 3-2 win at Villarreal at the beginning of May, no less than 5,000 fans took to the streets in order to greet the players' bus returning to the town. Now they are in the big league for the first time in 24 years.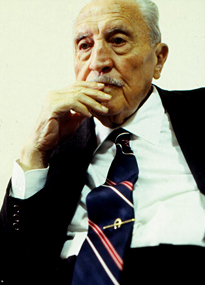 GettyImagesFormer Real Madrid president and Elche fan Santiago Bernabeu.
Escriba, courted by numerous clubs during the summer, had his contract extended and stayed. The fans, though, are far from happy with the club's hierarchy, who invested heavily in enhancing VIP rooms at the stadium but failed to make significant reinforcements to the squad. Ahead of the team's biggest home fixture for a quarter of a century, against Real Madrid on Wednesday, the club actively tried to persuade season-ticket holders to give up their seats, so that they could be sold to Los Blancos fans from the area at a hefty profit.

That is not the attitude the Elche faithful expected from the club, and so far the team is still looking for the first win of the season, after five weeks of play. Their form was arguably quite decent, with draws achieved against Real Sociedad, Almeria and Valladolid, but that is hardly a record that would scare the likes of Cristiano Ronaldo and Isco.

The atmosphere at Manuel Martinez Valero should be electric Wednesday night. Elche will give their utmost to cause a huge upset, but at the very least would like to avoid a heavy thrashing. After all, Real's biggest league win was achieved against Elche in February 1960, when Pepillo scored five goals and Ferenc Puskas added four, leading to a remarkable 11-2 scoreline.

Nobody knows what Santiago Bernabeu felt on that day when the great team he assembled thrashed the small outfit he dearly loved. He did his best to help Elche later on, and it is symbolic that the club's fortunes went downhill after his death in 1978. They are back now, and when the two teams take the field, Bernabeu's spirit will hover over the stadium. Iker could stare into the sky to try to find it, rather than looking at the man who reminds him of the one he is trying to forget.