FIFA 14's attention to detail makes for a superb game
If you are even vaguely aware of the beautiful game, you're aware of the FIFA video game franchise. It is a driver of commerce and a cultural cornerstone. It possesses addictive multitudes in its unassuming box with Lionel Messi on the cover. It's also the guilty party in what feels like my lost weekend.

Since I received my copy last week, it was too easy to jettison regular responsibilities (it is at this point that I'd like to apologize to my ESPN colleagues), snub the outside world and get lost in the game. It was too easy to fire up the Xbox, dive headlong into a random season, career mode, one-off game or FIFA "ultimate team" session and catch myself days later, fingers unable to release the controller.

As I look back on the experience so far -- and I can't wait to play online with you all starting right now -- I can say that no one will be disappointed. FIFA 14 is a great time. It's got more than enough quality to keep you playing right up to the release of FIFA 15, 16 or 2029.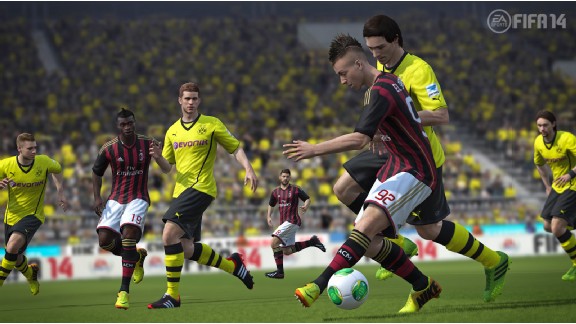 GettyImagesThe renowned FIFA franchise is back with more detail than ever.

What makes it different from FIFA 13? What makes it better? In what ways is it new or improved? Beyond the crib sheet of defined upgrades -- and there are a lot, ranging from an easier way to perform skill moves to the "pull and hold" (or rather, the Tony Pulis) mode of improved defending -- there's a lot to take in.

The new features are profound in some ways and in others, barely perceptible.

On a major scale, the addition of a "global transfer network" makes the process of buying, loaning and selling players more true to life. While you can still go buck wild like Dimitry Rybolovlev in a Mediterranean tax haven on quickly constructing an unbeatable franchise, game players more willing to start small are no longer buying blind. With scouts attuned to specific skills, age ranges and qualities you're after, your money is less likely to be Andy Carroll'd. (Though there's also nothing beyond a stern warning from your advisers that you don't have enough data on a particular player to stop you from breaking the bank.)

No more is the glut of emails -- oh, emails! -- something that necessitates halting the passing days of your career mode. Much like in your everyday life, you can simply watch them pile up, unanswered, so you can get on with the real business of bidding recklessly, loaning in anyone with a pulse and slide tackling teams into oblivion. It's perhaps this tweak for which I'm most grateful.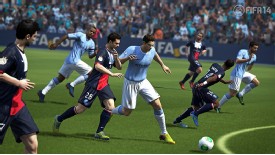 GettyImagesFancy taking control of one of the world's wealthiest teams?
Then there is the unmistakable authenticity of the licensing, a hallmark of the FIFA series. Hardcore fans will be pleased to see all squads looking fresh and accurate after this past summer's spending. (It still looks odd to see Gareth Bale in Bernabeu whites.) Kits are in superlative detail. Formations are as accurate as if lifted straight from Brendan Rodgers' chalkboards. The addition of rising teams -- finally, I can control Shakhtar Donetsk! -- and leagues (hello, Colombian Liga Postobon and Argentina's Primera Division) creates a more well-rounded gaming universe that enriches the experience.

Though it's been impossible to test in the past week, given that I was one of the few with a copy, the extra care and detail leveled at online game play -- co-op seasons so you can run and control a team with friends, challenge other teams in your virtual league -- really strike at the core of what makes video games so much fun: humiliating a complete stranger or your best friend over an Internet connection.

Yet the game's largest innovations over prior releases are the ones you'll perhaps notice the least while you play. FIFA 14's game mechanics have been put through another layer of motion-cap and real-world physics testing to provide a more realistic experience. The days of sprinting 60 yards from leftback, barging past several opponents and effortlessly banging the ball into the top corner from long range are over. (Unless you're Marcelo or Leighton Baines, perhaps.)

Ultimately, it is these design changes that mean far more than the glossier interface, slicker menu navigation (though it's not always easier) and up-to-date team information. Soccer, after all, is not a simple game to play, even when parked on the couch. It can be intricate and chaotic. It's aggressive and tiring. In many respects, FIFA 14 mirrors this madness. Ball control is more finicky and presumably more accurate, as not every player is blessed with pillows for insteps. Every little angle change or joystick nudge is processed by your on-screen avatar, and not always to great effect. For every Lionel Messi, there is a Jay Spearing, and so on. It's a sliding and unforgiving scale, one that the game franchise seems to understand more than it did last year. Losing possession is frighteningly easy; shooting wildly into the crowd even simpler still.

Speaking of shooting: each player's balance and strong vs. weak foot preferences have much more impact than they did -- or at least, they felt like they did -- in previous iterations. Yet the addition of a "protect the ball" function enables those lesser players to fend off aggressive opponents and dictate the pace of the game. Though it's still possible to hang six or seven goals on an opponent, you'll have to work much harder, as artificial intelligence is vastly improved on both sides of the ball. Teammates make smarter moves when not in possession so as to give you more passing options. (Not that you'll always be able to complete the passes, given subtle tweaks to power, accuracy and opposing defenders' movements.) Yet, as it took me 10 minutes of playing with PSG to find out, you won't find your cohorts being clever enough to avoid their fondness of straying into offside positions. Reality comes home to roost.

(One odd thing that bothered me, weirdly, was the new navigation system. The menus are chopped in a way that it took me 30 minutes just to rearrange team tactics. Making a player search endlessly for things it found so easily in FIFA 13's career mode are a necessary price of evolution.)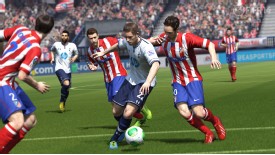 GettyImagesThe nuance of the sport shines through in FIFA 14's enhanced game play.
Overall, it's hard for me to say how much has really gone into enhancing and refining all of the above. I've played steadily for close to a week and find the game dizzying. It's sometimes too much to handle. The perception of game play as a smoother, more elegant machine is legit. It plays better. It handles better. It hits that mark in the brain that finds you convincing yourself to play just one more Capital One Cup game before paying attention to your family members.

If you've had the pleasure of following the FIFA franchise from its giddy Joey Della'Savia days or if you've been introduced to the game -- and the sport -- in its glitzy modern era, you won't be disappointed. Everything you loved before is augmented with enough bells, whistles and under-the-hood engineering to make for a better game.

Sure, the frustration of painful defeats (my worst yet: Atletico Madrid 0, Everton 2) resonates, but those losses keep you playing in a bid to get revenge or go out on a high note. What could be more realistic and true-to-life than that?