Park Chu-Young - Forgotten but not gone at Arsenal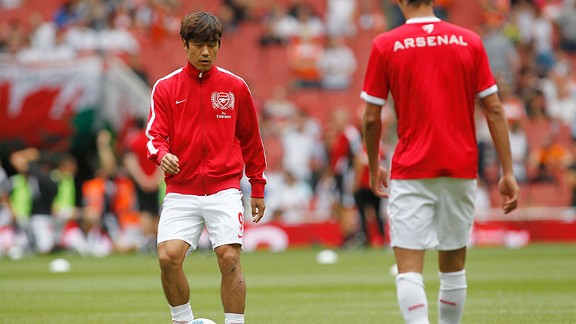 APPark Chu-Young has nearly vanished from sight at Arsenal.
He signed for Arsenal at the end of the summer transfer window but fans in London had to wait for a first glimpse of their new star. He had World Cup qualification duties to take care of - after all, he was one of the biggest stars for his national team, perennial participants on the global stage. Park Chu-Young doesn't smile much in public, and these days not much in private either, but he must have allowed himself a wistful grin on the last day of the transfer window as Gunners went goo-goo over Mesut Ozil.

• Cross: Wenger relying on 'turn-to' two

It is just two years ago since the South Korean put pen to paper in north London in a surprise deal. As soon as it was done, he was jetting off back home to score a hat-trick against Lebanon. Then he was in Kuwait to be mobbed by local Arsenal fans. He netted again. Confident and in great form, Park was Korea's number nine and perhaps Asia's pre-eminent poacher.

Two years on and the World Cup is not far away but at the moment for the ex-Monaco marksman, Brazil, and a third appearance on the global stage, is a distant dream. The 28 year-old does not play for the national team any more. There is no new hotshot in Seoul taking his place, that would be easier to accept, in fact there is such a lack of effective options in attack that new coach Hong Myung-Bo has toyed going striker-less. Park Chu-young is not playing for his country because he is not playing for his club. At all.

And that club is still Arsenal, where he is contracted to June 2015. Not long ago, the sight of a Korean name in the official first-team squad (number 30) at the Emirates would have been a cause for delight. This particular Premier League roster was a depressing confirmation of a failure to move during the transfer window. The club's Champions League squad is a more accurate reflection of the status of the 28 year-old (he's nowhere to be seen).

Whatever happens in any Capital One Cup game, itself far from a given, in Seoul media terms, Park is known as a flop in London and is trapped in the middle of an Arsenal nightmare. There's no need to go over what happened (or didn't happen) again, suffice to say that if fans at home were surprised when he was snapped up by Arsene Wenger in August 2011, they were even more surprised that he received just seven league minutes all season.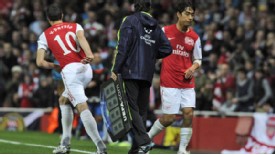 GettyImagesCommon sight: A dejected Park Chu-Young is substituted after failing to impress.
Flop is a little harsh. Park was never going to be the striker to shoot Arsenal from fourth to first. The Gunners needed a world-class striker and even the Korean's fiercest fans, of which there are still many, would never claim he was at that level. At best, Park could have added to the depth of the squad, but the demands on the attacker - both at home and in London - never gave him the time he needed to find his way. Park should not be criticized for not being good enough. The club was more at fault. Of course, he should never have gone - an obvious thing to say now - but who could blame him? Had he turned down one of Europe's elite, he would never have heard the end of it.

Problem is, giving it a go for one season, even a terrible one, can be a hiccup in an otherwise successful career. Now he is in his third season and it turns out that hiccups were merely the initial symptom of a much longer and serious affliction.

A loan move to Celta Vigo in Spain seemed to be just the ticket last season. Few Asian players had made a mark in La Liga but perhaps it would be the kind of technical league where the player would shine. He started solidly enough at the struggling club but never quite convinced fans, media and increasingly, the club coach that he had what it took.

The boss publicly called upon the player to move more, work more, fight more, think more and just do more. Park had the talent but there were increasing doubts over whether he wanted it enough.

It reminded of 2005 when he first burst onto the Korean scene in a wave of excitement. The country's cavernous World Cup arenas were full wherever he went with FC Seoul and he was soon nicknamed 'Football Genius'. His debut season was a good one. He scored plenty and impressed on his international debut but the hype was much too much and it was actually refreshing when assistants of national team coach Dick Advocaat publicly called the player disappointing and that he needed to do more than just score goals.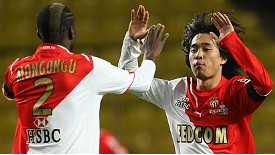 AP / Lionel CironneauHappier times: Monaco's Chu-Young Park celebrates with Cedric Mongongu.
It all came together from around 2008 to 2011 at around the same time he was with AS Monaco. Then, he was indisputably Korea's best striker. Quick, intelligent, good in the air and with both feet, he was enjoying his football and looking sharp. It wasn't that long ago and shouldn't be hard to get back to.

With Park, though, things are never simple. Arsenal don't want him anymore and he wants to leave so there shouldn't have been much of a problem. This summer there was interest from Korea, Japan, China and the Middle East but the player wanted to stay in Europe. Park Ji-Sung ended his London nightmare with a return to his safe European home of PSV Eindhoven. Moving back to a new-look Monaco was not going to happen but a return to France seemed the best bet. There were discussions with St Etienne and Lorient but there was talk of complexities and matching his wages proved to be difficult.

So Park stayed and stayed silent, not even talking to the media back home (something he never really did anyway), giving no opportunity for one of those time-honoured blasts at the coach that come from a club's discontented foreign player. Shinji Kagawa mouths a few platitudes in Japan and its international headlines. If Park did 'blast' or 'slam' Wenger, there is now the impression that hardly anyone in north London would notice.

And that's the danger. Even Arsenal fans have forgotten the South Korean is still a Gunner. Park needs to sort himself out as his name is starting to slip from the collective football consciousness. Back home, instead of his face looking down from the walls of young Arsenal fans' bedrooms, he has become the poster boy for failed Asian moves to the big leagues. The fact that his experience has caused younger players from the east to think more about the chances of playing time when in Europe is a scant consolation. But if he does sort himself out soon, it may be the final achievement in a career that can still be saved.