Just as his Friday afternoon news conference started to get a little intense, Jose Mourinho decided to invert the situation and ask a question of his own.

"I hope you had the same dialogue with the managers who came after me," the Chelsea manager wondered. "Did you say to Carlo [Ancelotti], [Luiz Felipe] Scolari, Andre [Villas-Boas], [Rafa] Benitez, [Roberto] Di Matteo -- did you tell them every press conference that Jose didn't lose a match at home?" The answer, of course, was that there were reminders on virtually every occasion they even stumbled at Stamford Bridge. "You did?" Mourinho laughed. It was the first moment of real levity in a previously serious news conference. "So, that's fair!"

The very issue of fairness is one that started to crop up more and more toward the end of an unexpectedly fraught week for Mourinho, specifically as regards whether he is being too easily forgiven for the kind of errors that greatly complicated the periods of so many other Chelsea managers. Double standards? There was certainly never going to be any chance of a crowd booing a man it justifiably adores after Wednesday's 2-1 Champions League defeat to Basel, but some of Mourinho's comments did betray the fact that he evidently felt the need to protect his side from criticism.

At one point, he was asked whether a crisis was developing, especially after a third consecutive game without a win. His response was typically swift if also somewhat distasteful. "Crisis of what? Syria? Ah, Chelsea. No, for me, no problems, no crisis. For me, two bad results," he said.

Mourinho also revealed that, in order to improve the mood for some of his younger players ahead of the game with Fulham, he changed the tone of training. "We played handball, basketball, the goalkeepers with us scoring goals in the air, a funny session where everyone was laughing, smiling. That was important at the time. The way, sometimes, is not to massacre the players with tactical questions and pure working situations where, probably mentally, you are not open for that or happy enough for that."

By this point, Mourinho was clearly attempting to influence the tone of the news conference as surely as he does the mood of his players. He admitted that some of the criticism has been fair. "I'm not worried. I didn't read many but I have to agree with some [criticisms], for sure. I have to disagree with some others for sure."

There can be no disputing that Mourinho is an absolute master at playing the media and trying to control the narrative. On Friday, just as many were expecting a stark transformation in his recently relaxed demeanour as well as a first truly difficult exchange of the season, the Portuguese fronted up to every issue in a calm but unmistakably assured manner. He does have a genuine ability to spin discussions to suit himself. Some of his responses significantly altered the nature of specific criticisms.

Yet, for all the superficial perceptions of how he manages to get the media onside, it cannot be forgotten that he also has that formidable record to back up all of his talk. Ultimately, seven domestic titles and two Champions Leagues in just 11 years will ensure the benefit of the doubt, no matter how dubious the result or decision. "I've always said I don't want to be protected because of what I did in the past," Mourinho did admit, even if that was only to further the discussion. "The profile has changed."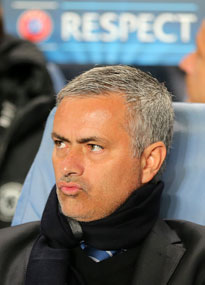 PA PhotosJose Mourinho has endured a difficult start to his second spell as Chelsea boss.
Things will be really different if Chelsea lose to Fulham on Saturday. It would represent Mourinho's first league defeat at Stamford Bridge, only compounding what has been the worst start to a season since owner Roman Abramovich took control in 2003, and one that has seen the club also lose their first ever Champions League opener. In other words, it would be a dip worse even than any difficult run suffered under the pilloried Benitez.

Again, Mourinho approached this head-on: "Rafa had a different profile of job to me ... I have to worry about things he didn't have to. This is not a criticism, he did his job very well, but his job was about getting results in that moment. I have a four-year contract. I want to build, not just for me, but for Chelsea.

"The first thing I have to say is that we lost nothing. You like scrutiny and to compare things. We didn't finish third in the Champions League group. We didn't get relegated to the Europa League and we didn't finish third in the Premier League. We lost one match in the Premier League. And, in the Champions League, we lost a match that we cannot lose -- but we were not relegated to the Europa League. If you like to make comparisons, you have to wait."

Regardless of comparisons, there are justifiable questions about the unbalanced composition of his squad and how he uses it, not least up front. Sometimes it seems as if Mourinho is not yet sure of the best approach, although he does admit he has "probably less" of an idea than with previous teams over what his best XI is. "For some positions, I would say no doubt this player in this moment is first choice. In other positions, I need more information to decide well."

He claims there are no second thoughts about the decision to send Romelu Lukaku on loan to Everton, and that the Belgian will not be recalled in January, that he expects his strikers to hit form. "I don't think it's a question of a lack of confidence," he said.

One other question has concerned a supposed lack of maturity in the squad, despite the average age of the starting XI on Wednesday coming to 27.7. Mourinho insists he has been misunderstood. "One thing is to have an experienced team in terms of average age. I know our average age was 27.7. But where are our young players? The problem is if you have a kid in an area where you decide the pace of the game, where you have to decide to play vertical or horizontal -- and all the players who need to understand the game better, they're there. It's a problem, we know. But it's a problem I enjoy. I've never worked so hard as I'm doing now. Never."

Mourinho says he is also working Juan Mata hard. The issue of the Spanish playmaker is the one with the most potential for at least some discord with the fans, especially given the conspicuous manner in which they cheered Mata as he warmed up on Wednesday. Mourinho was starkest on this question, and it is perhaps not a coincidence that he finally addresses it just when a host of other problems arise. In short, the Chelsea manager says that Mata will have to oust Oscar as playmaker, at least until he adapts to the Portuguese's way of playing.

"There are things I cannot speak with you about [as regards tactical secrets]. It's part of a process with him, too. One thing is to play with Ramires and Oscar in the side, them closing each side, and Mata as a No. 10 behind a striker, clever assists and clever passes, fantastic actions because he has great talent. Another thing to adapt to the way we want to play. In this moment, Oscar is my No. 10 and, if somebody tells me that Oscar is not Chelsea's best player since the beginning of the season, I'd have to disagree. These are football issues."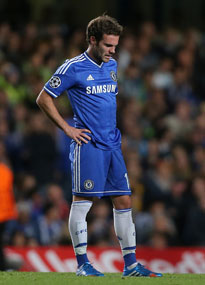 PA PhotosJuan Mata has struggled for game time under Jose Mourinho.
When asked whether it's up to Mata to dislodge the Brazil international, Mourinho answered: "Yes."

He continued: "They can [play together], when he adapts to it, but I'm not ready to play Oscar following full-backs, because he plays in that position for the country with more talented players than anyone else in the world in that position. I want to build with Oscar as my No. 10. I want the other two players, from the side, to adapt to that reality and learn how to do things they were not ready to do before."

Those close to the manager insist that this does not mean Mata is for sale or anything of the sort, merely that Mourinho wants him to fully comprehend a new approach. It is also an approach that has been agreed upon with Abramovich, ultimately sparing the manager the most important criticism of all.

"We don't want to be reactive. We want to be proactive, and to educate the players in this direction. We had one meeting -– not five, 10, 20 –- but one, and in that meeting we had not an agreement but we were all convinced this was the way we want to do it. This is the way we want to do it. I really don't want new players in January. But at the end of the season, as a natural evolution, we will find these players can make us better, one here, one there.

"The project is beautiful. We had two very ugly results -- we don't like, we are not used to them ... it's a problem for us. But I accept criticism."

He will not accept things staying like this. "It is not the way you start, it's the way you finish. You want to start well and finish well -– that's the perfect picture. But between starting well and finishing well, or starting well and finishing bad, I'd prefer to start badly and finish well."

Not for the first or last time, Mourinho was spinning things to his own end too.