Inter win a 'different' kind of derby over AC Milan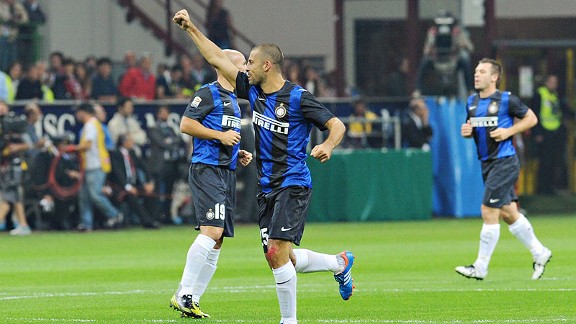 Dino Panato/Getty ImagesWalter Samuel scored in the third minute, and despite going a man down in the 48th minute, Inter held on to beat AC Milan.
Sunday night's encounter between Milan and Inter at the San Siro was dubbed by many within the Italian media as "il derby diverso" – the different derby. In some respects it was the right billing. The position of the clubs has certainly changed as both try to adjust to a new standing in the game conditioned by combined losses of 900 million euros in the past five years, the emergence of UEFA's financial fair play on the horizon and an acknowledgement that they can no longer compete with the big spenders.

"Painful but necessary" decisions have had to be made. Players who had made history at Milan and Inter down the years, from Alessandro Nesta, Rino Gattuso and Clarence Seedorf to Julio Cesar, Douglas Maicon and Lucio all had to say goodbye. So, too, did stars Zlatan Ibrahimovic and Thiago Silva in order to balance the books. The value of both squads, according to La Repubblica, has decreased by as much as 111 million euros in the past year, reinforcing the impression that this is the Austerity Derby, or even Il Crash-ico.

But while so much has changed, one thing did fortunately remain the same: San Siro is known as La Scala del Calcio after Milan's 18th century opera house for a reason and, once more, there was plenty of drama.

Before the game kicked off, Milan's ultras unfurled a huge banner in the Curva Sud. It showed a menacing-looking devil dressed in the club's full kit holding a fork in one hand and Inter's symbol – a blue and black snake – by the neck in the other. One can only assume that when the cameras weren't looking, it escaped from the chokehold and sank its venomous fangs into its foe, for Milan were dealt a fatal blow early on by Inter.

Barely three minutes had gone when Antonio Cassano, the subject of so many whistles and rather distasteful signs on account of his move from Milan in the summer, went down easily and won a free kick for Inter on the left-hand side. Shortly after his old boss Massimiliano Allegri had finished berating the referee, Esteban Cambiasso curled in the set piece to the far post where Walter Samuel, falling together with Milan full back Matteo De Sciglio, managed to keep his wits about him and head in the opening goal.

Once again, Milan's weakness at defending free kicks was exposed. This was the seventh they'd conceded in that fashion this season.

Inter supporters in the Curva Nord, who replied to Milan's choreography with a banner of their own that read "Ciao Merde," or "Hello S---", had reason to consider it a favourable omen. Since Samuel joined Inter in 2005, he has won all nine of the Serie A derbies he's played in.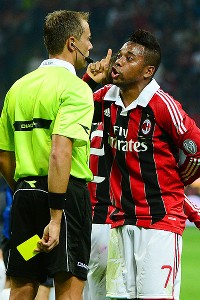 Olivier Morin/AFP/GettyImagesRobinho, whose claim for a penalty in the 83rd minute was waved away, shares some choice words with the referee.
It should have been 2-0 only a couple of minutes later when Milan goalkeeper Christian Abbiati, seeking out his full back De Sciglio, instead passed the ball straight to Inter striker Diego Milito. Usually so clinical in this kind of situation, everyone expected him to score. After all, Milito has found the net six times against Milan in an Inter shirt, including a hat trick in the derby towards the end of last season. But on this occasion he dallied a bit too long on the ball and failed to capitalise.

For a time, it seriously looked like it might cost Inter, as Milan had what seemed to be a perfectly good goal disallowed shortly before half-time. Riccardo Montolivo angled a wonderfully executed shot into the top corner from outside the box, but only after the whistle had already gone for an innocuous foul supposedly committed by teammate Urby Emanuelson on Inter goalkeeper Samir Handanovic, who had fallen over him as he came to punch a high ball. There was nothing in it and Milan had every reason to feel aggrieved, although it might be said that Inter had probably stopped playing when Montolivo struck his shot after hearing the ref blow his whistle.

Still, it wasn't as if they didn't have a chance to get back in it. Yuto Nagatomo's sending off at the beginning of the second half for a deliberate handball -- his second bookable offence -- meant Milan had a numerical advantage and certainly enough time to get back on level terms, tire Inter out and maybe even find a winner. But it didn't go to plan.

Instead, there were more cries of injustice after 83 minutes when Robinho -- played in beautifully by Giampaolo Pazzini with a pirouette round-the-corner pass -- was clearly obstructed in the penalty area by Samuel. The Argentine's nickname Il Muro, or The Wall, has perhaps never been more appropriate than when the Brazilian bounced off him.

Milan's penalty claims were waved away by the referee and Inter clung on by their fingernails to record a precious 1-0 victory, their fourth in a row in all competitions and their third straight in the derby. It must not be forgotten that Inter, technically playing "away" from home this season, have won every match "on the road" and haven't conceded "on the road" in nearly 600 minutes.

The win means that they, together with Lazio, hang on to the coattails of league leaders Juventus and Napoli, who remain three points in the distance. Beforehand, coach Andrea Stramaccioni said "This evening we'll understand who we really are." It's fair to say that Inter are finally starting to develop a new identity.

After experimenting with no fewer than five different systems so far this season, Stramaccioni appears to have struck upon the right formula, a 3-4-1-2 or 3-5-2 that has yielded important results against Fiorentina – their best performance of the campaign – and Milan. Added satisfaction comes in the knowledge that tonight's victory arrived notwithstanding the fact that Inter had a day fewer to rest after their participation in the Europa League on Thursday night away to Neftchi Baku in Azerbaijan.

As for Milan, some have said that they didn't have a lot to lose tonight because they were already out of contention, even at this early stage, for a Scudetto they should never have been expected to challenge for anyway. But that's to miss the point. It's absolutely essential for Milan to stay in touch at least as much as they can with Inter, because if they don't get a foot on the podium and qualify for next season's Champions League, then the money they received from the sales of Ibrahimovic and Silva will only end up covering the revenue lost for not participating in that competition.

Perhaps it's for the best that club president Silvio Berlusconi wasn't in attendance tonight, instead reportedly choosing to fly to Saint Petersburg to celebrate Vladimir Putin's 60th birthday. Allegri isn't said to be at risk of losing his job even if Milan are 15 points off the top of the table, eight points adrift of the final Champions League spot and level on points with Pescara in 11th place. Wins at home to Cagliari and away to Zenit either side of a draw to Parma did a lot to calm the waters around him. The sharks might begin to circle again during the international break, but providing tonight's defeat to Inter is viewed rationally, he should stay.

Yet irrespective of decisions not going their way, which Allegri has brought up postmatch, the fact remains that Milan should have punished Inter when they had numerical superiority. Montolivo has since claimed that Inter played not like a great team, but rather as "a provincial team." If that's the case, Milan surely should have put them to the sword, shouldn't they?

Rather poignantly, given that the Madonnina clashed with Le Classique in France, Ibrahimovic reminded his old side what they are missing. He scored a sensational equaliser for Paris Saint-Germain against Marseille, then got another which would have been the winner had Andre-Pierre Gignac not struck again and leveled things up at 2-2. True, Ibrahimovic's presence in his last two derbies didn't stop Milan from losing, but still it makes you wonder. A bit of magic, some Ibracadabra, might have made all the difference.