Slow start dulls Premier League's shine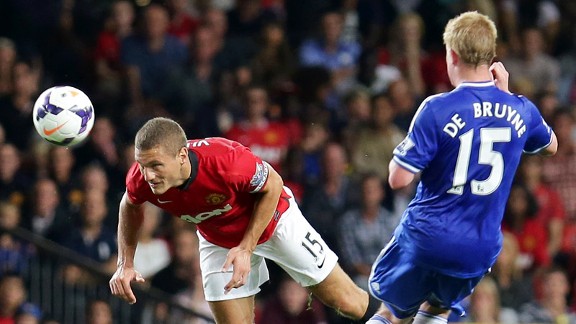 Tom Purslow/Man Utd/Getty ImagesManchester United and Chelsea played out one of the more dull 0-0 draws last month.
Roy Hodgson, at the least, must be entertained.

The day after Manchester United drew with Chelsea in August, the England manager said he "really enjoyed" what was "by far the best of the games" he'd seen this season. It certainly reflected the season so far.

Although this was a match rich in backdrop and subplot, it was woefully short on actual action or excitement. The eventual final score ensured it was one of six 0-0s already this campaign, with 26 of the 40 matches seeing at least one team fail to score. That's a whole lot of nothing, and definitely not what was marketed. It has all made for the joint lowest-scoring start to a season in Premier League history.

Goals per game in the Premier League:
| Season | Four-game average | Season average |
| --- | --- | --- |
| 2013-14 | 1.95 | - |
| 2012-13 | 2.9 | 2.8 |
| 2011-12 | 2.4 | 2.81 |
| 2010-11 | 2.89 | 2.8 |
| 2009-10 | 2.56 | 2.77 |
| 2008-09 | 2.93 | 2.48 |
| 2007-08 | 2.47 | 2.64 |
| 2006-07 | 2.28 | 2.45 |
| 2005-06 | 2.13 | 2.48 |
| 2004-05 | 2.9 | 2.57 |
| 2003-04 | 2.7 | 2.66 |
| 2002-03 | 2.38 | 2.63 |
| 2001-02 | 2.33 | 2.6 |
| 2000-01 | 3.18 | 2.61 |
| 1999-00 | 2.68 | 2.79 |
| 1998-99 | 1.95 | 2.53 |
| 1997-98 | 2.58 | 2.68 |
| 1996-97 | 2.43 | 2.55 |
| 1995-96 | 2.3 | 2.6 |
| 1994-95 | 2.68 | 2.59 |
| 1993-94 | 2.57 | 2.58 |
| 1992-93 | 2.72 | 2.65 |

As the stats also indicate, the current ratios are no cause for long-term concern. Generally, regardless of temporary bursts, every season's strike rate levels out to somewhere between 2.4 and 2.8 goals a game by the end. Many recent campaigns have seen the opposite and enjoyed goal avalanches around October, only for the discussions about a newly open division to gradually fade.

Yet even if this current penury passes, it is still difficult to escape the reality that it has made for one dull start to the campaign. There's not been much to get excited about.

Worse than the lack of goals has been the lack of genuinely engaging football. To lay it out, there have really only been about five truly memorable matches so far: Arsenal 1-3 Aston Villa, Chelsea 2-1 Aston Villa, Cardiff City 3-2 Manchester City and Swansea City 2-2 Liverpool.

Sure, there have been spells of good football beyond those fixtures, but rarely enough on both sides and right throughout games for properly rousing encounters. Tottenham Hotspur's 2-0 win over Norwich City was a case in point. As excellent as much of Spurs' play was, not least the exquisite Christian Eriksen, it was in the context of a contest that saw Chris Hughton's side place at least eight men around the box for 70 minutes -- even after they went two goals down.

This is a further issue. The Premier League has not unjustifiably branded itself on the back of helter-skelter open games, of which Liverpool's 4-3 win over Newcastle United in 1995-96 remains the arch-example, but that supposed trademark appears to have been temporarily appropriated elsewhere. At the exact same time the Premier League has suffered from new constraints, competitions like Serie A and the consistently energetic Bundesliga have offered raucous affairs. Last Sunday night in Spain was probably the best three hours of football in Europe this season so far, with Barcelona claiming a late 3-2 win against Sevilla and Villarreal holding Real Madrid to a 2-2 draw. It was quality combined with conviction.

As it stands, there don't seem to be too many Premier League teams willing to push the limits in anything like the same way. There are arguably only four sides that have played consistently attractive football over the majority of the first four weekends: Arsenal, Swansea City, Everton and Liverpool -- with the Anfield outfit still forced to greatly compromise their approach in order to claim their finest result of the season so far, the win over Manchester United.

It is no coincidence, however, that only one of those sides saw a significant change over the summer -- and Everton's Roberto Martinez has always insisted on an expansive approach.

Otherwise, the amount of movement seems to have had an effect. Sometimes, the unfamiliarity can admittedly make for greater openness. In this case, it appears to have interrupted rhythms and attacks.

That has been most obvious at Manchester United, as David Moyes has not only had to adjust to a higher altitude but also wait for a full midfield. In the meantime, it is understandable that the new Old Trafford manager has reverted to his old defender's perspective and solidified the back first, even if the Champions League victory over Bayer Leverkusen heralded much better to come. It has yet to be seen domestically, though, other than flashes against Swansea. How they approach the derby this weekend will tell a lot.

Manchester City themselves finally clicked again in Europe, looking something like the attacking outfit idealised by Manuel Pellegrini for the first time since the opening win over Newcastle United. Otherwise, a new manager and new attacking core has meant insufficient integration so far. They've been ponderous rather than polished, with the effort against Stoke City particularly unwatchable.

Spurs have had similar issues with so many new signings, while Jose Mourinho does not yet seem to know his best team or approach. Even lower down the table, the Southampton side that was so praised last season have suffered from the lack of a link between midfield and attack. The likes of Fulham and West Brom have seen similar turnover in key attacking positions.

Not illogically, that has seen a decrease in average shots per game, let alone goals per game. If you don't shoot, well ...

Average shots per game over the Premier League as a whole:

2013-14: 25.74
2012-13: 27.8
2011-12: 28.7
2010-11: 29.1
2009-10: 28.6

The consequence of all this has been something of a chain reaction. With fewer attacks so finely tuned, fewer chances are being created and teams are therefore not so capable of taking risks -- producing much more staid football.

The positive is that it will likely evolve as the season progresses. Familiarity should breed contentment. In that, it is not a long-term issue, but it has temporarily made for longer matches.