Top Tenner: Goals that should have been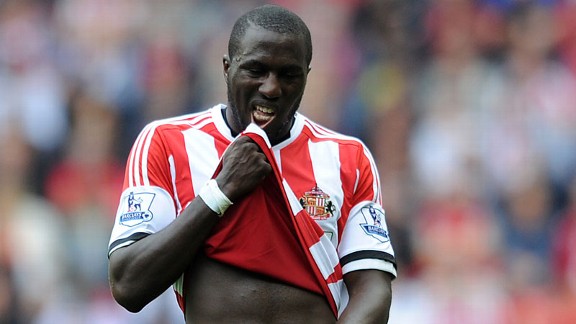 GettyImagesJozy Altidore was cruelly denied against Arsenal at the weekend.
After Jozy Altidore was controversially denied in Sunderland's defeat to Arsenal at the weekend, Top Tenner picks out a selection of goals that never were.

10. Paddy Connolly -- Dundee United vs. Partick Thistle, 1993



So much to enjoy here. An appearance by a pre-disorderly Duncan Ferguson. A referee blundering by not spotting that Connolly's strike passed cleanly through the posts and hit the stanchion at the back of the goal. A further refereeing blunder by, having ruled the "goal" out, not spotting that a Partick Thistle defender picked up the ball in the penalty area. And, if you'll listen carefully to the reporter describing the action, unless we're much mistaken, an appearance by a pre-Sky Sports News Jim White.

9. Pablo Osvaldo -- Roma vs. Lecce, 2011



This one makes the list purely on aesthetics. If the officials for this game had any sense of romance, or anything approaching a lyrical soul, they would have waved Osvaldo's goal through whatever the supposed infraction. A beautiful overhead kick from a beautiful man, this was denied due to a supposed offside. Shame, shame, shame.

8. Zico -- Brazil vs. Sweden, 1978



An example of extremely strict refereeing from Clive Thomas, who chalked off Zico's header from a corner in this World Cup group game, blowing the halftime whistle as the cross was in the air, making its way to Zico's head. Thomas was technically correct –- time was up, and indeed he may have been teaching the Brazilians a lesson for messing around before taking the corner -- but with the score at 1-1, it could have cost Brazil a win, and the top spot in their group. Thomas didn't earn the nickname "The Book" for nothing, you know.

7. Paul Hart -- Nottingham Forest vs. Anderlecht, 1984

Casual accusations of brown envelopes are commonplace at football games, but in this case they would have been true. Forest won the first leg of this UEFA Cup semifinal 2-0, but the Belgian side were 3-0 up in the closing stages of the return (helped by a particularly dubious penalty) when Hart headed in what should have been the winning goal. It was, for reasons beyond explanation, disallowed. Forest boss Brian Clough believed referee Emilio Guruceta Muro to be "bent" at the time, and years later (after Muro's death) Anderlecht admitted he was given a £27,000 "loan" before the game. "How can you put a price on a European medal? I never won a medal, ever. This was my opportunity," Hart said when the question of compensation was raised.

6. Pedro Mendes -- Tottenham vs. Manchester United



It's something of a shame that Mendes, a perfectly good midfielder who served both Tottenham and Portsmouth well, is remembered in this country for two things: being assaulted by Ben Thatcher and for not scoring against Manchester United. Spotting United keeper Roy Carroll off his line, Mendes launched a long, long, long shot toward the goal, which Carroll reached and tried to clasp to his chest. He failed, the ball looping over the line before a desperate scoop fooled linesman Rob Lewis. "There was nothing I could have done differently apart from run faster than Linford Christie," Lewis said, claiming he was too far away to see the "goal" clearly.

5. Frank Lampard -- England vs. Germany, 2010



You might say that the worst thing about Lampard's disallowed strike in the 2010 World Cup is the number of people who afterward claimed, with the straightest of faces, that England might have won the game had it been given. Sure, it would have made the score 2-2 just before halftime, but the Germans were rampant that day. The sight of Gareth Barry being outstripped with hilarious ease by Mesut Ozil is burned into the retinas of England fans everywhere.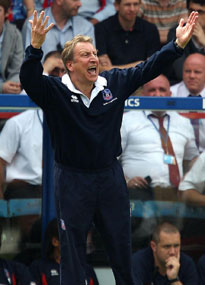 PA PhotosNeil Warnock is not averse to a touchline protest.
4. Freddie Sears -- Crystal Palace vs. Bristol City, 2009



This was one of those rare occasions when Neil Warnock was annoyed and a watching nation basically nodded their heads and said: "Yeah, he's got a point there." The incident itself should have been fairly straightforward -- Crystal Palace's on-loan Freddie Sears hooked a flick-on into the net, the ball bounced back out, but the shoulders of the Bristol City players slumped. However, they unslumped pretty sharpish as the referee waved play on, and even consulted his assistant before ruling out the goal. "I thought Gary Johnson and his players could have shown more sportsmanship because they knew it was a goal, like everyone else," Palace manager Warnock said afterward, and the idea of him lecturing someone on sportsmanship ensured any sympathy was short-lived.

3. Steven Howard -- Chesterfield vs. Middlesbrough, 1997



Another "what could've been." Third Division Chesterfield were already 2-1 ahead against the Boro of Juninho, Emerson and Fabrizio Ravanelli when Howard dug the ball from under his feet and fired it off the underside of the bar, bouncing just over the line. Linesman Alan Sheffield appeared to flag to award the goal, but referee David Ellery ignored him. Boro, of course, would go on to draw the game 3-3, win the replay 3-0 and lose to Chelsea in the final.

2. Hector Scarone -- Uruguay vs. Switzerland, 1924

The only goal on this list to have been correctly disallowed, with the referee adhering to the rules of the game. Well, the rules of the game at the time. In the gold-medal match of the 1924 Olympics, Uruguay forward Scarone swung over a corner that flew into the net but, unfortunately for him, the rules stated that goals from corners were not allowed. Uruguay, understandably miffed by this, protested after the game, and the rule was changed within a month. Shortly afterward, Cesareo Onzari scored the first legal goal from a corner, for Argentina in a friendly against Uruguay.

1. Paul Scholes -- Manchester United vs. Porto, 2004



You'll be familiar with the butterfly effect –- the notion that one small event can have an impact on bigger events to come. So who knows what would have become of Jose Mourinho had Paul Scholes' strike not been incorrectly ruled out? The score was 1-0 to United, 2-2 on aggregate, when Scholes poked home what he thought was their second, only for it to be ruled out. Costinha then won it in the final moments for Porto, and we all know what happened to their manager next.