Evolution of the centre-back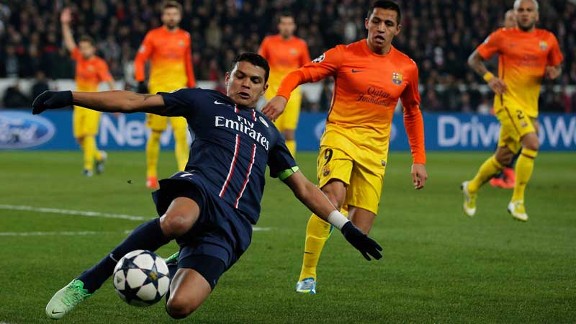 GettyImagesCould Thiago Silva be considered the best central defender in the world at present?
A true great addressed his specialist subject last week. Paolo Maldini discussed defending. Probably the finest left-back ever, possibly one of the best centre-backs during his latter years, the Italian could have also been an outstanding right-back had he played on his natural flank more often. Were Maldini 15 years younger, he would walk into a world XI in at least two positions.

Quite who actually does is another matter. At least there is a group of able attacking full-backs. The problem for the selector of an imaginary side is the shortage of high-class central defenders. Maldini nominated a successor in the AC Milan side, Thiago Silva, as the finest at the moment and said Sergio Ramos has the ability to overtake him. But there was a crucial caveat: The Spaniard has to cut out lapses in concentration first.

It is a common failing in younger defenders, but Ramos is 27, has 111 caps and more than 500 games for club and country behind him. Inadvertently, Maldini highlighted the difficulty in identifying impeccable defenders now.

- Cox: Bojan finding his feet
- Smith: Improving Europa League

So too, in a different context, did Manuel Pellegrini. "It is not easy to bring in a centre-back," said the Manchester City manager in August. "There are not a lot of them. Barcelona have been trying for three months to buy one and they couldn't so it is not easy to get the player you need. They are unique."

Admittedly, some 48 hours after he spoke, the Chilean did sign a central defender (Martin Demichelis, who promptly got injured) but his point still stands: Barcelona struggle to find defenders who suit their requirements.

Their demands are too difficult for most. There was reported interest in Daniel Agger, David Luiz and Vincent Kompany from the Nou Camp this summer; the common denominator is all are footballing defenders. Instead, the emphasis has shifted to defensive midfielders. Barcelona's past two Champions League wins came with makeshift centre-backs: Yaya Toure in 2009 and Javier Mascherano in 2011. Now the Argentine has spent so long in the back four he has been converted into a defender and inspired a trend. Attempts to reinvent Alex Song in a similar way were rather less successful. Barcelona's influence has spread to Bavaria, where their former manager Pep Guardiola spent some of preseason playing Javi Martinez at the back.

If the lesson of recent years is that Barcelona are trailblazers, others tend to follow suit. In the context of centre-backs, the primacy of passing has spread to supposed stoppers. The job description has changed; the underlying theory behind it appears to be that it is easier to convert an all-round footballer into a defender than to make an inherently limited player spray the ball around like a playmaker.

The evidence was provided by David Luiz and Gary Cahill during their rearguard action in the 2012 Champions League final. Both, however, are prone to the odd mistake in a way Maldini and his ilk were not. Similar criticisms can be levelled at other footballing defenders, whether Mats Hummels or Thomas Vermaelen.

A centre-back less comfortable in possession, however, can struggle to find a place in many an ambitious side: Martin Skrtel, disconcerted by Brendan Rodgers' passing game, was dropped by Liverpool last year. For half a season, the Premier League's best defensive duo was Ryan Shawcross and Robert Huth; neither was selected for, or judged on, his distribution. Yet Stoke played a brand of football that meant they were usually out of possession. Theirs was an old-fashioned remit.

Instead, in an evolving game, such players are being phased out as defending is not just about negativity and nullifying. If they have to excel at more disciplines, perhaps it is no wonder fewer tick every box. Perhaps, too, the new generation simply aren't quite as good as their elders, who are either retired or in decline now. In the past five major tournaments, the centre-back spot has been dominated by men born between 1972 and 1980, players such as Roberto Ayala, Fabio Cannavaro, Ricardo Carvalho, Alessandro Nesta, Carles Puyol and Lilian Thuram.

In that England provides a microcosm of the world game. Roy Hodgson lacks pedigree central defenders now whereas, within a few years either side of the millennium, Sol Campbell, Jamie Carragher, Rio Ferdinand and John Terry emerged. Each -- once Ferdinand learned to concentrate, anyway -- could be regarded as a pure defender. Each, even if Campbell and Carragher are often underestimated, had plenty of footballing ability. First and foremost, however, their priority was to prevent goals.

Now Manchester United are struggling to wean themselves away from the old firm of Ferdinand and Nemanja Vidic. Barcelona, perhaps exaggerating the importance of possession, have never found a replacement for Puyol. Many a team -- Arsenal, Chelsea, Germany -- have to shake off suspicions they have a soft underbelly.

The difficulty for all is to find a modern-day Fernando Hierro, a player with a perfect blend of defensive solidity and assurance in possession, a footballer whose motto is both "thou shalt not pass" and "thou shalt pass."