Three things we learned from Marseille v Arsenal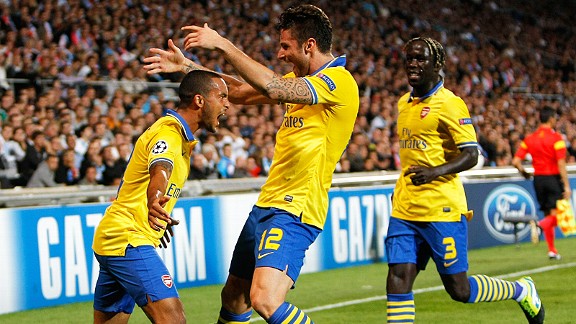 GettyImagesJoy for goal scorer Theo Walcott and Olivier Giroud.
The Wilshere/Ozil axis
Arsenal manager Arsene Wenger was waxing lyrical about the fledgling midfield partnership being forged by the thrillingly gifted duo of Jack Wilshere and Mesut Ozil ahead of the trip to Marseille, but this game posed a question over whether the arrival of one will, in fact, hamper the progress of another.

Wilshere's free role in the Arsenal midfield appears to have been taken by the £42.4 million record signing Ozil and even though the England youngster had more than enough class to make his mark in the less adventurous role he was asked to play at the Stade Veledrome, he played, to use an expression oft-used by his manager, with the handbrake on as he did a job for his team that did not involve him leading from the front.

- Report: Marseille 1-2 Arsenal

Drifting from a role on the left side of midfield to plug the gaps that emerged when Arsenal flocked forward in numbers, this was a 21-year-old midfielder adding yet another string to his golden bow, but you wonder if he will relish the task of being, in effect, the support act to Ozil.

Another dilemma Wenger will soon be faced with is trying to squeeze Santi Cazorla back into this Arsenal side, whose plethora of attacking midfielders may all wish to perform a similar role in a team that has yet to find a settled formula.

To their credit, the Arsenal defence held firm against a physically imposing and threatening Marseille side, but it may be that Wenger needs to devise a tactical system that allows all of his attacking stars to flourish.

The truth may be that one of his "Fab Four" of Ozil, Theo Walcott, Aaron Ramsey, Wilshere (and Santi Cazorla and Mikel Arteta when they return to fitness), will need to be sacrificed for games when the Gunners are unlikely to have it all their own way. What a tough choice that will be for the Arsenal boss.

Wenger's best signing?
Ozil may have been the eye-catching, last-gasp signing that changed the mood around Arsenal in an instant, but an unsung hero of their triumph in Marseille was a player Wenger picked up on a free transfer in the last throws of the transfer window -- Mathieu Flamini.

The Arsenal boss has gone on record to admit he was "very reluctant" to re-sign the player, who he felt let him down when he joined AC Milan back in 2008, yet in a summer when Wenger spent many a long month chasing targets who were never likely to join his side, the player he needed was desperate to join his ranks once more.

Flamini's summer training sessions at Arsenal were designed to tone his fitness levels before he secured a move elsewhere -- a little like David Beckham's under Wenger's watch before his move to Paris Saint-Germain last January -- yet the end result could be pivotal to the Gunners' season.

While Wenger continues to focus his gaze on players who set his pulse racing, Flamini is the attack-minded midfielder this team so desperately needs and he confirmed as much at the Stade Velodrome.

Acting as a covering blanket for the Arsenal defensive line in a first half when the home side pressed for an advantage, his tireless efforts may not have stood out as significant, but they laid the foundations for the goals that followed.

Against Europe's top sides, Flamini may need another of his ilk alongside him to bolster the Arsenal midfield. Tomas Rosicky would offer a more sturdy option and it may be that out-of-favour defender Thomas Vermaelen has the ability to fulfill that role, once he regains full fitness.

Flamini was warmly greeted by Wenger when he was replaced in the closing stages and rightly so, as he had covered more of the pitch than most in a committed Arsenal display.

The rise of Mertesacker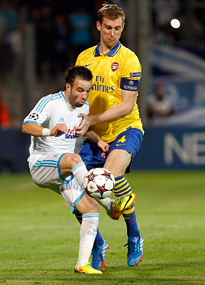 GettyImagesArsenal's Per Mertesacker battles with Mathieu Valbuena.
As transfer deadline day panic buys go, Per Mertesacker is working out just fine and on a night when his team came under concerted pressure from a powerful and ambitious Marseille side, the big German stood taller than the rest and held the Arsenal defence together.

While he had his potentially calamitous moment as he so nearly diverted the ball past his own keeper midway through the second half, Mertesacker generally looked calm and assured in a heated atmosphere.

We should expect as much from a veteran international with almost 100 appearances for Germany to his credit, but many cynics are eating humble pie when assessing this towering defender in 2013 compared to his first, unconvincing first 16 months at the club.

Wenger admitted Mertesacker took time to find his feet at Arsenal, as he struggled to adapt to the pace of the Premier League during a period when the critics were quick to lambaste him as the latest in a long list of defensive transfer blunders from Wenger. Philippe Senderos, Andre Santos and the rest may have tarnished Wenger's record as a transfer market master, but Mertesacker will not be joining that calamitous list.

Alongside Laurent Koscielny, Mertesacker has formed the most solid defensive partnership Wenger had devised in the past five years and even if the duo have struck up their understanding by accident after Thomas Vermaelen's woes of last season, the duo are just as crucial to Arsenal's hopes of success as any of their attacking stars.