Three things: Galatasaray vs. Real Madrid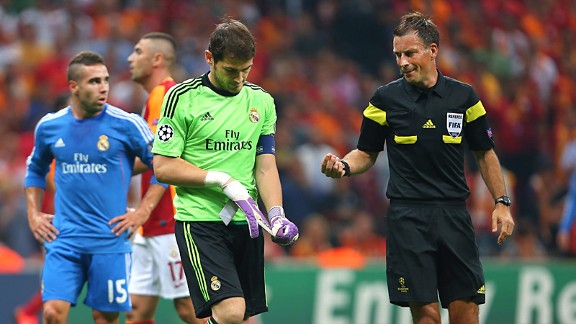 Burak Kara/Getty ImagesReal Madrid's resounding 6-1 win at Galatasaray was tempered by an injury to goalkeeper Iker Casillas.
Three observations on Real Madrid's 6-1 win over Galatasaray:

1. Iker Casillas is not going to remember 2013 as his favourite year

The Spanish media made sure everyone knew pregame that Casillas had not started a competitive game for Madrid in 237 days. Casillas looked sharp early in his return -- pushing away an effort from Felipe Melo inside three minutes.

But just seven minutes later, disaster struck as he came to easily catch a cross, and an unsighted Sergio Ramos caught his teammate in the ribs with his elbow. It was not immediately clear something serious had happened, but in the next break in play, the Madrid physios were wrapping a bandage around the keeper's body, while the TV director picked out Diego Lopez lacing up his boots on the bench.

- Gamecast: Galatasaray 1-6 Real Madrid

Casillas played on, but not for long. He soon knocked the ball out of play and walked slowly from the pitch with his head down.

Manager Carlo Ancelotti had said pregame that Casillas would play all six group games, and he then would make his decision on a first choice near Christmas. There was no immediate diagnosis, but a cracked rib or similar injury for Casillas would leave Lopez as the likely No. 1 all season.

The cruelest twist of all was that Madrid only signed Lopez after Casillas had his hand broken by Alvaro Arbeloa in January. And now another teammate, Ramos, has knocked him back out again.

2. Isco is already a key player for Ancelotti

Madrid fans were excited by the 30 million euro capture of Isco Alarcon from Malaga during the summer. But the Spanish under-21 international still was seen as one for the future -- or at least an option to be used from the bench or eased gradually onto the first team.

The Andalucian was having none of that. He headed a late winner on his La Liga debut, took just two weeks to see off Mesut Ozil's challenge for a starting place, and tonight needed just 33 minutes to score on his first Champions League appearance for Madrid.

His team needed the goal, too -- with Casillas injured, Wesley Sneijder and Didier Drogba rampant, and the crowd inside Ali Sami Yen sensing blood, Madrid were rocking. Then Isco held off an [admittedly weak] challenge from Emmanuel Eboue, killed a long hopeful ball from Angel Di Maria with his left foot, and speared in a perfect 15-yard finish off the post with his right.

The 21-year-old was again coming up with the goods exactly when needed. Just five games into his Madrid career, he already looks like a key player for Ancelotti.

3. Madrid still lacking midfield balance

It might seem a bit churlish to pick holes after a 6-1 Champions League away win, and even more so considering Juventus' travails in Copenhagen in Group B's other game.

But Ancelotti still has plenty of things to work on -- above all, the "midfield balance" that he talks about after every game. Luka Modric and Sami Khedira were being outplayed by Felipe Melo and Selcuk Inan before Isco's goal. Galatasaray were still getting too easily at Madrid's defence -- and Burak Yilmaz planted a free header wide from 5 yards at 1-0 just after halftime.

Madrid's awesome attacking power is currently covering up problems farther back. Karim Benzema's finish for tonight's second goal was ice-cool, while Cristiano Ronaldo showed typical deadliness to notch his hat trick as Gala's defence disintegrated. Substitute Gareth Bale also almost got on the score sheet -- but home keeper Fernando Muslera saved well.

It won't always be so easy, though. Ancelotti ideally would like Xabi Alonso -- who stepped up his return from a broken foot this week -- match-fit for the back-to-back games against Juventus on Oct. 23 and Nov. 5.