Top Tenner: The greatest stars without a European crown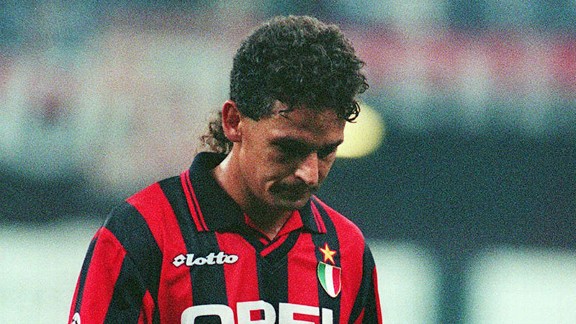 GettyImagesRoberto Baggio won the UEFA Cup but was never able to lift a European Cup.
Top Tenner picks out a selection of the finest players never to have won Europe's premier club competition. Note: Only those who have played in the European Cup or Champions League have been considered for selection.

10. Gabriel Batistuta

It was a toss-up between "Batigol" and Romario for the No. 10 spot on this list, but the Argentinean edges it on aesthetics. As fun as Romario's toe-pokes were, Batistuta's ferocious signature rockets past a selection of bewildered Italian goalkeepers are just, well, better. Indeed, there could be a case that Batistuta has the lowest talent-to-medals ratio of the last 20 years -- he has only an Argentinean title with River Plate and a Serie A medal from Roma to his name from club football. Still, a career total of 300 goals from 516 games is, you know, pretty solid.

9. Roberto Baggio

Perhaps Baggio will be remembered as a nearly man. He nearly won the World Cup. He nearly won the Champions League. He nearly fulfilled his potential as one of Italy's greats. Indeed, a relatively meagre haul of the 1993 UEFA Cup and 1995 Serie A title with Juventus (and even then injury restricted him to 17 league games) plus a second Scudetto with Milan in 1996 certainly doesn't do justice to his talent, perhaps because he played much of his best football at relative minnows like Brescia and Bologna.

8. Ruud van Nistelrooy

While one might understandably balk at the idea of van Nistelrooy being placed alongside some of the names on this list, it could be argued that no other player has contributed more to the Champions League without actually winning it. With 56 goals in 73 games, van Nistelrooy sits third on the list of all-time European Cup goal scorers, behind only Raul and Lionel Messi, and he has the third-highest goals-to-games ratio ever behind only Real Madrid legends Alfredo Di Stefano and Ferenc Puskas. Not bad.

7. Gigi Buffon

One of those about whom you'd think: "Nah, surely he's won it?" But, dear reader, he hasn't. Yet. Buffon had not yet been recruited by Juve when they won in 1996 (Angelo Peruzzi was between the sticks then) but was the man defeated by AC Milan in the penalty shootout that put the 2003 final out of its misery. Still, a World Cup winners' medal is a decent one to dry your eyes on, and as Juventus establish themselves as the dominant force in Italian football once again, there's still time for Gigi.

6. Laszlo Kubala

Barcelona, of course, were the ultimate nearly team of the European Cup, not winning it until Ronald Koeman's thunderous free kick beat Sampdoria in 1992. After Johan Cruyff and Messi, Kubala is perhaps the greatest player in Barca's history, defining an era when Real Madrid were sweeping all with Di Stefano, Puskas and Francisco Gento. The closest he came to the European Cup was in 1961, when Barca became the first club to defeat Real in the competition, beating the five-time champions in the first round, but they would go on to lose 3-2 in the final to Benfica.

5. Dennis Bergkamp

Despite being in the same mythical generation of Ajax players as Clarence Seedorf, Patrick Kluivert, Edgar Davids et al, Bergkamp missed out on the Champions League a couple of times -- firstly by leaving Amsterdam two years before their own triumph in 1995, and then in what would have been his final game for Arsenal in 2006. Bergkamp was an unused substitute as Barcelona came back to beat Arsene Wenger's side 2-1, another casualty of Jens Lehmann's first-half sending off -- if Lehmann had stayed on, Bergkamp may have said goodbye in a manner befitting his class.

4. Lothar Matthaus

Probably the one on this list that came closest. Mattheus was reaching the end of his career with Bayern Munich in 1999, nearly a decade after his pinnacle in Italia '90, and was withdrawn after 86 minutes of the final against Manchester United with his team 1-0 up and looking solid, the job seemingly done in the Nou Camp. Then Sheringham ... they always score ... and Solskjaer has won it. The shot of Matthaus, frozen in horror on the touchline, was only beaten by Sami Kuffour hammering the turf for an encapsulation of Bayern's despair. Indeed, it wasn't the first time Matthaus and Bayern had been denied late on -- in 1987, they were leading with 13 minutes remaining before Porto snatched two late goals to win 2-1.

3. John Charles

Before Bale, there was Charles. The finest player ever to come from Wales is not only a hero in his homeland and in Leeds, for whom he scored 153 goals over two spells, but in Turin, too. Both an imperious centre-half and a brute of a striker, "Il Gigante Buono" made his name for Juventus up front, his goals helping the Old Lady to three Serie A titles -- indeed, he was voted Juve's greatest foreign player ever, beating the likes of Michel Platini and Omar Sivori. The still-nascent European Cup eluded Charles in an era of Iberian dominance, with Real Madrid and Benfica taking the title in the three seasons he competed.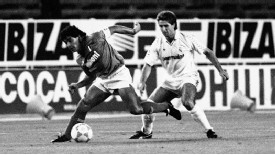 AssociatedDiego Maradona holds off Chendo during Napoli's first-round European Cup defeat to Real Madrid in 1987.
2. Diego Maradona

For a man with a legitimate claim to be the greatest footballer to have lived, and one who spent his prime years in Europe, Maradona's relationship with the European Cup was even more distant than his relationship with reality. He didn't participate while at Barcelona, and while winning Serie A virtually single-handedly for Napoli was just about possible, continental competition wasn't. Maradona's European Cup career lasted just three rounds -- Napoli were eliminated by Real Madrid in the first round of the 1987-88 tournament and in the second by Spartak Moscow in 1990-91.

1. Ronaldo

"Il Fenomeno" was the greatest striker of his generation -- arguably even the greatest of any generation. He won the league in three countries, played in two World Cup finals (well, he was on the pitch for two, certainly), winning one of them almost on his own, and currently holds the record for most goals in final tournaments. In some ways, Ronaldo's failure to win Europe's top prize was all a matter of timing: He played for four of the biggest and most illustrious clubs on the continent, in vaguely the same era as they all won the Champions League, but never went all the way himself. Would he have managed it had injuries not intervened? Possibly, but occasionally he must pause and think "I'm Ronaldo," and not much else appears important.