Moyes predicting big things for Fellaini
Their shared times include five years at Goodison Park that contained an FA Cup final, annual overachievement and a host of fine memories. Signed for £15 million, sold for £27.5 million, Marouane Fellaini contributed 32 goals in 173 Everton games.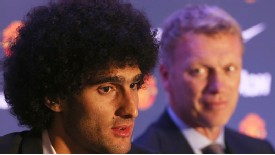 GettyImagesDavid Moyes is confident that Marouane Fellaini will prove to be a huge success at Old Trafford.
And yet when David Moyes is asked about his latest and biggest buy, the Manchester United manager chose first to highlight matches where he was merely an interested onlooker. Perhaps it is proof of his assiduous scouting and photographic memory but, when talking about the Fellaini United can expect to see, he referred to the Fellaini he has witnessed playing for his country and a former club; just not Everton.

"Every time I go and watch Belgium I come away thinking Marouane Fellaini is their best player," said Moyes; as this is Belgian's golden generation -- Eden Hazard, Kevin de Bruyne, Axel Witsel, Christian Benteke, Vincent Kompany and Co. -- it was heady praise.

But the message for Fellaini, delivered the day before his probable United debut against Crystal Palace, was that initial impressions count. "When I brought him to Everton from Standard Liege, he was someone not a lot of people knew about," said Moyes, harking back to 2008. "I remember going across to watch them play Liverpool and thinking: 'Wow, this boy has a got a real chance'."

Now another opportunity has been offered: to turn himself from Everton's talisman into a totem of the United team; to prove, as Moyes himself must, that he can make the step up. For the Scot, both a demanding taskmaster and a keen observer of human behaviour, Fellaini has displayed the requisite attitude to accompany his evident ability.

"His character has improved incredibly," Moyes said. "It's been interesting watching him training because he has adapted quickly. I can tell as a young footballer he is completely humble with the sort of position he is in."

He has been judged in part by his performances against United's peers. "I thought that in his games at the end of last season at Arsenal and Chelsea he was outstanding," Moyes added. "We could really have a top player on our hands.

The precise type of player, however, forms part of the intrigue about a transfer that dragged on for much of the summer before eventually being completed on deadline day. The perception is that United, having pursued Cesc Fabregas, Thiago Alcantara, Daniele de Rossi and Wesley Sneijder, really wanted a passer whereas Fellaini is more physical. Not so, insisted Moyes, who has charged him with replacing United's best distributor of the recent past.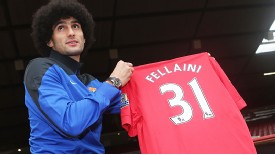 GettyImagesMarouane Fellaini poses with a Man United shirt after being unveiled at Old Trafford.
"With Darren Fletcher's illness and Paul Scholes' retirement, Felli was always one we wanted here," Moyes said. "You can't miss his technical ability and his presence; he is very noticeable for several reasons." If that was a veiled reference to football's most famous hairstyle, Fellaini's prominence now owes much to the fact he is the only major signing United secured this summer.

That he arrived so late again suggested he ranked some way down Moyes' shortlist. Again, the manager begged to disagree. "[It is] because we chose to do it the way we did. We wanted to keep the chance [of a double deal] with Leighton Baines until the last minute. Only at the last minute did we split the deal."

And at the last minute – or with around three hours of the transfer window remaining, anyway – Fellaini submitted a transfer request. "He was desperate to join Manchester United," Moyes said. The 25-year-old confessed to being nervous; he feared being confined to Goodison Park for another year. "At the time I thought there was no chance of joining Manchester United," he said.

A change of scenery will bring a change of role for a man accustomed to being an auxiliary attacker. "Everton was a great club for me with great team-mates," he added. "But it was time for me to leave and join a big club. I want to play defensive midfield and if I can help the team further forward, good."

While still expected to chip in with goals, something United's central midfielders have failed to do in recent seasons, he will be Michael Carrick's minder. If the designated stars will start in attack, Fellaini has a price tag to rival any: only Dimitar Berbatov, Rio Ferdinand and Juan Sebastian Veron have cost United more.

"It's not my problem," said the fourth-highest priced signing in their history. "[Whether it is] £25 million or £30 million or £20 million – whether you are expensive or not, players are just players." He drew upon his new club's rich history for a comparison. "In the past you have had [Eric] Cantona, Roy Keane, [David] Beckham."

They set the standards at Old Trafford. Now it is up to Fellaini to maintain them.