Top Tenner: Unhinged Managers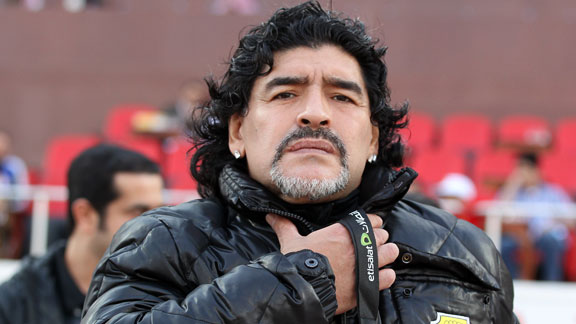 GettyImagesDiego Maradona: With greatness can come an unhinged quality.
10. Sir Alex Ferguson

Proof that "unhinged" doesn't necessarily mean "bad." Perhaps you need a certain amount of madness to build a club into a behemoth, and stay there for a quarter of a century. You might say that Ferguson's "mad" moments were calculated, all designed to suit his own particular ends and to help Manchester United win things. But one could equally argue they were a form of megalomania, an illogical imposition of his power just because he could. How else do you explain banning a Daily Telegraph journalist, as Ferguson did last season, for accurately reporting an injury to Rio Ferdinand?

9. Ron Noades

If narcissism is a form of madness, Noades has to be up there with the maddest of them all. Many club owners like to think they can pick the team, some indirectly do pick the team, but not that many have the chutzpah to actually appoint themselves as manager. Noades did, firstly in a caretaker role at Crystal Palace and then taking the reins as Brentford boss shortly after he bought the club in 1998. Actually, he did pretty well, guiding them to promotion from Division Three as champions. Of course he left the club £5 million in debt, so it wasn't all roses.

8. Luiz Felipe Scolari

Big Phil actually had one thing in common with Margaret Thatcher, and it wasn't an ability to operate on minimal sleep. "He tortured a lot of people but there was no literacy in Chile," Scolari said, about General Pinochet. The record, alas, does not show whether Scolari and Thatcher ever got together to discuss their love of the Chilean dictator.

7. John Beck

In some ways, Beck was years ahead of his time. When Cambridge manager in the early 1990s, Beck employed a statistician and used ice baths, some 15-20 years before they became commonplace in football. However, he was also something of a loose cannon. He once dropped Steve Claridge for having dirty boots, and started a fight with the same player during a game. He was rumoured to regularly spike the opposition's tea with salt. Still, his methods were successful, securing back-to-back promotions and a couple of runs to the FA Cup quarterfinals. Claridge had an alternative view. "Beck will always say we got so far because of him and his methods," he said. "I maintain it was in spite of them. I believe he stopped us being what we really could have become."

6. Delio Rossi

A moment of madness rather than a lifetime of it? Perhaps, but attacking one of your own players takes some beating in the eccentricity stakes. This is what Rossi did when, while he was managing Fiorentina, Adem Ljajic sarcastically applauded his substitution -- clearly an act of insubordination too far. Rossi was, of course, sacked straight afterwards. "I have never allowed myself to hit anyone, not even my children," Rossi said afterwards, confirming that Ljajic is not his son.

5. Martin Allen

You don't get the nickname "Mad Dog" for nothing, you know. For evidence of Allen's "eccentric" personality, may ESPNFC present, for your reading pleasure, this message, published on the Notts County official website -- the official website -- while he was manager there, in 2011. He also posted a similar appeal asking for someone to teach him how to whistle.

4. Brian Clough

He punched a fan in the face after he invaded the pitch. He once spat on Forest defender Darren Wassell's hand after he complained it was broken. He punched a young Roy Keane square in the jaw. He turned up at Archie Gemmill's house and wouldn't leave until the midfielder signed for him. He got his Forest team drunk the night before the 1978 League Cup final (they won). He remained on the bench and chatted to a policeman during the break between full and extra-time in the 1991 FA Cup final, leaving assistant Ron Fenton to conduct his team talk (they lost). Brian Clough was a certainly a genius, but he was just as certainly unhinged.

3. Raymond Domenech

Some managers pick their teams after careful scouting and planning. Some managers use form. Some managers consult a trusted inner circle of coaches, assistants or even players. Some managers rely on hunches. Raymond Domenech used astrology. "When I have got a Leo in defence, I've always got my gun ready, as I know he's going to want to show off at one moment or another and cost us," he said. He also didn't like Scorpios. And you wonder why France were quite often a shambles under his leadership.

2. John Sitton

On reflection, allowing television cameras into the Leyton Orient dressing room during the 1994-95 season probably wasn't the greatest idea in the world. Sitton was the star of "Orient: Club For A Fiver," an ITV documentary about the struggling club's season. As the pressure mounted, Sitton's patience wore thin, and during half-time of a league game with Blackpool, which Orient were losing 1-0, that patience ran out. He launched a memorable rant in which he sacked club stalwart Terry Howard, then offered another couple of players outside for a fight, culminating with the infamous statement: "You can bring your f---ing dinner. 'Cos by the time I've finished with you, you'll f---ing need it." Sitton is now a taxi driver and an entertaining, if occasionally troubling, presence on Twitter.

1. Diego Maradona

Once upon a time, a group of men sat down in a room. They had an important decision to make. They had to choose a new manager of Argentina. Alfio Basile had just resigned. A steady hand was required. So they picked Diego Maradona. Just allow that piece of information to breathe, to float around in your brain for a while. Diego Maradona. On what possible level did anyone think that would go well? It didn't, as it turns out, for while Argentina scraped into the 2010 World Cup, they were embarrassed by Germany in the quarterfinals. But not before Maradona encouraged the media to "suck it and keep on sucking it" and selected journeyman Ariel Garce on the basis of a dream.