Reasons for Anfield optimism are legit
Anyone opening their newspaper and seeing Liverpool on top of the Premier League could be forgiven for thinking they were browsing through some dusty old back catalogue.

The Reds won the last of their 18 titles way back in 1990, when Steven Gerrard was a kid in short trousers and Raheem Sterling was not even a twinkle in his dad's eye.

Apart from a bold showing as runners-up a few seasons ago under Rafa Benitez, this famous club has been consigned to a spectator role in Premier League dramas of recent years.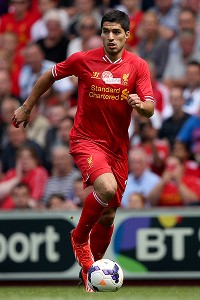 Clive Brunskill/Getty ImagesLuis Suarez has kept his form during his ban and could return to Liverpool with something to prove.
The question this time after a 100 percent start, albeit after only three matches, is: Can Liverpool maintain a challenge?

Just staying in the argument would be progress after the eighth- and seventh-place finishes the past two seasons.

The easy answer is to say Liverpool were 28 points off the top and 12 away from the top four last May -- and that the gap cannot possibly be bridged.

But a successful summer in the transfer market allied to a fast start has sent optimism surging at Anfield.

Another false dawn? Perhaps not.

The wayward genius of Luis Suarez is due back at the end of the month, and despite accusations of treason from some fans he is simply too good to be left out.

Liverpool are banking on the belief that Suarez is the type who, once back in a red shirt, will forget his summer flirtations with Arsenal and Real Madrid and play his heart out.

I believe the club is right. It is a fair bet that Suarez might explode back into the team with a point to prove, even if the Kop might take a bit of winning over.

Suarez has been kept up to speed during his long ban with behind-closed-doors friendlies and has looked sharp. That much was clear when he scored twice for Uruguay in Peru.

The loan deal that brings Victor Moses from Chelsea could give Brendan Rodgers an attacking force of Daniel Sturridge, Phillippe Coutinho and Moses sitting just behind the dangerous Uruguayan.

And the balance looks right with Steven Gerrard and Lucas as experienced minders on the back door in midfield.

Rodgers has also strengthened his back line significantly with the signing of Paris Saint-Germain's Sakho and Tiago Ilori from Portugal. Both will have to hit top form to threaten Daniel Agger and Kolo Toure, who was looking an astute acquisition before his injury.

It also has to be said that Simon Mignolet in goal looks like good business, bearing in mind Pepe Reina's erratic form over the last couple of years.

So what is not to like about Liverpool? Why in an open year can't they continue their good form once the nights grow long and the temperatures drop?

Especially with doubts over all their rivals.

Manchester United might toil in a post-Ferguson transition year. City and Spurs have a lot of new players to bed in. Chelsea's Achilles heel could be up front where none of Torres, Ba or an ageing Eto'o are guarenteed to come off.

Arsenal are hugely strengthened by Mesut Ozil but might be a striker short with an over-reliance on Olivier Giroud.

That makes for a fascinating title battle with a possibility of surprises.

The doubts about Liverpool are based mainly on their stuttering efforts in the league over the past two years, when they simply looked a side you could not rely on.

Last year's campaign was littered with slip-ups at Anfield and a couple of horror displays on the road at Stoke and Southampton.

Is that inconsistent streak about to haunt them again? Possibly, but the win over Manchester United suggested that this year's Liverpool might be a meaner machine.

Reclaiming their once perennial place in the top four would be sweet, indeed.

And while predictions are there to make fools of us all, I believe that with decent luck, that target is far from unrealistic given the players now at their disposal.

U.S. flying high after World Cup berth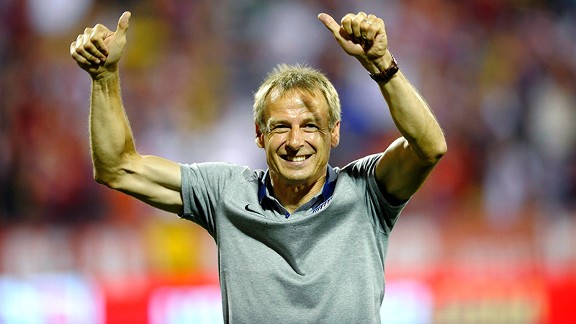 David Richard/USA TODAY SportsJurgen Klinsmann's U.S. side has earned the right to celebrate after believing that anything is possible.
The USA players will have been given a free pass for a night on the town by Jurgen Klinsmann after qualifying for a seventh successive World Cup -- and they deserved it.

Fortress Columbus delivered again as a spineless Mexico were overcome 2-0 for the fourth time in a row in Ohio.

Now comes the hard part of Klinsmann's mission -- trying to make his side have a real impact in Brazil next summer.

The 2-4 loss to the talented Belgians in May was a reminder of how tough it might be in the knockout stages at the World Cup.

The impression at this stage is that Klinsmann has assembled a useful and improving side who can give most teams in the world a decent argument.

The U.S. need some luck with the draw, as all teams do.

Are they ready yet to threaten the likes of Brazil, Argentina, Germany, Spain and Italy? Probably not.

Having said that, the coach's upbeat style has imbued his squad with a belief that no mission is impossible and they would give the likes of England and France plenty to think about.

That belief served them well when, even without four key players, they brushed aside Mexico with something to spare.

As for the Mexicans, they lack pace, heart, character and seemingly the stomach for a fight. They stopped playing after 20 minutes.

The players need to take a huge look in the mirror. They already got Chepo De La Torre sacked -- and now they can blame him no longer.

Time perhaps for a cull of the flops and to freshen up the team with some players who will walk through walls for that green shirt.