Hazards not halting Thorgan's rise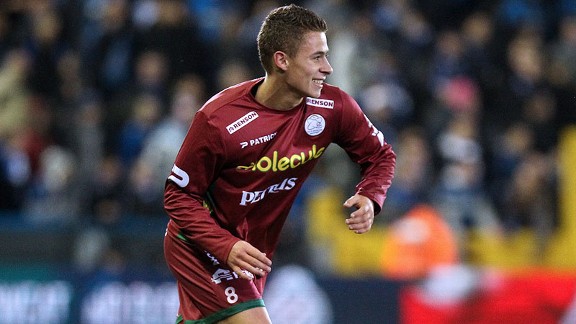 Virginie Lefour/AFP/Getty ImagesThorgan Hazard has shed the label of "Eden's little brother" by standing out with Zulte-Waregem.
It can be hard to shine in London, with so many bright lights ready to eclipse you should your own star begin to dim for even a second. The intensity of that burden doubles when you are forced to potentially compete alongside your already-established kin. That was the task facing young Thorgan Hazard, the brother of Eden.

Of the many hazards present in London, it is perhaps only Eden that promises to rival danger with a healthy dose of excitement.

When he arrived through the doors of Chelsea's Cobham training ground, there was a hefty price tag, agents, advisors and even Chelsea TV Staff all trailing behind him. Somewhere near the back of the pile was little brother, Thorgan.

"I knew very well that I was passing through," he said, reminiscing on the month he spent at the club's training ground -- 30 or so days split between training sessions with the first and reserve team. For the superficial evaluators, it seemed like a signing made to ease big brother's transition to England's capital. After all Chelsea had already struck a similar deal for fellow Belgian brothers the Musonda's (Lamisha, Tika and arguably the most talented of the trio Charly Junior).

For those willing to dig deeper though, there lay a player discovered as a 14-year-old by Lens. Time previously spent at Lille brought forth no offer, before he opted to join Lille's own sibling rival Lens. Provided the space away from his brother's shadow, he is thankful for the influence it had: "I became more independent, more mature thanks to the rules laid down in the center of life," he said.

Making his debut at 17, it would not be the precursor to instant success. In his rookie season he would make six starts and like so many precocious talents, surrounding his unquestioned talent was a rawness that still needed to be refined.

"He has to find a way to repeating those good things of which he is capable," his former youth coach at Lens Eric Assadourian remarked. "He has to gain volume in a game and to let himself go more often. He is the creator, he is capable of guiding the other players and making the play."

By now the decision makers at Chelsea had seen enough to push through a deal. For Thorgan, the opportunity to play alongside his brother had replaced an earlier desire to one day face Eden as an opponent when he first joined Lens. The move also allowed him to escape the pressures of a club that was desperate to return to France's top tier -- something he admitted was not the ideal breeding ground for youth expression.

In London for but a brief time, like so many of Chelsea's young prospects he was packed out to foreign climbs to receive the much needed first team experience that would hone his talent. A partnership with Dutch side Vitesse has seen a number of players end up in the Eredivisie. Hazard was instead allowed to return home to Belgium.

"At Zulte-Waregem, I have showed who I am," he told Sport. Defining himself as a player with a preference towards operating as a creative No 10, he prefers to keep the pitch wide: "When I have two strikers in front of me, I have fewer possibilities on the sides to widen the play," he said. "But it's easiest to find me and to play deeply. It's a matter of movement and animation in front of me."

Cast amongst a number of more experienced pros, the balance of young and old appeared to meld perfectly. The club had never surpassed the top five prior to last season. With just a 10,000 seater stadium to fill, they found themselves as the second best team in Belgium come the end of the season.

"I wanted playing time and it was basically the reason I came here," Hazard said. "By signing a Belgian club , I knew that the level is more or less similar to the French second division. And today between European play with Zulte Waregem or play mid-table with Lens, I think I made the right choice."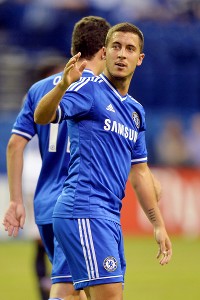 Darren Walsh/Chelsea/AP ImagesThorgan Hazard is regularly compared to his well-known brother Eden.
Operating out wide, the brother named after a comic book hero had an unsurprising resemblance to big brother Eden as he cut inside from the left hand side. As with any brothers however there are nuanced differences. Thorgan is not adverse to tracking back and displaying work ethic to make up for the dynamism he lacks and Eden provides.

As one might expect, comparisons between the two are endless. Eden was an established first team player at Lille. The pressure of competing and expectancy could prove an arduous burden on such young shoulders. Admitting to once being told by an opponent; "You'll never be as good as Eden," Thorgan remains calm: "We are not the first brothers in professional football. People often try to compare us, I understand, but we are not the same players. Everyone manages his career the way he wants. Eden exploded quickly, I play at my own pace, I hope it works."

Thriving in the big occasion domestically, his performance against Anderlecht at the start of September was arguably his finest hour for Essevee -- involving himself in every goal in some way, scoring once assisting three times. His performance will not have gone unnoticed by big brother -- the pair will regularly use the internet and text messages to keep abreast of their respective performances.

And despite a bright start to his second season in Belgium, he is keen to improve: "On the field, I am aware that I must be more decisive, score more goals and give more assists," he said. His time in Belgium has not been without some controversy however. At the tender age of 20, Hazard earned himself a record -- the shortest captaincy in the club's history.

With the exact details notable in their ambiguity, just whose decision it was to hand the youngster the armband remains unclear. What is certain, is the experienced Davy De Fauw was asked to hand over the duties to Hazard.

Speculation is rife that the captaincy was an incentive included in Hazard's loan deal amid interest from Genk and Anderlecht.

Keen to continue his development at his own pace and avoid trying to follow the path trodden by more famous family, there is everything to suggest that Thorgan Hazard could go on to forge a successful career of his own -- hopefully just in time to bypass comparisons of another Hazard, Ethan, who currently finds himself in the academy of hometown club Tubize.