Golden generations are born, not made
The best place to start, as ever, is with Harry Hill. For those unfamiliar with his work, Harry Hill is a British comedian. He wears shirts with comically supersized collars, pairing them with hefty work boots and bookish spectacles. He used to be a doctor. His stand-up routine is vaguely slapstick, all funny looks and dreamlike non sequiturs.

He is most famous, though, for a TV show called Harry Hill's "TV Burp." The program's format was simple: clips from well-known television shows taken out of context and satirized to the point of absurdity. Characters with haircuts that looked like badgers, washing machines that seemed to be talking, gigantic squirrels fighting over-large hens: That was its meat and drink.

A favourite came from a documentary about fighter jets. You know the sort: they're on minor cable channels late at night after "Ice Road Truckers" and have titles like "Battle of the Skies" and "Iron Birds: Weapons of War." They feature serious men, often with beards and no experience of a woman's gentle touch, discussing engine capacity and radar systems. Anyway, the clip Harry Hill pulled out was about the stealth bomber. He cut away to a serious man with a beard and no experience of a woman's gentle touch talking in awe about the plane's potency. "The thing about the stealth bomber," he intoned, "is that you know when it's coming."

This is relevant, 10 months or so before a World Cup, because this is the time when pundits, journalists and players alike start to pick out their dark horses for the tournament. You know, those teams that can match what Uruguay did two years ago, what Croatia managed in 1998 or even what Denmark and Greece achieved in the 1992 and 2004 European Championships.

This year, there are two obvious contenders. Belgium and Colombia both possess sides of fearsome quality. The former boast a phalanx of Premier League stars -- Simon Mignolet, Vincent Kompany, Jan Vertonghen, Thomas Vermaelen, Marouane Fellaini, Eden Hazard, Kevin de Bruyne, Christian Benteke, Romelu Lukaku, Kevin Mirallas -- as well as the likes of Axel Witsel, Thibaut Courtois, Steven Defour and Dries Mertens. Colombia, meanwhile, have a quintet of Serie A regulars -- Juan Cuadrado, Luis Muriel, Pablo Armero, Camilo Zuniga and Fredy Guarin -- as well as James Rodriguez, Juan Quintero, David Ospina, Jackson Martinez and, oh, Falcao, that lad at Monaco who's scored loads of goals.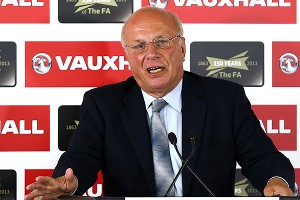 Jan Kruger/The FA/Getty ImagesFA chairman has set lofty goals for England and thinks copying the likes of Belgium, Colombia and Germany is the right idea. He's wrong.

The problem is that both are a bit like Harry Hill's stealth bomber. Technically, they are clandestine, undercover and unknown. It's just that, well, everyone knows they are coming. They are such widely tipped dark horses that they probably rank among the front-runners.

They are interesting examples, though, because between now and the start of the tournament in Brazil, they will no doubt be held up as prime examples of how good investment in youth can reap rewards on the international stage. In England, their success will be seen as a particularly damning indictment of our own failure to generate homegrown talent. That process has already started -- Belgium's youth development specialists have already been invited to speak to the Football Association at St George's Park. Perhaps a similar offer will be extended to Colombia.

Yet this kind of reaction illustrates a deep misunderstanding of what makes both these teams great. Belgium and Colombia have generated these teams more by accident than design. That is not my cockamamie opinion: Speak to those at the coalface and they will say the same.

"All of that team went away [from Belgium] early and they have made it." That's what Stan van den Buijs, the former head of youth development at Beerschot -- the club which first brought Mousa Dembele, Vertonghen and Vermaelen to prominence, told The Times last year. "Belgium was not ready to maximise their abilities, so they had to go abroad."

Like Toby Alderweireld, Vertonghen and Vermaelen went to Ajax while Dembele moved to Willem II. Hazard and Mirallas spent their formative years at Lille, in France. Only the Standard Liege contingent -- Witsel, Fellaini and Steven Defour -- came through the ranks en masse at home.

It is the same story in Colombia. "Falcao left at 14 for River Plate and James Rodriguez left very young too," Juan Pablo Angel told The Times. "They have had access to all the things that athletes need to develop abroad, things they could not have had in Colombia." There was one measure introduced by the local FA to try to stimulate development -- an edict that every club had to name an under-20 player in their first XI -- but it was widely mocked by coaches who would play a teenager for the first five minutes, then remove them. The idea was soon rescinded.

This is instructive because it reveals a broader truth about the search for talent, and one that the FA would do well to heed. Golden generations, as they are termed, are arbitrary. They are born, not created.

In western Europe, there is a temptation to believe that a team capable of beating the world can be stimulated into existence at state-of-the-art facilities, and that providing young players with the best pitches, training techniques and coaches improves their abilities beyond all recognition.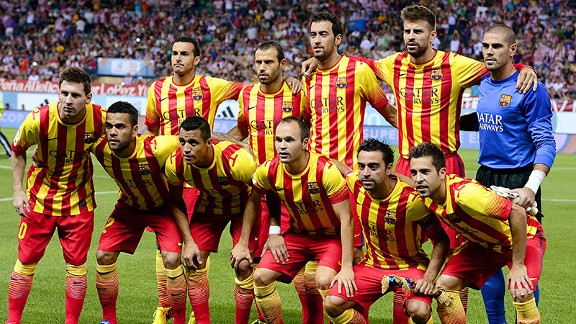 Javier Soriano/AFP/Getty ImagesBarcelona is often lauded for its player development, and rightly so. Yet many would argue the new crop isn't nearly as good or deep as the class of Xavi and Andres Iniesta.

It all helps, of course, but flick through the game's annals and there is abundant evidence that it is not necessary. The Portugal of Luis Figo and Rui Costa, the great Yugoslav side that never was, even England's failed golden generation: They all came through at different clubs, in different areas and with different policies and differing quality of facility. This is no great revelation: There are no greater producers of natural talent than Argentina and Brazil, yet nobody would look at their youth systems with envy.

There are exceptions, of course. Barcelona's La Masia structure and the academies at Ajax and Sporting Lisbon suggest that youth systems can be built to last. And yet these too endure their peaks and troughs, their prolific years and their fallow ones. Ajax have produced two great generations -- that of Johann Cruyff and that of Patrick Kluivert -- and while they deserve praise for keeping up a steady supply of talent, they've not managed to generate anything like an entire team again.

Barcelona are much the same: There are an abundance of gifted players in their youth system, but the likes of Isaac Cuenca, Cristian Tello, Martin Montoya and the rest are not of the quality of Xavi, Iniesta and the rest -- and certainly not of the quantity. Again, credit where it is due for rearing a steady stream of players, but it is delusional to pretend they can churn out Gerard Piques at will.

The other major counterpoint is Germany, but here the pattern is also similar. There are many fine young players to follow on from Thomas Muller, Mesut Ozil and the rest of them, but it is highly unlikely they will prove to be their equals even though it is admittedly too soon to be certain.

In this light, the FA's determination to force through St George's Park suggest quotas for English players in the Premier League and adapt the Elite Player Performance Plan looks foolhardy. There is no way of guaranteeing the creation of a World Cup-winning team. You simply have to hope for the best.

That is not to suggest there is nothing that can be done. The conditions must be created to allow those players to shine should they arrive. In the meantime, there is crucial work -- as much cultural as structural -- to ensure that the base level of English players improves to the point where they are as technically adept as their more exotic counterparts. England does need more coaches. It does need a more holistic system to bring players through. It does need a change in style of play and a switch in understanding of the game.

All of that work is vital and worthy of time, effort and money. But to assume that doing it will lead to victory, that glory can be forced into being, is indicative of a game -- and of a country -- that has not been paying attention.