Ukraine 0-0 England: Three things we learnt
Roy Hodgson, a husband of caution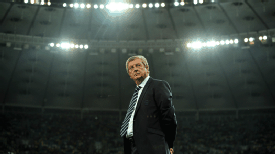 PA PhotosRoy Hodgson's tactics were notably conservative in Kiev.
His pre-match flash interview did little to deflect the widespread expectation that he had come for a draw. He even managed to correctly predict that Ukraine would start off like a train and dominate. By the half hour, he was off the sidelines and urging on his team with a comedic gurn of dissatisfaction. It had an effect, too. Organisationally, there was an improvement. In creative and entertainment terms, England still disappointed. But that was never the aim.

Hodgson's teams play passive football, where structure will always outweigh invention. It worked when Fulham reached the Europa League final. It got Switzerland to the World Cup finals for the first time in 28 years. It made West Bromwich Albion into an established Premier League club. It failed miserably at Liverpool. It will not take England far if they do qualify for Brazil 2014. This type of football has a shelf life that passes its sell-by-date the minute an opponent that plays a possession game comes into view.

England got lucky on their last visit to Kiev, when Ukraine had a goal disallowed that had crossed the line. This time, their fortune lay in the fact that the home team were better suited to the counter attack than trying to pass through them.

That James Milner's heroic crossfield run to bail out the defence was the best English moment of the first half said much. Milner is a magnet to those who demand flair, but he is the type of professional that Hodgson trusts, a yeoman. Rickie Lambert is from a similar seam, and led the line well enough, given that he was given little in the way of support. The problem is that England have too many of their type.

Hodgson got the result he will see as a small victory perhaps most of all because Ukraine themselves did not want to concede the initiative either. They have Poland to welcome, and then the gimme of San Marino, while England have two tough home games to come. A draw here was a significant step to the play-offs for the Euro 2012 hosts.

When Glenn Hoddle's team qualified for the 1998 World Cup with a 0-0 draw in Rome's Olympic Stadium, it was proclaimed as a tactical triumph. This escape from the Olimpiskiy Stadium will not be so garlanded. Job done. Guts, certainly, but no glory.

Lampard & Gerrard, the odd couple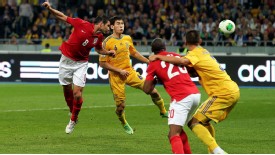 GettyImagesFrank Lampard missed a late chance to give England all three points on his 100th international appearance.
It is a debate as old as Methuselah, and this was the 61st time of its asking. Perhaps the ingredient of Jack Wilshere might add a winning formula?

The answer was provided by England's startling lack of quality possession. Wilshere was wasteful on the ball, and Lampard and Gerrard too often occupied similar territory to each other. They never gelled back when they were box-to-box goalscoring midfielders, and the same appears to be true now they have converted to deep-lying playmakers who conserve ageing legs.

Michael Carrick, sitting on the bench, is a similar player to their new selves and better practiced in the anchor role. His presence might better allow their remaining attacking instincts to be used, rather than denied. One of the centurion pair has to be dropped, and if Gerrard is captain then it is the Chelsea man who must make way. Fielding experience for experience's sake is no way to be progressive, though that is clearly not Hodgson's approach. Energy was lacking too as Wilshere, clearly short of his optimum, was unable to do little in the way of productive running before his substitution. Back in February, he looked the answer. It is now clear he has much work to do.

Gerrard was lucky to get away with a incomprehensible 'dummy' of a dangerous cross into the box. Footballers of any level know that their first priority is to clear danger and ask questions next. Perhaps he received a dodgy call but it was an amazing passage of play. Thankfully, Joe Hart eventually claimed, and Andriy Yarmalenko had been as confused as everybody else. Lampard might have stolen victory, but his header wide in added time resulted from surprise at receiving a golden opportunity to rescue an undistinguished century celebration.

Ukraine were snappier, far more athletic in midfield. If England cannot offer that then composure is required. They showed few such qualities in midfield, despite two players having over 200 caps between them.


Where's your head (and shoulders) at?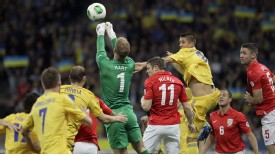 APJoe Hart kept his second successive clean sheet for England.
Joe Hart fed continuing doubts about his form with a rash lunge in the first minute which might have resulted in a penalty. Roman Zozulya was clearly baulked, and the Portuguese referee was lenient, perhaps because of the Ukrainian's theatrics. Minutes later Hart and the same opponent were to be found playing a game of who could jump the highest. Hart, unforgivably, let the ball bounce a second time. Gary Cahill bailed him out twice, but Hart's confidence and concentration looked shattered. At first, it looked as if Cahill was having to play like a goalkeeper who is not allowed to handle the ball. To Hart's credit, he had recovered his head by the time Ukraine were pushing at the end of the 90 minutes.

Yevhen Konoplyanka often made hay, his skills causing problems from the beginning. Kyle Walker probably needed half-time oxygen, let alone laughing gas, to cope with his opponent on the flank. At least Ashley Cole showed off his dependable best in thwarting Oleg Gusev's thrusts, while Cahill and Phil Jagielka are beginning to look like a partnership.

However, it was a matter of concern that Gerrard twice had to be the last man to clear the lines. Ukraine suddenly had a man over, which is confusing in the light of such a conservative strategy.

Walker was lucky not to concede a penalty with his foul on Zolzulya. It was almost another public error of judgement; he showed little co-ordination or awareness of space when making his challenge. He was lucky that Ponoplianka's free-kick missed the target.

Still, though, Ukraine did not pass. To Wembley, where two wins will take England to Brazil.