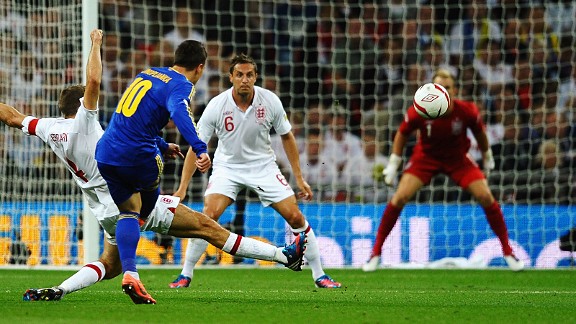 GettyImagesYevhen Konoplyanka scores against England at Wembley.
Yevhen Konoplyanka was never known for his loyalty to club colours. As a kid, he supported Juventus and cherished owning an Alessandro Del Piero shirt. Soon afterward, however, he switched to Barcelona and became a tiki-taka fan. "I admired Italian football, but not anymore," he once said.

Potential buyers will be pleased to know that he's happy to switch allegiance. Konoplyanka was raised at Dnipro and thus far has spent his career there, but he is by no means a one-club man. Only this summer he was openly talking about his desire to leave and test himself at a bigger club, and there was no shortage of links. In fact, the list of suitors is quite long.

Arsene Wenger is a long-time admirer at Arsenal, while Manchester United and Liverpool supposedly were curious too. Napoli reportedly put a five-year contract on the table; Borussia Dortmund wondered whether he was capable of replacing Mario Gotze before signing Henrikh Mkhitaryan; and Zenit offered 20 million euros for the star who reminds them of Andrei Arshavin in his prime. It goes without saying that the two superpowers of Ukrainian football, Shakhtar Donetsk and Dynamo Kyiv, have a keen eye on him, and this summer there were rumours regarding a potential move to those clubs.

- How Will They Line Up: Ukraine vs. England
- Zidane: England will qualify for World Cup

It must be said that FC Dnipro stated numerous times that they value their star at 20 million euros. No more than that. It is somewhat weird, almost mysterious, therefore, to see Konoplyanka still plying his trade in Dnepropetrovsk. That might be down to his recent injuries, including back problems, but they don't appear to be too significant. Anyhow, for the time being, the 23-year-old remains relatively unknown to the general public.

Never mind his good performances at Euro 2012, never mind that glorious strike at Wembley that almost brought Ukraine a famous away win a year ago, Konoplyanka is still sort of a novelty. He was the man of the match then, but the feat was forgotten pretty quickly in England. Well, it's time to ring the bells once more, then. The winger might strike again on Tuesday night to remind everyone of his rich talents.



"The Ukrainian Messi," they call him in his homeland. For some bizarre reason, every country needs to have its own clone of the planet's most famous footballer. Mohamed Salah, for example, is "The Egyptian Messi," Gabriel Torje was supposed to be the Romanian Messi, and so on. In the case of Konoplyanka, though, his style of play is definitely different. It is much better to compare him to Arjen Robben.

Just look again at that phenomenal shot past Joe Hart last year. That is Konoplyanka's trademark movement -- getting the ball on the left, cutting into the middle, and unleashing a shot into the far corner with his much stronger right foot. He scored a similar goal against PSV Eindhoven in the Europa League last season. Put a mirror to that, and you will get Robben's favourite routine from the right. Similar to the Dutchman, Konoplyanka's game is based on speed, as he can beat almost any defender down the wing. Just like Robben, the Ukrainian is a supreme dribbler but is quite often accused of being too selfish and in love with the ball. In short, the midfielder is a new Robben. And at Konoplyanka's age, Arjen even had a nice head of hair too.

Viktor Leonenko, the outrageously talented Dynamo Kiev star in the 1990s, recently said, "The only qualities you need in football are speed, technique and vision. Konoplyanka possesses them all. He is fast and has a good shot. There is no doubt he can play for a top club." If you've never heard about Leonenko -- who certainly had speed, technique and vision -- that is because his career was ruined by his own ill attitude. Luckily, Konoplyanka's disciplinary record is mainly good, and he is mentally ready to start his adventure in a big league.

Tottenham could use a player like the Dnipro winger following the sale of Gareth Bale and the failed bid for Willian. In fact, the Ukrainian was a cheaper option than the Brazilian, and probably a better one, since Willian miserably failed at Anzhi Makhachkala this year, failing to adapt. Spurs were never in the race for Konoplyanka, though. It is Arsenal who are supposed to come back for him again in January, and Spurs boss Andre Villas-Boas will probably regret that one day.

Wenger will be watching on Tuesday night as Konoplyanka attempts to stun the English defence once again. Glen Johnson is still having nightmares about his 90 minutes against Yevhen, and now it's Kyle Walker's turn to try to reduce Konoplyanka's influence. While that is not an easy task by any means, the whole England rearguard should take notice of another great danger from Konoplyanka: his quality corner kicks.

On Friday, during Ukraine's 9-0 rout of San Marino, two of the goals came directly after Konoplyanka delivered in-swinging corners from the right. You might say that the opposition were not up to standard, but what about Sweden at Euro 2012? Andriy Shevchenko scored his winner when Konoplyanka put in a majestic ball to the near post, enabling Shevchenko -- the most famous Ukrainian star -- to beat Zlatan Ibrahimovic in the air.

"I always make my deliveries according to the opposition. If something doesn't work, it's time to try another solution," Konoplyanka said of his decision-making. Given the significant problems England experience when defending high balls (you might recall the game against the very same Sweden last summer), those corners could prove lethal to the Three Lions' hopes of qualification. You've been warned.