Italy's Prandelli will be a tough act to follow

The end of the transfer window coincided with the beginning of a fortnight of international football. Unsurprisingly the spending habits of clubs was a topic of discussion for those in charge of the countries in which they were based.

- Highlights: Italy 1-0 Bulgaria (US, UK & Ireland only)

In Italy it was no different. Another summer had been distinguished by the arrival of a new wave of foreign players on the shores of Serie A and not for the first time, Cesare Prandelli let out a sigh of regret.

A study in La Stampa had revealed that of the 278 players who were involved in Week 1 of the season, 156 -- that's 56.11 percent of the total -- were of foreign origin. The opportunities for players eligible for selection for Italy were becoming ever smaller. Clubs should be reflecting long and hard on this, Prandelli felt.

"If I were the president of a club, I'd think about working on my young players and getting them into the first team, perhaps then completing the group with foreign players," he said.

In his three years as Commissario Tecnico, the ratio of foreign players to Italians in Serie A has increased by 6.81 percent and that's despite his insistence that clubs prioritise the development of their own talent.

A number of things have disappointed Prandelli during his time in the job. The resistance he faced from clubs on requesting that their players be made available outside of qualifiers and friendlies for additional training camps ahead of Euro 2012 was one. This is another cause for disillusionment, although it's not like he was unaware of the trend when he accepted the role.

Figuring out Prandelli's state of mind has been the major preoccupation of the papers in Italy throughout this international break. Earlier this week, Sky Italia's Alessandro Alciato, the biographer of Carlo Ancelotti and Andrea Pirlo, reported that Prandelli plans to step down from his post after the World Cup in Brazil next summer. La Gazzetta dello Sport made the story its front-page lead on Wednesday.

When asked to comment on it prior to last Friday's qualifier against Bulgaria in Palermo, Prandelli said: "I still haven't decided my future." He did, however, promise to talk about it "with the utmost transparency" after Italy have qualified, which they're expected to do with a victory over Czech Republic in Turin on Tuesday.

Make no mistake, if Prandelli does reveal that it's his intention to leave, the rise in the proportion of foreign players to Italians in Serie A is unlikely to be the straw that broke the camel's back. Rather it's thought that his wish is to return to coaching at club level.

Prandelli, remember, has yet to work for one of the elite, instead establishing his reputation at Hellas and then Venezia, Parma and Fiorentina. The received wisdom is that when the FIGC called in the spring of 2010, there was another offer on the table. It was from Juventus, the club for whom he played in the early '80s. It's to a job like that which Prandelli aspires.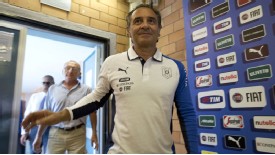 APCesare Prandelli's future as Italy boss has been the subject of conjecture.
"Let's put it this way," he told the pink paper back in the spring, "nurturing young players and starting all over again after a couple of years [like at Parma and Fiorentina] is something I've already done. I'd like a team or a project that's capable of winning. Now I want to win."

Should Prandelli choose not to renew his contract with the FIGC after the World Cup then, as his predecessor Marcello Lippi has said, "... he won't have a problem finding a club."

Considering the situation he inherited, he has done a marvelous job with the Azzurri. Bottom of a group that included Paraguay, Slovakia and New Zealand, winless, too, the 2010 World Cup was a nadir for Italy, the kind they arguably hadn't experienced since losing to North Korea in 1966.

Prandelli picked up the pieces and put them together to form an altogether different Azzurri. They'd play on the front foot, not on the counter, and take the game to the opponents rather than allow it to be brought to them. When Italy won, he wanted it to be deserved, not begrudged. He sought to play in such a way that, regardless of the result, the fans would be proud of their team and would be able to leave the ground with their heads held high. And that's just what happened even when Italy lost the final of Euro 2012 last summer.

Just to reach a high like that after the low of two years earlier was a wonderful achievement, but to do so in the manner in which they did meant it resonated so much more. Prandelli not only made many people admire Italy as a football nation again, restoring the respect in which they're held, but he also succeeded in changing opinions and stereotypes of the Azzurri as cynical and defensive.

There are no trophies for intangibles like these, but when it comes to judging the work Prandelli has done as a whole they're as important as the results. The legacy he'll leave is not just that of an Italy that's been a pleasure to watch, but one with a social conscience, too. He has held players responsible for their actions with an ethical code to dispel the notion that they are above the law and not held to the same standards as your average Giuseppe.

Bringing the national team closer to the people has been a theme of Prandelli's tenure. He has taken the players to train in places where the locals have been intimidated by the mafia as well as areas devastated by natural disasters to show the residents that they're not alone. Likewise, players who've had the courage to report match-fixing in the lower divisions haven't been abandoned, either, at least not by Prandelli, who invited them to train with the national team.

In short, he has taken his vocation beyond the pitch. Replacing him won't be easy. A continuity appointment is what's needed. The papers in Italy have already begun speculating as to who might step into his shoes. Japan coach Alberto Zaccheroni has been identified as an early front-runner.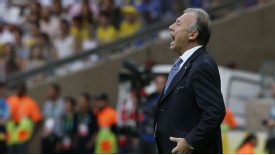 APAlberto Zaccheroni has been tipped to replace Cesare Prandelli as Italy boss.
A former Scudetto winner, twice awarded the Panchina d'Oro and one of only three coaches to sit on the benches at Milan, Inter and Juventus, aside from his experience at club and international level, he has a strong relationship with Demetrio Albertini, a former player of his, now vice-president of the FIGC as well as Arrigo Sacchi, the Federation's technical coordinator at youth level. Other candidates, for what it's worth, include Massimiliano Allegri, Roberto Mancini, Antonio Conte, Luciano Spalletti, Francesco Guidolin and Claudio Ranieri.

The question here is: will all this destabilise Italy over the next nine months? "The very proper and professional announcements in anticipation [of a coach stepping down] never augur well [for the Azzurri]," wrote Fabrizio Bocca in La Repubblica, "they create a limbo of uncertainty, of indeterminacy, they undermine, without realising it, the very appeal of the coach."

It's a concern captain Gigi Buffon doesn't share. "It's a 'non-problem,'" he said, his reasoning being that, from his experience, it's normal for coaches at international level to relinquish their positions after a European Championship and a World Cup, there's a full circle-ness to it.

Buffon, incidentally, was magnificent on Friday. Anyone labouring under the misapprehension that he's no longer capable of what he once was should watch the tape of his performance against Bulgaria.

With Italy 1-0 up following Alberto Gilardino's first-half header, the visitors "came within 10cm of an equaliser" a few minutes after the interval when Ivelin Popov slid to get on the end of a cross in the 6-yard box. Buffon sprung across, diving behind his line to push it away. "Poor Popov was left like Pele in front of Gordon Banks in 1970," wrote Luigi Garlando in La Gazzetta dello Sport.

Alert enough to prevent Thiago Motta from heading a Bulgaria corner into his own net, he thwarted Dimitar Rangelov, too, and "saved the result in an extraordinary manner," claimed Prandelli. "It was like [Buffon] scored two goals for Italy," he concluded.

While it may be true that more errors have crept into the Italy No. 1's game over the past year or so, people forget some of the outstanding performances he's put in during the same period: remember the point-blank save from Glen Johnson in the quarterfinal of Euro 2012 and how decisive he was in Prague, where Italy drew 0-0 before the Confederations Cup. And what about the penalty saves in the third-place playoff against Uruguay at that tournament, which went some way to cancelling out the Neymar free kick he should perhaps have done better to keep out versus Brazil.

On Tuesday, at the Juventus Stadium, Buffon will join Fabio Cannavaro on a record 136 appearances for Italy. There's a symmetry of sorts to it in that the first goal he conceded while playing for the Azzurri was an own-goal scored by his former teammate in the first leg of a playoff to qualify for the 1998 World Cup against Russia in Moscow.

Bolstered by the returns from suspension of Mario Balotelli, Dani Osvaldo and Riccardo Montolivo, should Italy, seven points clear at the top of Group B, beat the Czechs, then they can stamp their passports for Brazil with two games still to play. Maybe afterward Prandelli will let everyone in on what the future holds for him. For now, Italy waits.