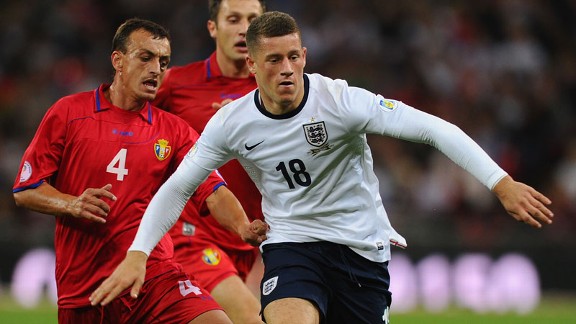 GettyImagesJust a couple of months after playing at the Under-20 World Cup, Ross Barkley made his senior England debut.
A stunning goal against Norwich on the opening day of the Premier League season catapulted Everton's Ross Barkley into English football's collective consciousness. Less than a month later, he was making his international debut in a World Cup qualifier against Moldova.

Barkley was widely tipped for the top as a talented teen, appearing on Everton's substitutes' bench as a 16-year-old, but his progress was curtailed by a devastating leg break just when he was on the cusp of making his first-team debut.

Now, with his star most definitely on the rise again, ESPN FC speaks to those who have witnessed his development at close quarters to build a clearer picture of this promising player.

ANDY CAWLEY, PE teacher and football coach at Broadgreen International School

I remember Ross' first game for the school team, we won 14-0 -- a daft scoreline. He had just been taken on by Everton and had a real presence about him, head and shoulders above the rest. Roberto Martinez recently said he's like a young Michael Ballack, but I've always thought he's more like Zinedine Zidane in terms of taking players on and getting up the field quickly. Anytime we played anyone, he was exceptional and stood out.

As a student, he was always quite quiet, respectful rather than shy; we've had five students become professional footballers in recent years but Ross really stood out because of his attitude. Even at a time when he was getting called up to England in Year 9/Year 10 he was very humble. He could have got carried away but he didn't; his feet stayed firmly on the ground. He was a great lad around the school, he didn't ever abuse the attention, he stayed focused. All the natural ability was backed up by an excellent mentality.

Sometimes he had to miss lessons because he was at an Everton training day or a youth tournament with England but we understood that bigger things were going on in terms of where he was going. His mum was always very supportive of that ambition and always respectful of the school too. I'll never forget when Ross' classmates were taking their GCSE PE theory exam, his desk was empty because he was playing for England and winning a European Championship medal. For him to now get a senior England cap is the icing on the cake. Everyone at the school has a feeling of immense pride and satisfaction to see him so successful.

JOE WATSON, Everton academy team-mate

Ross actually started out as a centre-back at the academy before moving into centre midfield -- technically, though, he was pretty much always a class apart from the rest. He developed physically early but that's not the only reason he was the best, he was always a very clever and gifted player. He could ping a ball 60 yards and also had great strength compared to everyone else from the age of about 13. He was always desperate to be playing, whether it was training or a match, and he always played above his age group with the older lads. It's unbelievable, but not that surprising, to see him winning his first England cap.

DAVE PRENTICE, deputy head of sport for the Liverpool Echo

Ross has been a slow burner at Everton, through no fault of his own. We were aware of a talented young protege called Wayne Rooney when he was 14 years of age -- and two years later he was playing first-team football -- but a horribly broken leg sustained by Barkley on England Under-19 duty in 2010 curtailed his progress at a crucial stage of his development.

It was a cruel blow. Ross, then 16, had been named on the subs bench for Everton in his last three matches, before an accidental collision -- ironically with cross-park rival Andre Wisdom -- saw his leg broken in three places.

Barkley had already crossed the radar of Liverpool Football Club much earlier. Reds boss Rafa Benitez was presenting the trophy at the historic Liverpool Echo Cup final in 2008 when Ross was skipper of the victorious Broadgreen School team. He was hugely impressed by what he saw, but dismayed to learn that Barkley was already on Everton's books! It was only a matter of time before Barkley was parading his talents for the Blues senior side.

MIKE TAYLOR, founding editor of Everton fan site Kings of Goodison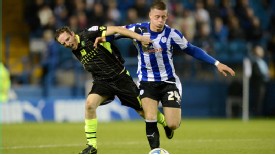 GettyImagesRoss Barkley enjoyed a successful loan spell at Sheffield Wednesday in the first half of the 2012-13 season.
Ross Barkley's emergence hasn't come as much of a surprise to most Evertonians and it has been refreshing to see Roberto Martinez put his full faith in Barkley, something David Moyes was always reluctant to do. Since the emergence of a certain Wayne Rooney, Everton's academy has been scrutinised by Evertonians and outsiders alike. It was hoped that Jack Rodwell would be the next star but most fans were never really convinced. Barkley is different.

It is difficult to disagree with Martinez's recent claim that he has "no weaknesses." Barkley is physically strong, two-footed, can shoot from anywhere, execute a pinpoint pass, head it -- his technique is excellent and he's not scared to get stuck in. If such a thing exists, I think he plays like a Scouser -- somewhere between Rooney and Steven Gerrard. They share a fearless style -- a rarity in the modern English player.

In terms of weaknesses, he can sometimes be prone to over-elaborate in dangerous areas, but a combination of his successful loan spell at Sheffield Wednesday and working with Martinez, who himself played a similar role to Barkley, has helped to mature him quickly. Martinez has compared Barkley to a young Michael Ballack and I genuinely believe he can become a world-class midfielder of that ilk. As a 19-year-old, time is very much on his side.

PETER TAYLOR, England manager at the 2013 Under-20 World Cup

I didn't know much about Ross before the Under-20 World Cup but everyone was talking about what a good player he was. Before meeting him, I wondered if he might be one of these flair players who is a bit of a flash Harry, but that couldn't have been further from the truth; he was first class. Ross wanted to work hard in training, prepare well for games. He had a chuckle with you as well which is so important when you've got a new team -- you need people to be loud to get the team spirit going -- he was very good like that. He was very disciplined and his ability on the field means he's got fantastic potential.

Style-wise he's definitely like Paul Gascoigne. The way Gazza used to beat people, the way he created and delivered in the final third and the fact that he was also a very hardworking player. That's Ross Barkley. He can play in a midfield two and handle the situation defensively, but his greatest strength is unquestionably in the final third where he can score with a shot, score with his head, beat people, make a pass and of course score. I'm delighted to see him getting game time at Everton this season. That goal he scored against Norwich didn't surprise me one bit. There are plenty more where that came from. He's two-footed and has great power in his feet. He's got the lot really.

What Barkley's club managers have said ...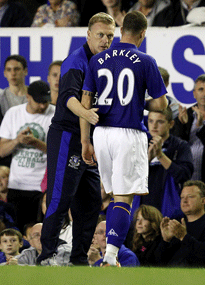 GettyImagesDavid Moyes gave Barkley his Everton debut but used him sparingly in a bid to protect the midfielder.
DAVID MOYES (Everton, April 2013) -- "Ross is a boy who missed a lot of football. He had a broken leg, and he's missed a bit of his early development. Everybody's said: 'Get him in, push him in.' But the time's got to be right. We've got to see enough to suggest that he should play in the team as well. He's just beginning to show more signs than he's shown in the past. He's maturing a little bit more, and he's beginning to get back all that time that he's missed. He has a lot of maturing to do and needs to make sure he does not lose the ball in the wrong areas of the pitch. If you're dropping your shoulder and losing it at the edge of their box, it is not a problem -- but if you're doing it at the edge of your box, then it is a problem. They are the sort of things he has to come to terms with."

DAVE JONES (Sheffield Wednesday, August 2013) -- "He is a talented kid and he will get better and better as he matures as a player. Our fans saw he was a quality player. He lives and breathes football and he was always first in, last away when he was here. He was always working at something so he's got that mentality that he wants to work well and he wants to do well. It's not a bad thing to have. He's only a young player, he's already had a bad injury and got over that, now you're seeing his full potential. If he hadn't have broken his leg, he probably would have been closer to the England call-up before now. Everyone at Everton knew they had a star on their hands and we were very fortunate to get him for the short time we did."

ROBERTO MARTINEZ (Everton, September 2013) -- "Ross is ready for whatever comes his way. That's what he's shown in the early stages of the season, and we're happy to support him and support the England team in whatever way that we can. Ross is a player who is enjoying his football, and we don't want that to change. Whatever his role is going to be with England, it will be a positive one. I'm sure of that. The England manager knows him really, really well now, and he knows that whatever the role, Ross is ready for that. He's show week in, week out in the Premier League that he's ready to do that. Without wanting to run before we can walk, I'll say that I think Ross is an incredible young talent. Whatever role is asked of him, he's ready."