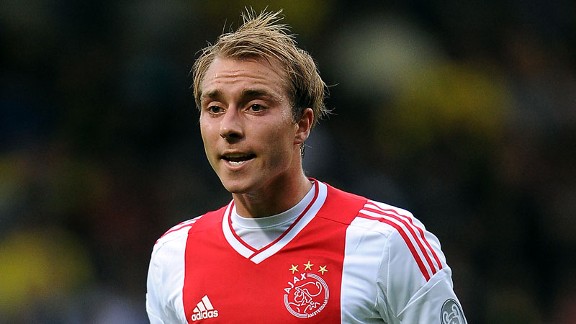 PA PhotosChristian Eriksen is perhaps Tottenham's best signing of the summer.
He is the wonder kid who has spent much of his life dodging the publicity his talents have inevitably attracted, so Christian Eriksen would have been quite content to sneak in the back door at Tottenham as his Premier League dream was finally realised last Friday.

On a day when Tottenham had spent another £50 million in their outrageously garish spending spree designed to compensate for the world-record sale of Gareth Bale to Real Madrid, Eriksen's arrival almost seemed like something of an afterthought.

Yet their seventh and final sign of a breathtaking summer of spending might well prove to be their best, with Eriksen's much–discussed rise to superstar status likely to be rubber-stamped at White Hart Lane.

Even though he celebrated only his 21st birthday back in February, this experienced performer has already crammed more into his short career than many a seasoned professional, with the career-defining transfer he made last week among the most long-awaited of any rising football star.

Eriksen's name has been an ever present on the cast list of transfer windows for the past three or four years, with Chelsea, Arsenal, Liverpool and both Manchester clubs linked with his services from time to time. Yet none of the Premier League giants succeeded in luring this gifted Danish playmaker from his comfortable Ajax stable.

However, once Eriksen went public last month to express his desire to explore new avenues in his career, it was clear that he felt the time was right to take the plunge and move to England, with Tottenham the fortunate beneficiaries of a talent who appears to have all the raw ingredients required to emerge as a Premier League star.

There will be doubts about his credentials until Eriksen's promise and potential are converted into tangible Premier League success, but he arrives at Tottenham with enough experience on both the international stage and in European club competitions to ensure he is unlikely to be overawed by the challenge before him, with that reality no coincidence for a young man who has carefully plotted his path to the top.

Wonder kids tend to be burdened by a rush to promote their fledgling talents, with the lure of big-money moves, lavish wages and the trappings of fame that are so hard to resist derailing many a talent of Eriksen's ilk down the years, but this oft-heralded protege was determined not to fall into that trap.

From his formative days at little Danish club Middelfart FC, whom he first played for as a 3-year-old toddler, to his time with OB Odense in the Danish league and then on to Ajax in Holland, Eriksen's progression has been patiently managed to a point where he feels ready to perform in one of Europe'e elite leagues week in, week out. That moment, it seems, has arrived.

"I remember at the age of around 12 or 13, there was big interest from some of the scouts," states Eriksen. "The attention did not worry me. I just got on with my game.

"Training with the big clubs like Chelsea and Barcelona gave me a chance to see how the football world is. Chelsea talked about me joining them, but at the time, I thought it was too big a step. I took advice from my dad about what would be best for my development."

A dip into Eriksen's settled and uncontroversial background reveals that his devoted father, Thomas, has been a constant guide and source of advice throughout his career.

A coach at the Middelfart club, where young Christian started his career, it was advice from his dad that led to the decision to continue his sporting education at Ajax when he signed for the Dutch club in 2010.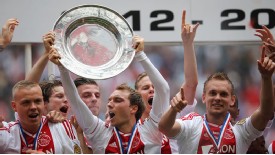 GettyImagesSuccess was second nature to Eriksen at Ajax.
There were better financial offers on the table at the time, and several more have come the way of the Eriksens in the years since, but only now did they decide the time was right to push the green light on the next stage of Christian's career.

"I went to Ajax because of their record for giving players a good education in football, and I knew I would have the chance to play in their team quickly," reflects Eriksen. "If you are good enough there, it doesn't matter how old you are. It was a pretty easy decision to make.

"My Dad was always telling me what I needed to do to get better. He tried to train me for how demanding professional football can be. It was never a case of me thinking about the money in the game, it was always about playing. I had no hurry to join one of the big clubs with the big expectations. We waited for our moment."

The mature and grounded attitude Eriksen has maintained despite being a football star for as long as he can remember should hold him in good stead now that he is preparing to step onto the big stage that is the Premier League, and it has also helped him to handle the hype he has been burdened with since his early teenage years.

Any Danish attacking starlet who shows an ounce of potential has to deal with the unfortunate moniker of being "the new Michael Laudrup," yet the slow steady journey to the top being followed by Eriksen has inspired national team coach Morten Olsen to suggest he will flourish at Tottenham.

"Christian has taken the next step now, and I believe he is ready for it now," states Olsen. "Tottenham are one of the top six teams in one of the most competitive leagues in the world, and I believe he has the physical attributes, as well as the mental ability, to deal with the Premier League.

"The pace will be different from what he has been used to in Holland, but he has the ability to adapt quickly. When you have the ability of Christian, you can adapt to any situation and crucially now, he also has the maturity you need to do well in these big competitions.

"One thing that has always been frustrating for me when people talk about Eriksen is this comparison with Michael Laudrup. I understand why they say it, but it has not helped him make his way in the game. Hopefully, they can look at Christian for the footballer he is now."

Eriksen's best position has long been a point of conjecture. During his time as Ajax coach, Martin Jol employed his rising star as an all-action midfielder with license to burst forward and use his talents in whatever area he saw fit.

Frank De Boer, who worked with Eriksen in the Ajax junior teams before he took over as first-team coach at the Amsterdam club, seemed to get even more out of the club's shining star, as he excelled in the Champions League and was a constant attacking threat.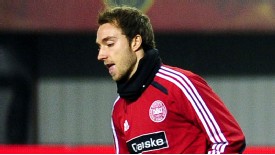 AssociatedThe playmaker has been a key figure for Denmark in recent years.
Where will Spurs boss Andre Villas-Boas use Eriksen? These words give us a hint: "He is a wonderful creative player, a great solution for our No. 10 position. We will have great competition for that position, and Christian brings that flair and creativity we saw at Ajax for the last few years. He is also a player who has played at a high level in Europe for some time. Another great signing, that's for sure."

Eriksen's eagerness to promote modest personal targets after his move to Tottenham are not reciprocated when he assesses his new club's ambition, which is undeniably lofty.

"The goal is to challenge for the title," he adds. "That is what the club wants and that is what I want. When I spoke with the manager and the club, it was clear they had the target to try and win the Premier League, and why not aim for this.

"I understand there may be a period for me to adapt, this is normal. Maybe I will not play every game to start with, but the coach tells me he has big ambitions for me, and I hope this will work to my advantage quickly.

"It's really exciting when you look at the players the club is getting and I'm one of them. The club is going up, the players also, and that's what I want to be a part of. I am under pressure, of course, but this is good pressure. I'm really excited to join Spurs."

Eriksen has yet to make a false step on or off the pitch in his career so far and if his story continues to ooze positivity, Tottenham may have acquired a player who can be just as important to their future as the departed Bale might have been.