Sweden's real legend is the opposite of Zlatan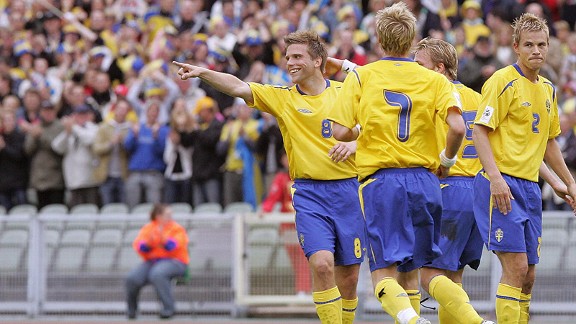 GettyImagesAnders Svensson needs one cap to equal the Swedish record.
Who do you think is the most capped outfield player for Sweden? Unless you are Swedish, the chances of answering the question correctly are not too high.

Maybe that's because, throughout the last decade, Sweden have regularly been thought of as a one-man show. Zlatan Ibrahimovic is their superstar, one of the most talked-about players on the planet, a flamboyant and unpredictable genius who attracts attention wherever he goes. Mention Sweden to any fan in the world and they automatically think of Ibrahimovic. He is the face of Swedish football, completely overshadowing those around him.

The perception is quite unfair, though. On more than one occasion, Ibrahimovic has been at odds with the national team and appeared to lack the required commitment. He boycotted the team for a few months in 2006 after a rift with coach Lars Lagerback. He announced he was quitting it altogether in 2009, after failing to qualify for the World Cup, stating that he had lost motivation and was unwilling "to be expending energy for no reason". When he eventually came back, he was immediately promoted to captain at the expense of Anders Svensson.

- Maher: Moment of truth for Ireland

The tireless, seemingly eternal Anders Svensson. He has been around for 14 years now, but try to remember anyone hailing him as one of Sweden's impact players and you'll invariably draw a blank. The biggest club Svensson has played for in his career is Southampton. He has won only two league titles in his life, both with Elfsborg, a team virtually unknown outside of his homeland. He never fulfilled his dream of playing in the Champions League. And yet it is Svensson, not Ibrahimovic, who deserves to be considered the living legend of Swedish football.

Svensson is the antithesis of Zlatan. Both made major decisions in their respective careers by following their hearts but, while Ibra's heart (and his agent Mino Raiola) always told him to move on, Svensson's advised him to stay put.

The combined total transfer fees paid for Ibrahimovic -- more than €170 million -- are the highest in the history of football. Svensson's total is less than €1 million, paid by Southampton back in 2001. "My friends often say that I could have achieved more," he once said. "It feels like I could have joined a big club. But I wasn't willing to sacrifice everything for it. I didn't have an attitude to make the final step."

But the fact that he is an honest, hard-working professional should by no means count against him. Quite the contrary. Back in 2006, when asked about his role in the national team in an interview with the Expressen newspaper, the midfielder, blessed with wonderful attacking instincts, answered: "When Zlatan plays, I am taking a more defensive position. Zlatan doesn't like to defend, but he is unique and must be allowed to play his game. Of course, I miss dribbling sometimes, but I have to think about the team."

Zlatan's outrageous talent was easy for all to see at an early age, but Svensson waited a long time before anyone heard about him. He was promoted to Elfsborg's first team when the club were in the second division, and only in 1997, when he was 20-years-old, were the Yellow Ones finally promoted to the Allsvenskan. Two more years passed before he got the first call-up to the national team. Even then he was doubted.



After scoring an outrageous volley for Elfsborg against Malmo in 1999, one of the greatest shots ever witnessed in the Swedish league, pundits put it down to pure luck. Everyone wanted him to show how he did it. Thus a TV crew arrived at Elfsborg's training ground, and Svensson replicated the volley at the first time of asking; it was skill, after all. Few players possess a better shooting technique than Svensson.

It was then that everything started moving in the right direction for him. His first international goal in 2000 was a winner in a crucial World Cup qualifier in Azerbaijan. The tournament itself, in 2002, is very fondly remembered by many a Swede, as they finished top of the Group of Death, ahead of England, sending favourites Argentina home. The game against the South Americans was the last of the group stage, and the Scandinavians needed a point. Svensson gave his team the lead with a magnificent free-kick that would make David Beckham jealous.

That was the most memorable moment, but Svensson himself rates his contribution to the 2-1 win over Nigeria, earlier in the group stage, much more highly. The midfield belonged to him that day. And this magical moment against Senegal highlights how gifted he is. When Zinedine Zidane did that, the whole world took notice. But it was "only" Svensson, so most people are probably watching it here for the first time.

Not everything went smoothly in Svensson's career. Despite being very popular with the fans at Southampton, he didn't always see eye to eye with manager Gordon Strachan. When the Saints were finally relegated in 2005, he chose to move back to Elfsborg instead of taking a lucrative offer from Espanyol. Later on, he declined a proposition from Shakhtar Donetsk, which would have enabled him to play in the Champions League. Those European aspirations were most probably buried once and for all by Celtic last month, as the Hoops defeated Elfsborg in the qualifiers.

Svensson experienced difficult times with the national team as well, especially during the 2006 World Cup, when the press made him a scapegoat for the horror draw in Sweden's opener against Trinidad & Tobago and successfully campaigned to bench him in favour of Kim Kallstrom. Even now, current Sweden coach Erik Hamren has made it very clear that he no longer sees Svensson as a starter, and mostly uses him as a substitute.

But one thing never changed. Svensson was always there. Game after game, year after year, he was a loyal servant to his country. Last month, when Sweden beat Norway 4-2 in a friendly, everyone talked about Ibrahimovic's hat-trick. But the most beautiful goal belonged to Svensson, who rose from the bench to let it fly. It was also his 20th international goal on his 142nd international appearance.



That number is of huge significance, as Sweden's appearance record, belonging to the legendary keeper Thomas Ravelli, stands at 143 caps. On Friday, against Republic of Ireland, Svensson can equal it. Four days later, versus Kazakhstan, he can break it.

Ravelli's achievement was thought to be unassailable. A few years ago, when presented with a theoretical possibility of him breaking the record, Svensson said that is impossible. But now Ravelli himself has told the midfielder he wants him to break it.

In order to understand the greatness of this feat, it must be mentioned that Svensson's number of caps is ranked 21st all-time in the world, alongside Cafu and Lilian Thuram. A week from now, he could be number 17. In Europe, only four players boast more than 145 caps. Two of them come from minor nations: Vitalijs Astafjevs of Latvia and Martin Reim of Estonia. The other two are Lothar Matthaus, who played 150 games for Germany, and Iker Casillas, who is still going strong with 149 caps for Spain. In a matter of months, Svensson is able to overtake Matthaus and become the most-capped outfield player of any of Europe's influential football nations. This would be truly legendary, and he doesn't have to stop there.

At the age of 37, Svensson is still going strong and deserves immense credit for his extraordinary career. This week, when the new record will be celebrated, Svensson will at long last outshine Ibrahimovic.