Premier League's bourgeoning middle class
Statement of intent followed statement of intent. No sooner had one title favourite demonstrated their credentials in impressive fashion than another rose to the challenge. Indeed the first round of fixtures suggested the majority of Premier League games for the three prime contenders would be the equivalent of shooting fish in a barrel: Manchester United scored four times at Swansea, Manchester City four against Newcastle and Chelsea blitzed Hull to secure victory in 25 minutes.

Not for the first time, the start to the season may have been deceptive. Not so much because the two Manchester clubs have been beaten -- although, at Cardiff and Liverpool respectively, they have been -- but because the backdrop has changed over the summer. The landscape of English football has been altered by a host of expensive arrivals; too few of them, for United's liking, at Old Trafford. Yet while City have four costly additions and Chelsea spent £50 million on Willian and Andre Schurrle, they are not the clubs heading into uncharted territory.

Instead, 10 of the division's other 17 members have broken their transfer records. Some, indeed, have obliterated theirs: the £42.4 million Mesut Ozil was £25 million more than Arsenal's previous highest purchase; Cardiff, who had not spent more than £3 million on a player before the summer, now have a £9.5 million midfielder, in Gary Medel. Like Tottenham, City have gone past their previous highest deal three times within a few weeks.

If it might have been expected that the three promoted clubs, accustomed to paying Championship prices for Championship players, would be shopping in new markets, it was less easy to anticipate Cardiff possessing a trio with a combined cost of £25 million. Moreover, while Arsenal were able to reap the rewards of years of prudence and Tottenham could spend the proceeds of Gareth Bale's move to Real Madrid, the most revealing buys were made by the Premier League's middle class.

Norwich, Southampton, Swansea, West Brom and West Ham have also authorised bigger bank transfers than at any previous stage in their history. Besides becoming their new clubs' priciest players, Ricky van Wolfswinkel, Pablo Daniel Osvaldo, Wilfried Bony, Victor Anichebe and Andy Carroll have something else in common: all are strikers.

The premium placed on goalscorers has rarely been higher. From Tottenham, with Roberto Soldado, to Crystal Palace, with Dwight Gayle, clubs have invested unprecedented amounts in finishers. Even apart from the current record buys, many another attacker has arrived: Andreas Cornelius at Cardiff, Darren Bent at Fulham, Gary Hooper at Norwich, Jozy Altidore at Sunderland. Everton have Arouna Kone and the borrowed Romelu Lukaku, Fulham the on-loan Darren Bent, West Brom the creative Stephane Sessegnon, Aston Villa the promising Libor Kozak.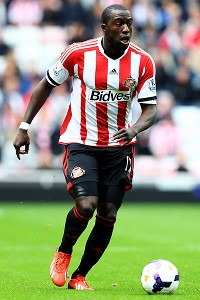 Matthew Lewis/Getty ImagesJozy Altidore is part of wave of strikers heading to the Premier League this season.
The logic is clear, particularly for teams in the bottom half of the table: if they are to make the most of what could be limited opportunities, they need more penetrative players. The reasoning to underpin that theory was inadvertently provided by Hull, who then failed to make West Brom striker Shane Long their biggest buy, against Manchester City on Saturday: Sone Aluko had the game's clearest chance at 0-0 and missed it. When other underdogs sign higher-calibre forwards, the warning for the elite is that one defensive slip could be hugely damaging.

The best should find the rest presenting an ever stiffer challenge. The Premier League may no longer host the world's outstanding teams -- Spain and Germany, who provided all four Champions League semi-finalists, share that distinction -- but its calling card now includes an unrivalled strength in depth. Even the weakest are now stronger.

The division's collective bargaining for television rights and more equitable distribution of them means a £5.5 billion, three-year deal is benefiting all. There is a sudden injection of quality across the board but the impact is felt most by those who had least until now. They have a competitive advantage; not against each other, armed with similar funds, but against foreign rivals.

And so it is that much of the money -- including 78% of the expenditure in this transfer window -- is spent abroad and that more successful Serie A and La Liga countries, playing in countries mired in economic difficulties and without the same financial backing, have found themselves prone to Premier League predators, often unlikely ones.

Hence strange sights like Medel leaving Sevilla for Cardiff, Osvaldo swapping Roma for Southampton or Emanuele Giaccherini trading Juventus for Sunderland. While there is the Michu model of finding bargains abroad, this is another phenomena: few Spanish and Italian clubs can match the prices the English (and Welsh) can afford.

Of course, three clubs will still go down and the relationship between spending and success is famously inexact. Some of that money, it will soon become clear, has been misspent. But much of it hasn't been and the sides who have been transformed by expenditure are not so much the top teams, but their ambitious inferiors. The likelihood is that every win will become more precious for the title favourites, the chance that every game could become more watchable and less one-sided. It is the competition that should make them compelling.