Deadline Day plot short on drama but a box-office hit
Well, they did their best. It was a valiant attempt. Four stars, easily. Transfer Deadline Day 2013 was more expensive, more profligate than any of its predecessors. It was laced with intriguing subplots and featured an innovative comic turn from Manchester United.

For sheer drama, though, this sequel was still not quite on the same level as the best production in the series: Transfer Deadline Day 2008. That remains, by some distance, the franchise's best work.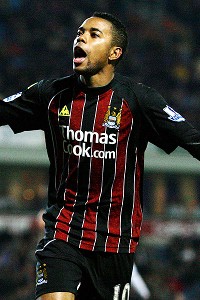 Alex Livesey/Getty ImagesManchester City's 2008 acquisition of Robinho was the catalyst that gave Deadline Day its own life.
2008 was a classic of its type. That was when most fans fell in love with the concept. It is easy to forget, looking back now, how unpopular Deadline Day was when it was first introduced in 2002, particularly among aficionados of the Premier League. That all changed with the genius of 2008, though. Turning an arbitrary time limit on staff acquisition into a bacchanalia of excess and waste and greed and panic? A work of art.

It was in the 2008 installment of Transfer Deadline Day, you will recall, that Manchester City signed Robinho -- proof that all deadline-day deals pay off -- and Manchester United responded by ghosting in and stealing Dimitar Berbatov from under their noisy neighbours' noses. Those two deals were worth £65 million or thereabouts, a paltry sum by modern standards, but the actors involved had the good sense to delay finalizing either move until after midnight. A truly Hitchcockian mastery of suspense.

This year, the budget was bigger: The two most lucrative storylines of this year's episode saw Arsenal capture Mesut Ozil and Manchester United realise they would have to sign Marouane Fellaini for a combined £70 million. United deserve special mention: Deadline Day has rarely involved slapstick, but its introduction this year worked well, and Edward Woodward should take a lot of credit for this interesting diversion. The rest of the league, too, can be proud of itself: They wasted/spent £140 million on Deadline Day alone, and some £600 million in the window.

But just as Kevin Costner's "Waterworld" had a bigger budget than the Emilio Estevez classic "D2: The Mighty Ducks," more money does not necessarily mean more drama. Arsenal did their best -- agreeing to a fee for Ozil in the morning, then seemingly dragging the medical out for eight hours -- and Everton's late cameo was eye-catching. But there were no last-minute twists, no silhouetted Bulgarians at Old Trafford, not a single quote from Dr Sulaiman Al-Fahim.

What was encouraging, though, was how devoted the Premier League remains to several cornerstones of the series.

The clubs, as a whole, continue to feel that leaving their business until the very last minute is in some way good business practice. The collective delusion that waiting and waiting to add players to your squad saves you money is still going strong, despite overwhelming evidence to the contrary. Special credit here must go to United, again, who managed to pay more for Fellaini than they would have had to a few weeks ago -- £4 million more. That is commitment to the cause.

No doubt the producers will have strong words with the likes of Southampton, who got all their signings in before the start of the season, and even have a quiet word with Liverpool, who signed three players on Deadline Day but announced all of them in the morning. This simply will not do. The transfer window relies on clubs being as indecisive and uncertain in the market as possible. Hopefully Mauricio Pochettino, Brendan Rodgers, Chris Hughton and a few of the other, younger managers will realise that soon enough. It is much better, from a theatrical point of view, to get yourself embroiled in a chain of deals -- preferably one involving Dave Whelan -- which clicks together only at the last moment, meaning you must sign eight players in four minutes, by fax, as Sky Sports News starts to show an image of Big Ben. Roberto Martinez could offer some pointers.

It is also to be commended that many of the major Premier League clubs seem so committed to ignoring their scouting departments. Only Chelsea and Tottenham -- in signing the likes of Marco van Ginkel and Etienne Capoue -- and to some extent Liverpool made any attempt at all to sign a player who had not been featuring on cable television at least once a week for the last two years.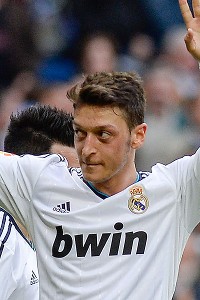 AllsportPerhaps Arsenal signing Mesut Ozil was miscast in the 2013 Deadline Day movie.
This is, from a directorial point of view, wonderful news: Big-name stars are the order of the day. It would be a shame if the big box-office draws were to follow the lead of Norwich, say, and start actually scouring Europe for intelligent signings at reasonable prices.

This whole Deadline Day franchise relies upon big clubs spending big money in obvious ways. Imagine how much less interesting it would have been if Arsenal had bought Ozil from Werder Bremen five years ago, before the World Cup, when only professional scouts had seen him play! They'd have got him for a few million pounds. That would barely register on the yellow ticker. Such events are to be avoided. This is why the storyline of Graham Carr's success at Newcastle has had to be altered into a narrative of hilarious but tragic failure. The Premier League does not need lots of no-name players turning out to be good.

That is why Transfer Deadline Day is so beloved -- because it is English football culture, modern Premier League English football culture, in a nutshell. Together with its January cousin, it is the one day a year when incompetence and uncertainty and panic are prized, when fans actively encourage their clubs to run the risk of financial ruin. Its effect is so powerful that, as little as 12 hours later, everyone boasts about how much money has been spent, as though that is some gauge for the quality or health of a league. This year's installment may not have been the best in the series, but at least it shows it is still going strong. The delusion remains in place.