Improvements in modern scouting to be applauded
It was nearly 14 years ago in November, but I remember it as if it were yesterday.

I got a call from the manager of a Premier League team. I didn't know him well at all, but we had a common acquaintance. He swore me to secrecy (I think the statute of limitations has elapsed on this one) and asked me for a favor. He told me they were going to be bringing a Sampdoria player over on trial for a few days but that they would almost definitely sign him, because the fee -- 600,000 pounds, around $1 million at the time -- was really attractive.

"His name is Marco Cate. What I need to know is if there's something wrong with this guy," he said. "Does he drink? Is he a nutter? Why are they letting him go for so little?"

I thought I had misheard the name. There was a guy named Cate who had been at Samp the previous year but surely it couldn't be him ... could it? That Cate was a Brazilian with an Italian passport who had arrived in the summer of 1998 and, basically, done very little. He was a reserve striker/attacking midfielder for a relegated team. I wasn't even sure he was playing at all at Samp in Serie B. Or, indeed, if he was still there.

"So you think it's a great deal? 600,000 pounds?" I said. I didn't want to offend him but I thought it was an absurd amount.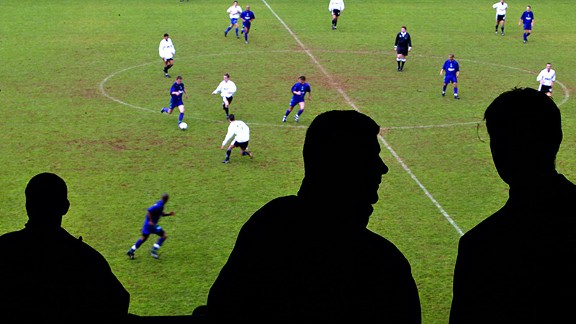 Adrian Dennis/AFP/Getty ImagesClubs have been fooled in the past by opportunistic agents and 'fake' players but advances in scouting have closed several loopholes.

"Don't you? Just look at his CV ..." the manager said. "I have it right here. Eighteen goals in Serie A last year; it's not easy to score in Italy, is it? He was the top scorer in Chile before that. And in Brazil too. He's 26 and he's clearly a proven goal scorer, just what we need. I just want to know why he's cheap. And why none of the big clubs in Spain or Italy are going for him."

I asked if he could fax me Cate's resume, which he duly did. (Younger readers: email did exist back then but faxes were still king.) A few minutes later, my machine whirred into life. It showed his name (Marco Antonio Lemos Tozzi, aka Cate) and date of birth (November 7, 1973). As far as I could tell, those were the only two accurate entries.

According to the flimsy fax paper I was holding, he was a goal machine.


1998-99: Sampdoria (Serie A), 18 goals
1998 Universidad Catolica (Chile), 9 goals
1997: Universidad Catolica (Chile), 8 goals (Apertura), 11 goals (Clausura)
1996: Universidad Catolica (Chile) 15 goals
1995: Sao Paulo (Brazil) 11 goals
1994: Cruzeiro (Brazil) 18 goals
1993: Sao Paulo (Brazil) 10 goals
1992: Sao Paulo (Brazil 7 goals


It went on to specify that he had led Sao Paulo to two Copa Libertadores titles in 1992 and 1993. I remembered those Sao Paulo sides. I clearly recalled the likes of an aging Toninho Cerezo, Cafu, Muller, Palinha and Rai. I could not remember Cate. At all.

More importantly, I knew that Cate had not scored 18 goals in Serie A the previous season. I checked my almanac -- yes, the web was still rather backward at that time -- and, sure enough, Samp's top scorer that year was Vincenzo Montella with 12 goals. Cate had 15 appearances, all but one as a substitute, and scored just once.

(His résumé also said he had been a key member of the Brazil side that won the 1993 Under-20 World Cup. That part would turn out to be true, though it took me a while to realize.) Before I rang him back, I noted, at the top border of the fax, the name and number of the intermediary who had passed on Cate's details to the club. It was a familiar name. And not a particularly reputable one.

When I told the manager what I knew, I got a stream of obscenities. He cursed the guy, a well-known ex-professional, who had wasted his time with this. And he told me he was going to cancel Cate's trial. "Thanks, mate," he said. "We would have rumbled the guy anyway during the trial. But I could have done without the waste of my time."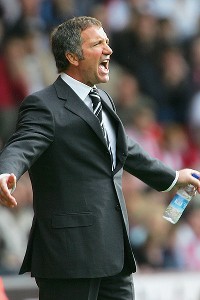 Mike Hewitt/Getty ImagesGraeme Souness was tricked into buying Ali Dia back in the 1990s. Football's come a long way since.

It's also entirely possible that Cate could have had a very good trial and they would have signed him anyway, basically flushing a million dollars (plus his wages) down the toilet. Just two years earlier, a guy named Ali Dia fooled none other than former Liverpool manager Graeme Souness into thinking he was a professional footballer in a bizarre tale involving an impostor pretending to be George Weah ringing up the Southampton manager. Ali Dia came on in the 32nd minute of a game against Leeds and was substituted eight minutes into the second half. He never played professionally again.

In Cate's case there was no fake Weah -- just a fake résumé that embellished a very average player's achievements to the point of absurdity. But if there's one thing for which we can be thankful regarding the march of progress, it's that it couldn't happen today. Not in the top flight anyway.

Scouting has grown tremendously. Not just in terms of quality -- in fact, that remains hit or miss -- but in the fact that clubs send live bodies to check out players. There are, obviously, untold resources on the web -- both public and subscription-based -- that at the very least stop folks from just making things up. Had a Cate type gone on trial in 2013, fans would have found out and sprung into action via Twitter and club forums. Classic crowdsourcing would have suggested that he wasn't what his accomplishments said he was. And, failing all else, there is YouTube.

The broader point is how far and how quickly we've come. Information is everywhere, while fans and football folks are far more aware than they've ever been. It's tougher than it has ever been to get an edge over your competition, which is why the better clubs spend ever more on scouting and analytics to determine exactly whether they should sign a player and, if so, for how much.

Of course, there are still plenty of charlatans, crooks and con men out there. And it's a fact that if you happen to be playing outside Europe's top six or seven leagues, whether or not you get a move to the big time will often depend as much on who your agent is as it will on how good you are.

But we're moving in the right direction. We won't see another Ali Dia. And if you're going to flat-out lie about a player to get him a trial, you're going to need to get a bit more sophisticated about it than the middleman who was peddling Cate.

And that's a good thing.

A footnote on Cate: He left Sampdoria to join Flamengo but failed to make his mark. In 2001 he joined the New England Revolution in Major League Soccer. He was the Revs' top scorer that year and was the club's representative on the All-Star team. He moved back to South America, bouncing around teams in Brazil, Venezuela and Chile before retiring in 2008. Two days after Christmas 2011, his car collided with a truck near Belo Horizonte, Brazil. Tragically, he was pronounced dead at the scene.

Marco Antonio Lemes Tozzi was 38. My guess is that he never found out about the résumé that nearly got him a move to the Premier League.