Manchester United may pay the price for market missteps
The mood at Old Trafford, according to those who work around Manchester United, was "tense."

• Brewin: Moyes left to pick up the pieces
• Okwonga: United pay for complacency
• Payne: Shambolic transfer window

It was just after noon UK time on the final day of the transfer window and, while Arsenal were making confident inroads towards signing Mesut Ozil from Real Madrid, the English champions had been struggling to make any kind of strides at all in their pursuits of Everton's Marouane Fellaini and Athletic Bilbao's Ander Herrera. Some involved wondered whether United would do any business.

At that point, despite earlier press briefings to the contrary, the club were indeed considering whether they should attempt to hijack the deal for Ozil. The playmaker had, after all, been offered to David Moyes almost a month beforehand. United initially turned it down on the basis that the fee and wages would have been extremely high in a position they did not really need to prioritise.

The same, of course, could have applied to Arsenal. Arsene Wenger has been rightfully praised for the manner in which he just went and acted when a player of Ozil's quality became available. Such world-class stars, regardless of the context, have that rare potential to transform any team.

It is something United know well, with Sir Alex Ferguson having made similar statements on signing Robin van Persie from Wenger himself a year beforehand. It was also a deal the former United boss may well have leapt at, especially given that he was so interested in Ozil in the summer of 2010.

This, ultimately, is what it keeps coming back to. There's no escaping it -- the shadow of Ferguson was always going to complicate this summer and season -- but the worst part for the new United is that they have made that shadow even longer because of an utter farce of a transfer window.

As excellent as Moyes may become as a United manager, and as undeniably good as he is at present, he was always going to need a lot of extra help to even keep the side at the standard set by one of the greatest managers of all time -- with all that only more pressing given the progress made at other clubs.

This was something that United themselves fully recognised, and was made patently clear by their aims at the start of the summer.

First of all, the club wanted a statement signing, both to mark the start of a new era and also create a truly positive mood after the change of manager. Cristiano Ronaldo, Cesc Fabregas and -- in a different way -- Ozil would have fitted the profile. None came.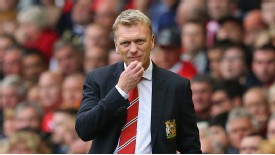 GettyImagesDavid Moyes identified a wide variety of midfield targets this summer but only Marouane Fellaini arrived.
Secondly, Moyes himself wanted to bring in at least two midfielders. United sources have repeatedly insisted this to be the case, with the manager apparently having serious concerns about the quality available to him in that area. Ultimately, with the last-gasp signing of Fellaini, they only got one -- and they only got that one by significantly overpaying after an entire window of trying to underpay.

Boiled down to those basic cold facts, it represents a genuine failure that may damage the start of the Moyes era. Deepening it all is the element of farce that may yet damage the club's status in the long term.

The perception-affecting events are almost too numerous to mention. It started with protracted sagas involving Thiago Alcantara and Cesc Fabregas, only for United to have their confidence knocked by Bayern Munich signing the former, as well as the manner in which the latter clearly strung them along.

The chaos continued with out-of-the-blue one-off bids for a variety of different players, which established a sense of mayhem on deadline day itself, and ended with the unfair handling of Herrera and a complete misjudgement of the Spanish league transfer circumstances. Even Fellaini, whom United had been utterly relaxed about signing for well over a month, ended up having to put through a transfer request extremely late on before being bought for £4 million more than his initial clause.

That timeline indicates inexperience, naivety and misjudgement at virtually all levels of their structure. Moyes is notoriously cautious when it comes to completing deals, with that understood to have been yet another factor in the failure to sign Herrera, but even his procrastination would not matter so much with different circumstances around him.

It was the most damning lesson possible for new chief executive Ed Woodward. His lack of savvy was illustrated at virtually all levels of a transfer. Almost everything that could have gone wrong did go wrong. Externally, United were played by agents, used by players and outbid by other clubs. Internally, they bid blindly, briefed for the wrong reasons and displayed insufficient corporate nous.

Officials at one high-profile European club privately spoke of their amazement that Woodward was continuing to place such low bids so late in the market. Others have simply been irritated, left distinctly unimpressed with the Old Trafford approach.

When it came right down to it, in the Herrera case United were essentially attempting to renegotiate a clause with Athletic Bilbao. Even going after such a complicated deal at such a late stage betrays the fact that Woodward himself could have done with help after the departure of David Gill.

Some have already pointed to the necessity of a director of football. Many continental figures who have worked in such structures state its importance in maintaining a clear plan and philosophy regardless of dramatic changes around it. That sounds particularly relevant with United, and all the more so when you consider the lack of consistency in their targets.

Although Moyes wanted two midfielders, the series of players they bid for -- Thiago, Fabregas, Herrera, Luka Modric, Sami Khedira and Daniele De Rossi -- are all very different. There's only the very vaguest pattern. Similarly, there was the apparent anticipation of the fallout from Gareth Bale's move to Real Madrid. United effectively looked down through their squad, from Ronaldo to Modric to Khedira to the last-gasp bid for Fabio Coentrao.

And Ozil? Sources state that United did indeed attempt to make a late move but, by then, it was too late. Too many cogs had moved.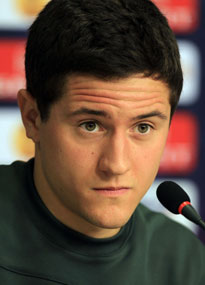 GettyImagesThe failure of the Ander Herrera deal was unexpected.
Even then, the culmination of this chaos was still to come. For all the cliches of deadline day, it is actually quite rare that teams pull out of a badly needed move or fail to complete the basic formalities of another in time. Part of the contrived drama is that these elements are generally done. United remarkably failed on both counts, with Herrera effectively abandoned and Coentrao's paperwork unfinished. Again, everything that could go wrong did go wrong.

The worst aspect of all this in the context of a genuinely seismic summer for the club was that Ferguson was always so conscious of the image United put out, of doing things the "right way," as he frequently said. Even if that did not mean his regime avoiding missteps, they were generally covered by discretion or forgotten in victory.

It has taken just three months for United's dealings to become a genuine joke, a grand old club reduced to such farce. These were notable incidents that will become notorious in transfer window lore.

What happens the next time Woodward tries to negotiate will be revealing. Either way, other sides will enter dialogue with a significant advantage in terms of knowledge.

On Tuesday morning, the mood at Old Trafford had significantly changed. It was no longer "tense" -- it was now "like a morgue." The overall direction of United has not looked this uncertain since the dismal week in late 2005 when they lost 4-1 at Middlesbrough and Roy Keane departed.

That, of course, is not to say United are dead as a top-level force or anything of the sort. Moyes is a manager who has proved adept at adapting, and he also succeeded with a very different market coup by keeping Wayne Rooney. That may yet prove crucial. Similarly, Fellaini particularly suits the early approach Moyes is trying to apply.

The point, however, is that a club of United's stature are meant to be about so much more than enforced pragmatism and warding off outside bids for their best players. They are supposed to be bringing them in.

It is something Woodward and the new era are going to have to learn very quickly. Otherwise, things could get even tenser.