Hughes sparks back into life at Stoke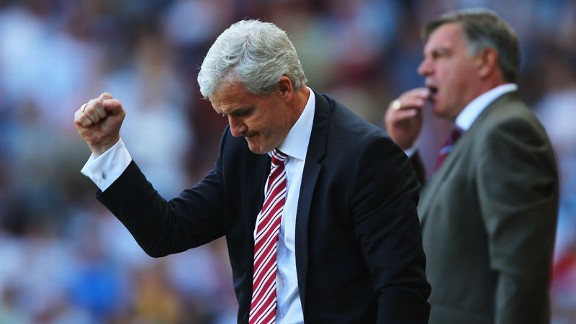 GettyImagesStoke City have history against this weekend's opponents Manchester City and now they have their former manager Mark Hughes to boot.
Mark Hughes might seem an unlikely technophile, but he has been PC-literate since the late 1990s.

When taking on the role of Wales manager while enjoying his final seasons as a player with Southampton, Everton and Blackburn Rovers, Hughes was known to spend his downtime on away trips with a laptop, sifting through player data and sending emails while his team-mates played pool and darts or lounged in front of a TV.

The internet is now providing a guiding hand in a new life at Stoke City. Hughes and his backroom team, the ever-present cabal he has taken with him from Wales to the five clubs he has managed, have been doing their research on the fans of their new club. They have admitted that they have been online to check on social media what might win them quick popularity.

The reasons for this are obvious. Hughes and Co -- coaches and confidantes Mark Bowen and Eddie Niedzwiecki -- know that Stoke represents a final chance at the big time. So destructive was their time at Queens Park Rangers that few saw them getting to work at anything higher than a Championship club. Yet the Coates family turned to Hughes after finally deciding to cut the cord with Tony Pulis. That delve into the dark and dingy world of fans' forums may well have taught him that playing anti-Pulis football is a decent place to start.

Saturday's 1-0 win at West Ham, one of the most difficult places to visit in the Premier League, was secured with a style that a Pulis team would just never attempt. At one point in the first half, there were repeated triangles of short passes, and even the odd backheel. The Potters' healthy away support applauded rapturously. "We're passing the ball," they sang.

With six points from their opening three matches, Hughes' new team are the surprise package of the 2013-14 Premier League season.

"If I hadn't got the points on the board then the pressure gets on me again," he said at Upton Park. "I understand that. If we can get into the top ten on a regular basis then hopefully people will view my time here favourably."

Hughes is usually understated, and has rarely courted popularity before. He was a singular character as a player, usually choosing the company of his own friends rather than team-mates. Despite being Manchester United's star striker, he was close pals with Manchester City captain Keith Curle, who also doubled as his next-door neighbour. During his ill-fated spell at Barcelona, he retreated to his hotel room, and subsisted on a diet of cheese toasties.

He has always been a mass of contradictions. He was a rampant lion of a player, ever involved, almost impossible to knock off the ball, but at almost all times he was the quietest in the dressing room; very few would have singled him out for a role in top-level management.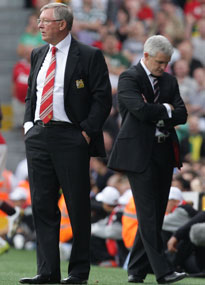 GettyImagesHughes does not consider himself a disciple of Sir Alex Ferguson.
Of Sir Alex Ferguson's former players, only Steve Bruce and Gordon Strachan have had comparable success in English football management. Bruce, once the forward's captain at United, later became an avowed enemy after the two fell out over Bowen's desertion of Bruce at Birmingham to join up with Hughes full-time with Wales. Unlike Bruce, Hughes would never paint himself as any kind of Ferguson disciple -- the two fell out over United's failure to renew his contract during the 1994-95 season. It meant he had no compunction in becoming Manchester City manager in 2008 and, in the press conference that announced his appointment, he made great pains to point out that he had never been a United fan.

In fact, he had spent his childhood as a Chelsea admirer. At one point, his standing as a manager -- while at Blackburn -- was so high that he viewed himself as a strong candidate to take over at Stamford Bridge, and there was some credibility to that belief. After all went awry at City, where supporters never truly trusted him, he spent an unspectacular year at Fulham from 2010-11 before going down the almost fatal cul-de-sac that was QPR.

Few managers have made as doomed a promise as Hughes' pledge on the final day of the 2011-12 season, when Rangers had avoided demotion by a single point. "We will never be in this situation again while I am manager," he said. His team, an expensively assembled mix of foreign signings and the rump of a Championship team, could not win any of their first 12 matches of the 2012-13 campaign, and often played as if they had never met. In fact, some of them did not want to know each other at all. One senior professional chose to spend training-ground lunches eating in his car. Meanwhile, Hughes was helpless to halt a car crash of a campaign.

Hughes departed Loftus Road winless, and seemingly hopeless too. Aside from Julio Cesar, none of Hughes' signings in the summer of 2012 were anything approaching a success. Even then, Cesar still remains at Rangers as an unwanted and expensive reserve behind Rob Green.

Stoke's summer's signings, while limited, bear the hallmarks of the involvement of technical director Mark Cartwright. Austria's Marko Arnautovic, signed on Monday from Werder Bremen, partially meets the requirement for what Hughes called "attacking players" on Saturday, but is not the striker that Stoke City still clearly need.

Pulis' signings must do for Hughes for the moment, and they have responded positively to a greater freedom of expression. The departed former boss is still beloved for returning the Potters to the Premier League, but many fans could eventually no longer palate his unwillingness to let his team play anything other than an iron-ore brand of football.

"It's like they've been in a cult for a few years and escaped," ESPN FC's Stoke City blogger James Whittaker says of the change in his club's players. "They were the most regimented side you have ever seen. They were drilled to within an inch of their lives."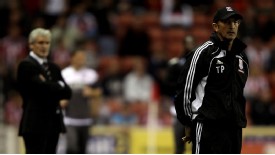 GettyImagesHughes has been careful not to publicly criticise Tony Pulis since taking charge at the Britannia.
Hughes and Pulis had hardly shared a fellowship of Welshmen in the past. The 2010-11 season saw them twice blank each other at full-time. No handshakes were offered back then but, since his arrival, Hughes has been at pains not to be openly critical of his predecessor.

The same has not been totally true of Pulis' former charges, though perhaps Jermaine Pennant, who fell out badly with the former manager and was released, only for Hughes to offer him a fresh contract, is a hardly unbiased sample.

"This is definitely the most I've enjoyed my football in recent years and not just me. The whole team is," said Pennant, Saturday's match-winner with a glorious free-kick. "We're getting the ball down and showing what we can do, which is a lot different to last season and the years before that."

Hughes underlined the importance of having "a group of players who commit to what you want them to do", adding: "They've been a joy to work with."

On Saturday, after victory was secured, Hughes was last to depart the scene. Before he walked down the tunnel, he aimed a celebratory clenched fist at visiting fans, who chanted: "Hughsie, Hughsie."

His approval ratings are as high as they have been in years. Now might be a good time to go back online and check out a newfound and hard-won popularity.