Don't draw broad conclusions from Terry case
Nobody who paid even a little bit of attention to John Terry's two "trials" -- the criminal proceeding in a real court of law and the disciplinary hearing run by the Football Association's Independent Regulatory Commission -- can be too surprised by the outcomes.

The Chelsea captain was found "not guilty" in the criminal court, where the burden of evidence -- "beyond a reasonable doubt" -- is rather stiff. He was found "guilty" in the FA's hearing -- and sentenced to a four-match ban and a fine of about $350,000 -- where decisions are made based on a "balance of probabilities," meaning that you don't have to believe them regardless of evidence.

The temptation -- and we in the media are certainly guilty of it, though we are not alone -- is to draw broad conclusions. And that's where this becomes dangerous.

First and foremost is whether Terry is a "racist." The FA's report -- which you can read here -- draws no such conclusion: "It is not the FA's case that Mr. Terry is a racist."

Much like in the Luis Suarez/Patrice Evra case, the FA makes a distinction between a guy who may or may not have used racist language (or abused someone in a racist way) and someone who is racist. It's a line that is too often ignored.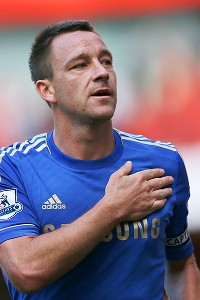 Richard Heathcote/Getty ImagesOnly John Terry can answer for what he did or didn't do. But we should be wary in drawing bold conclusions from the FA's conclusion of its case.

You can engage in racial abuse without actually being racist; that is, without discriminating against or being prejudiced toward those of a different race. Why would you choose to do so? Maybe to provoke someone. Or maybe to upset them. Or maybe because you have a misguided sense of humor. Or perhaps because you're an idiot.

Whatever the case, there is no question that racist abuse is wrong and, where proven, ought to be punished. But there is also a danger in thinking that because you wipe out racist speech, you've somehow defeated racism.

Looking around the football world's better leagues, you can count the number of top black or Asian directors of football, managers, executives, owners, referees and agents on two hands. The media -- once you take out ex-professionals -- isn't much better off. You'd find a similar story at FA or league level, the one exception being the PFA in England. And yet it's curious how fighting racism by throwing the book at Terry and Suarez is of paramount importance in this battle against discrimination, though addressing whether there is something untoward in the dearth of black and Asian folks who matter in the game is not.

-----

Speaking of "heat of the moment"... Ashley Cole, Terry's teammate and character witness, had a pop at the FA on Twitter after it emerged that the panel found that he had altered his testimony "retrospectively" in a presumed attempt to back Terry. Essentially, the panel accused Cole of lying, so he called them a four-letter word on Twitter. Cole since has deleted the tweet and apologized profusely.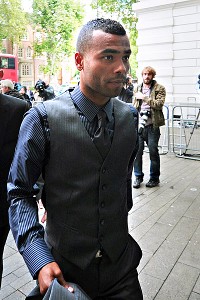 Carl Court/AFP/Getty ImagesAshley Cole's social media outburst was ill-advised but considering how the FA handled its case, his anger is perhaps understandable.

Obviously calling the FA four-letter words is not nice. So here's a six-letter word to describe the FA's handling of the evidence gathering on Oct. 28, 2011, when they went to interview Terry, Cole and John Obi Mikel: stupid.

Jenni Kennedy, the FA's head of Off-Field Regulation and her colleague Adam Sanhaie, were supposed to get statements from the three. According to the panel's report: "Mr. Terry's interview was tape-recorded, but that of Mr. Cole was not."

Why not? Ran out of batteries? Forgot to hit "record?" Who knows? As it happened, both Kennedy and Sanhaie took notes during Cole's testimony and as matters would turn out, this would be rather important. The whole dispute with Cole, Chelsea secretary David Barnard and the retrospective alteration of his testimony would have been avoided if somebody had actually taped his interview.

Of course, it gets even better. The panel noted that Sanhaie's notes were somehow omitted from the discovery phase and "only came to light just before the commencement of the substantive hearing." How did that happen? How do you lose a key document like that only to "find" it at a later date?

In the end, the panel accepted that Sanhaie's notes "fell through the net" but didn't have any substantive impact on the outcome of the case. Maybe so. But this might be a good time for the FA to kick some internal rear end. When an investigative body starts losing evidence and tape-recording some witness statements but relying on handwritten notes for others, you'd be forgiven for questioning their credibility, too.