Moyes left to pick up pieces after farcical window
If Manchester United ever worried that a change of regime may affect their credibility then such fears crashed home to roost as the hour of 11pm on September 2, 2013, arrived.

Such is the importance placed on transfers these days that a poor transfer window can shatter credibility. Perception is everything. While United are swathed in ridicule, Arsenal bask in the reflected glory of Mesut Ozil, a player signed in a position where they already had sufficient numbers but who catapults them into the star system. Gunners fans are no longer lamenting the lack of a striker to support Olivier Giroud, or a quality centre-back.

- Okwonga: Man Utd pay price for complacency

Shambles, humiliation and farce are words easily attached to a final day of tomfoolery that did little to answer the legion of critics set up to bury Ed Woodward, the administrative figurehead of the post-Ferguson years. Sir Alex had his transfer reverses in partnership with David Gill, but none as damaging as an evening when the one target landed cost £4 million more than the buy-out clause: Marouane Fellaini could have been a United player for £23.5 million at any point until July 31.

Athletic Bilbao's Ander Herrera, who had even agreed to a pay cut, was left like the proverbial spare part at a wedding as United lowballed the Basque club, having misunderstood or chosen to ignore the Spanish tax system.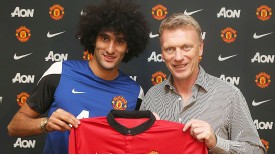 GettyImagesMarouane Fellaini is all smiles as he is reunited with David Moyes at Manchester United
Even a vague knowledge of the European transfer market would suggest that Athletic never settle for less. Tales of impostors turning up to get the deal done in Spain only added to the pathos. It was later suggested that the three amigos pictured by Spanish newspaper AS were the lawyers who had pushed through Bayern Munich's deal for Javi Martinez last summer. Whatever. Bilbao do not let their players go lightly, nor do they appreciate any shifting of the goalposts. United were left covering the tracks of a failed transaction that will have caused much amusement in the salons of Europe.

For a brief few seconds, the loan of Real Madrid's Fabio Coentrao seemed to have rescued a remnant of United's reputation, before red tape meant that David Moyes' hunt for a left-back had been denied too. Leighton Baines had long been given up on. Patrice Evra, United's best player in their damp performance at Liverpool, had hardly received a fillip for the season ahead either.

The late-night trip to Carrington made by the club's official photographer, John Peters, was not completely wasted, but the photo of Moyes and Fellaini captured a portrait of frustration in the manager's face. Fellaini could and should have been at the club months ago. He is not Thiago Alcantara, Cesc Fabregas or Luka Modric, nor is he Samir Khedira, the subject of a reported last-minute bid that was turned down by Real Madrid.

A marquee signing to celebrate regime change never happened. United got played by Thiago's people, and feel the same about Cesc's too. In both cases, negotiations got further than was publicly admitted by the players themselves. Modric was never likely to happen, and neither was Khedira at that late stage.

Moyes' reputation for dithering was well-known at Everton. At a club where every penny counted, it was a perfectly acceptable modus operandi.

Little did he realise that the same culture now existed at United. "Isn't it great that the club says: 'There's no budget here -- you go get who you want to get. Just go and do it'?" Moyes said in the early days of his regime. Perhaps Moyes had misunderstood the meaning of the words "no budget." United's spending was way down the division's league table, behind Southampton and Cardiff City.

Following defeat at Anfield, Moyes enters the first traumas of his short career at United. While Woodward is the target of unbridled rage and lampoonery as a merchant banker totally out of his depth in the football world, Moyes' own reputation has taken a severe hit.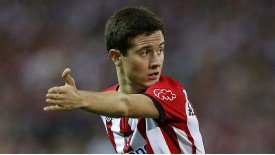 GettyImagesAnder Herrera looked certain to join United before it all ended in farce.
He may never be forgiven by fans at Everton. Even if business is business, his comments last week on Baines and Fellaini left some questioning whether he ever had Everton's best interests at heart.

"If I had been Everton manager and Sir Alex Ferguson had come asking for Leighton Baines and Marouane Fellaini, I'd have found it very difficult to keep them because I always felt that the right thing was to do what was right for the players," Moyes said. His continuing deference to Ferguson did him few favours in this case.

This being football, Everton's howls of outrage were matched by their trying to sign Wigan's James McCarthy in a cut-price deal spread over four years. When that did not work, United were squeezed yet more for the Fellaini money. If Toffees fans do choose to target Moyes on his return to Goodison, they might consider that his new club's eventual largesse funded a rather satisfying transfer window for their own club.

For now, until results conspire against him, Moyes will get something of a pass from United's support. The villain will be Woodward. A prolific collector of sponsorship partnerships could close just one transfer deal, and ended up being shaken down for that.

Woodward's standing as a Glazer family man -- he joined the club from their investment bank straight after the takeover -- had already hardened many against him. His dealings this summer have not lessened their reputation for making big promises and then trying to deliver them on the cheap. Previously, they had the security blanket of Ferguson's genius to shield them. Moyes, a lesser man, as he rather unfortunately keeps admitting, is unlikely to provide the same service.

Backing him properly in cash terms and efficiently in deal-making was the way to give Moyes the best chance of succeeding. Instead, over three long months and one ridiculous late night of farcical failings, United -- the club seen as a slick machine for so long -- became an overnight laughing stock.