Brad Friedel insists Lloris brouhaha much ado about nothing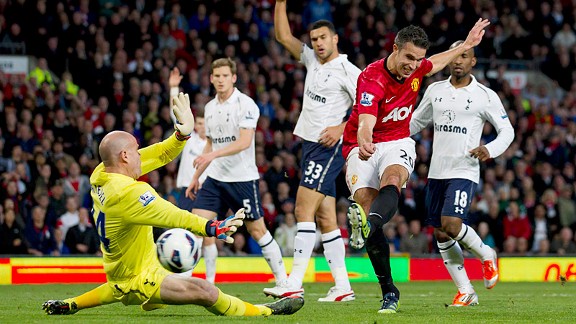 AP Photo/Jon SuperBrad Friedel, Tottenham's 41-year-old keeper, has continued to show his class between the sticks.
As a childhood Liverpool fan and former Red, Brad Friedel received a predictably rough farewell as he walked off the pitch at Old Trafford on Saturday evening. His Tottenham team had just beaten Manchester United 3-2 to end a 23-year winless streak at one of football's most iconic grounds, making it one of Spurs' most memorable outings in recent history.

In an uncharacteristic move for the 41-year-old keeper, he gestured with his hand in a talking motion to repel the verbal diarrhea from United supporters as he approached the tunnel.

"All the no profanity and things of that nature go out the window, I think, when I play in front of the Stretford End," said Friedel, laughing, in a telephone interview. "I don't lose a bit of sleep over it. I didn't do anything offensive or vulgar or say anything back to them. But if they're going to give me abuse and we win, I'm entitled to do a bit."

For Tottenham, the result truly marked an end to any early-season anxiety under manager Andre Villas-Boas, the Portuguese whom Friedel says has been unjustly targeted. Tottenham won a third straight game after producing a solitary win in its first five.

As for Friedel, he played in a record-extending 320th consecutive Premier League match, thus keeping French captain Hugo Lloris on the bench. The brouhaha surrounding the goalkeeping situation at Tottenham subsequent to Lloris' arrival at the end of August was much ado about nothing, Friedel insists.

Moments before his interaction with the United faithful, Friedel was busy congratulating Clint Dempsey, his fellow American. While Friedel was the winning keeper – his third triumph at Old Trafford with three different sides – Dempsey netted the winner with a tap-in as part of a frenetic spell that featured three goals in two minutes.

"Contrary to what you may have read, we have a really good team spirit here," Friedel said. "We went into the game fully confident, and I think that showed, especially in our first-half performance. I'm not really buying the fact that Man United was off. You have to give a little bit more credit to the way we defended. We have pace in our team as well and that doesn't just mean going forward. We were able to close them down at the right times so that they perhaps couldn't get the shot off that they wanted and they had to make an extra pass."

Villas-Boas' gritty, emotional celebration at the final whistle likely wasn't only a result of him being at the helm on the day Tottenham cast aside its hoodoo at Old Trafford. It must have been a small measure of vindication.

Understandably, there were questions asked when he was appointed manager in the offseason, replacing the popular Harry Redknapp. Redknapp had steered Tottenham away from relegation danger and to another, more secure, level; Villas-Boas was sacked shortly into his stint at Chelsea amid reports of, among other things, bad man-management and failed tactics.

Further, in its Saturday edition, The Sun claimed that Tottenham players had held "showdown talks" with Villas-Boas over his "double" training sessions and "negative style."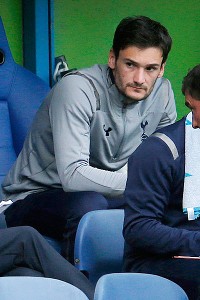 Eddie Keogh/Reuters"I think it's someone maybe just mischief making. There has never been discontent amongst the players and the new staff," Friedel says about the arrival of Hugo Lloris.
Friedel was surprised.

"I'm being brutally honest – it's a non-story," he said. "I think it's someone maybe just mischief-making. There has never been discontent amongst the players and the new staff. It just hasn't happened. There haven't been meetings about training, there hasn't been any of that, and the manager has had an open door since day one for any player that wants to go speak to him.

"He's always spoken with the players about training and what we're going to do. There's never been any animosity. It's never occurred and so it's bizarre, really, when a story like that goes out. You can't judge people on past experiences. You have to judge them on what they're doing now."

Friedel, meanwhile, didn't want to discuss L'affaire Lloris, as the French might put it.

Metro reported last week that the soft-spoken Lloris would demand "showdown talks" (there's that phrase again) with Villas-Boas. This after former French No. 1 Fabien Barthez said last month that Lloris should be Tottenham's first-choice keeper because "he is faster than Friedel, he jumps higher and he is very strong mentally." Friedel took to Twitter to reply, stating that the eccentric World Cup winner was "ignorant, disrespectful and out of order."

In Wednesday's telephone interview, however, Friedel was adamant that his relationship with the 25-year-old Lloris is "very good." With Friedel rested and not making the trip to Greece, Lloris unsurprisingly got the nod in Thursday's 1-1 draw at Panathinaikos in the Europa League.

Expect Friedel to extend his streak in the Premier League on Sunday – despite Barthez's stance – when one of his former teams, Aston Villa, visits White Hart Lane. If other results fall its way, Tottenham would rise to second place in the table with a win.

Not dwelling on the heroics at Old Trafford will be pivotal.

"It's really nice that we got a win there, but just like you can't beat yourself up too much about a loss, you can't get overjoyed too much with a win because you can never get complacent or overconfident," Friedel said.

The outcome isn't certain, but one thing is: Friedel won't have a problem with the fans.