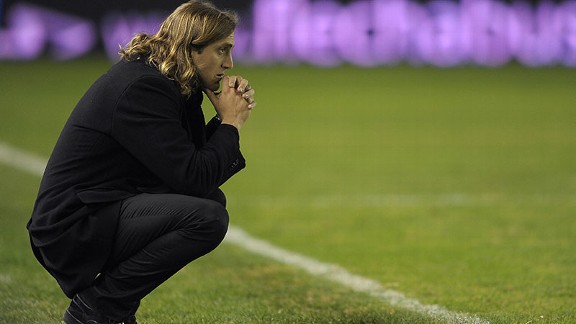 GettyImagesThe young Luis Zubeldia has become a victim of Racing's demand for results.
It's been an unpredictable start to the Argentine season, and nowhere more so than in the Greater Buenos Aires suburb of Avellaneda, where two giants of the local game are undergoing major changes. Both Independiente and Racing have been Copa Libertadores and Intercontinental Cup champions, and with stadia just a couple of hundred metres apart, the derby between the two is often considered Argentina's second-biggest after River Plate v Boca Juniors.

Right now, though, it's a rivalry without focus, and not only because Independiente's first ever relegation means there won't be a derby for the first time in years this season. They're now in different divisions, but both clubs have started the season dreadfully, and last weekend proved the straw that broke the camel's back for both the red (Independiente) and blue-and-white (Racing) halves of town; both clubs sacked their managers.

Those managers are at different stages of their careers. For Independiente, Miguel Angel Brindisi came in late last season with the aim of keeping them in the Primera -– which looked impossible then, and proved to be so a couple of months later. Brindisi played for Argentina in the 1974 World Cup, and took up management after retiring from playing in 1983. Racing, meanwhile, have just fired Luis Zubeldia, who's just 32 years old.

Zubeldia might be young, but he's already managed three top-flight clubs. After an injury-enforced retirement as a player, he took charge of Lanus at just 27, before moving on to Barcelona of Ecuador and then Racing.

Whilst one is an old hand and the other has plenty to learn, both have overseen woeful starts to the current season. Last year Zubeldia's Racing managed the club's best points tally in a short (19-game) championship since the championship-winning side of 11 years previous, but since then he's struggled to adapt his tactics to opponents seeking to prevent the side's talented forwards from making a breakthrough.

Brindisi's Independiente, meanwhile, have lurched from crisis to crisis. Relegation at the end of last season marked the end of an uninterrupted century in the top flight, and had seemed a foregone conclusion for months beforehand. In terms of results only, Independiente have been better than Racing; they've managed two draws and two defeats, against one draw and three defeats for Racing.

Context, however, is everything. And the context of Independiente's results is the second tier. When they lost 2-1 at home to Brown de Adrogue on the opening weekend of the Nacional B (second division) season, in their opponents' first ever second-tier match, Independiente became the first member of Argentina's "Big Five" (River, Boca, Racing and San Lorenzo complete that group) to fail to win their opening match of the season in the second division.

They've not improved. As if to prove that it's not only about the awful form of these two clubs, there was another piece of history last weekend; it was the first time ever that all of the "Big Five" lost in the same round of matches. Only for these two, however, has the situation got so bad that a change of manager was deemed necessary.

In truth, both River and Boca have managers whose past glories are arguably keeping them from coming under more pressure (both Ramon Diaz at River and Carlos Bianchi at Boca are their club's most successful ever managers, in previous spells), whilst Zubeldia of course had no such pedigree at Racing, and Independiente's desperate situation meant that Brindisi, for all his cult status (he won the league and the 1994 Copa Sudamericana during a previous period at the club), couldn't be the beneficiary of sentiment for too long.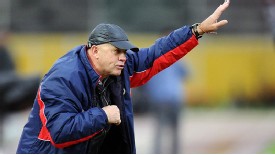 GettyImagesRacing will hope the more experienced Carlos Ischia can get their season back on track.
Independiente moved swiftly and named Omar De Felippe as manager. To me that looks an excellent appointment. De Felippe -- a veteran of the Falklands conflict whose breakthrough as a player for Huracan was delayed by his call-up to fight in the war -- has managed two clubs previously, and took both Quilmes and Olimpo de Bahia Blanca up, subsequently keeping both in the top flight. He knows his way around a competitive second tier, and his appointment makes clear that if an attitude of being "too big for the division" did exist at Independiente, it's been cast out.

All the same, De Felippe will be under huge pressure, because a club the size of Independiente -- the most successful club in the history of the Copa Libertadores, with seven wins, and one of the world's most successful sides in terms of international trophies -- simply can't be allowed to play in "the B," at least in the eyes of Argentines.

The new Racing manager will have more time. Carlos Ischia turned down the Independiente job when Brindisi was first sacked, loudly proclaiming: "I don't manage in the lower divisions." Racing were initially ambitious enough to phone up Marcelo Bielsa, who reportedly asked, "How can you claim to support a project when you sack your manager four games into the season?" before slamming the phone down. After they failed to reach an agreement with former Boca Juniors and Chile boss Claudio Borghi, Ischia was approached on Friday, and signed.

Ischia was enormously successful as Carlos Bianchi's assistant at Boca, and has a couple of league titles of his own as a manager (one at Boca and one at Deportivo Quito of Ecuador). He ought to be more pragmatic than Zubeldia was, and have a clearer plan, which is what a side full of talent but lacking a sense of order need.

On Wednesday, under reserve boss Fabio Radaelli, Racing lost 2-0 away to Lanus for a 4-1 aggregate defeat in the Copa Sudamericana. Their conquerors were an historically smaller club managed by Guillermo Barros Schelotto, a man just starting out on his own managerial career (American readers will remember him from his playing days at Columbus Crew).

Barros Schelotto is the kind of manager Racing thought they were getting with Zubeldia, and the sort of name Independiente aim to one day be able to attract again. Both Avellaneda clubs, though, need to concentrate on improving their current standings before they can hope to get back to something like the position they once held in the game. This week's managerial changes, both will hope, are just the first step on that path.