The dramatic shift of power in North London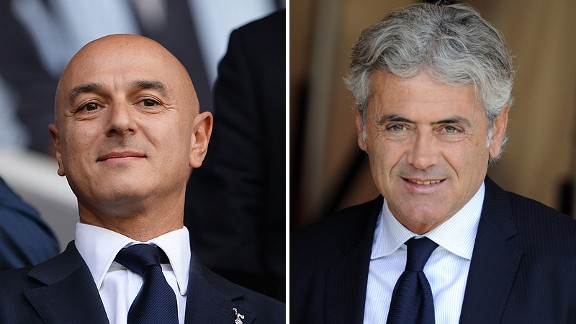 Michael Regan/Getty ImagesThe dealings of chairman Daniel Levy and new technical director Franco Baldini have made Spurs the major player in this summer's transfer market.
After the last North London derby -- a 2-1 win for Tottenham at White Hart Lane in March -- it was Arsenal, if you remember, who looked seriously compromised, more so than perhaps they'd ever been under Arsene Wenger. They were down in fifth place, five points outside the Champions League places and at risk of not qualifying for the competition for the first time in 16 years.

Following the victory, Tottenham manager Andre Villas-Boas said: "We are extremely confident and they are on a low. We think it can have a direct effect on their motivation and on ours too." How right he was at the time. Arsenal had been knocked out of the FA Cup at home to Championship side Blackburn a fortnight earlier, further humiliation given the Gunners' Capital One Cup exit against League Two's Bradford. They'd then lost to Bayern Munich 3-1 in the first leg of their Champions League round of 16 clash at the Emirates. The exasperation in the stands was understandable, and many fans were resigned to another trophy-less season.

Once again the only thing left to play for was fourth place, and after succumbing to Tottenham, well, that also seemed improbable. Their rivals had been ensconced in the top four since Boxing Day. They had just gone third, were unbeaten in 12 league games and were seven points ahead. Finishing below them for the first time since 1995 looked likely. "We have to fight," Wenger said, "and it will be difficult [to finish fourth] now, because we dropped points that we couldn't afford to drop."

Few believed Arsenal could do it. But a morale-reviving 2-0 win against Bayern at the Allianz Arena preceded a run of eight victories from their remaining 10 Premier League games. Tottenham stumbled, losing to Liverpool and Fulham. Draws with Everton, Wigan and Chelsea cost them too, and despite recording 72 points, their highest total since 1985, it wasn't enough for fourth place. Only once since the Premier League became a 20-team division in 1995-96 has the team finishing fourth taken more points than Spurs did last season.

Amid the disappointment that followed missing out, Villas-Boas was already looking ahead. "We had to be aware, independent of making it or not -- and we didn't make it -- that we would have to raise the bar again because our competitors will do the same," he said after Tottenham's 1-0 win against Sunderland on the final day. "They will do their job in the window and we must do ours, in the Tottenham way, scouting properly and looking for good grabs in the summer window to make it a stronger squad."

To do that, Daniel Levy and Villas-Boas acknowledged that they needed help. "The chairman and I have been outlining the route ahead for what we want to do in terms of the club structures and, hopefully, the arrival of somebody else in the structure for the recruitment side -- a technical director. Hopefully we can take those steps forward," Villas-Boas said.

In the meantime, there was buzz around Arsenal again. In early June, the club's CEO, Ivan Gazidis, spoke about an "escalation in our financial firepower." When asked whether they'd be able to buy a player for 25 million pounds and offer him a wage package worth 200,000 pounds a week, he said, "Of course, we could do that." Wenger, he added, "is not scared to spend money ... " And so, after years of prudence, responsibly paying down stadium debt, it seemed that Arsenal were about to take the handbrake off and press hard on the accelerator. The fans were optimistic.

Yet for all their talk at the end of last season they still have yet to spend any money. Yaya Sanogo and Mathieu Flamini have arrived on free transfers, and that's it. Arsenal have tried -- of that there's no doubt -- but their judgement has been questionable. They pulled out of the running for Gonzalo Higuain, divided their fans with a bid for Luis Suarez (doing so on the basis of a clause that had been misinterpreted by his camp), saw Luis Gustavo choose Wolfsburg (and their higher offered wages) over them, made a "derisory" bid for Yohan Cabaye and now appear to be hanging on whether Real Madrid want to sign Suarez, and if so are prepared to sell Karim Benzema, among others.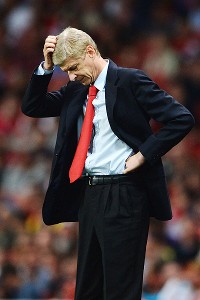 Michael Regan/Getty ImagesShould Arsenal fail to sign any more players by Monday night, Arsene Wenger won't be the only one scratching his head.
That it has come to this beggars belief, as does Wenger's claim that there aren't many top-class players on the market capable of improving Arsenal. It isn't true. A look at who Tottenham have signed is enough to debunk that myth.

A fortnight after Gazidis made his various statements of intent, Spurs appointed Franco Baldini as technical director. Though highly regarded as Fabio Capello's talent spotter and charge d'affaires at Roma, Real Madrid and then England, few at the time -- particularly so soon after his resignation and perceived failure during his most recent spell at Roma -- anticipated he'd make so swift and decisive an impact. But he did.

Some have since identified the hiring of Baldini as the defining moment of the transfer window this summer in England. How he and Levy would operate over the next two months lifted the atmosphere at Tottenham and swung the mood from down to upbeat again. After some characteristic fatalism from fans -- would Gareth Bale leave, given the failure to secure CL football? How would the team cope without its best player? -- those initial worst fears were confirmed when the Welshman announced his desire to leave for Real Madrid. Knowing Levy's way of negotiating, he'd haggle until the last minute to get the best price, leaving Spurs with a mountain of cash but little or no time to reinvest it in a replacement -- see last summer when Luka Modric was sold to Real on August 27 and a deal couldn't be done for Porto's Joao Moutinho.

This time, however, things would be different. Tottenham have given a lesson in how to handle the sale of a team's best player, execute a succession plan and reorient a team. As always under Levy, they have managed to get maximum value for one of their assets, which has presented a stark contrast to Arsenal who have, to their supporters' dismay, until very recently at least allowed their most important players' contracts to run down.

In addition to that, Baldini has lined up targets, opened negotiations for them and, with the exception of the Willian deal, closed every one. Even when Chelsea did "steal" the Anzhi playmaker, Tottenham didn't allow it to check their momentum. Within hours they were in Amsterdam holding talks with Ajax for Christian Eriksen. And so, with the window nearing its closure, the impression is that -- following the recruitment of Roberto Soldado, Erik Lamela, Eriksen, Nacer Chadli, Paulinho, Etienne Capoue, Vlad Chiriches and perhaps more -- Tottenham will be stronger than they were with Bale.

Levy and Baldini's success in the transfer window has only revived nostalgia among Arsenal supporters for former vice-chairman David Dein and his influence over Wenger, for the ability he had to persuade the Frenchman to compromise on his principles and push the boat out a bit if it meant getting a player in who'd improve the team.

The frustration shown by supporters after the loss to Aston Villa, the Gunners' first opening-day home defeat in 20 years, will presumably reach new levels if an injury-hit Arsenal fall to Tottenham at the Emirates on Sunday having still not bought anyone representative of their stated ambition with only 24 hours until the transfer window slams shut. True, as Wenger argues, Spurs' new players might take time to integrate, and anything can happen in a derby. But few would doubt that the quality of Tottenham's squad will tell over the course of the season.

Quite implausibly, considering the financial position Arsenal are in, the balance of power in North London seems to be shifting away from the Holloway Road and towards the Tottenham High Road. Explaining that is getting harder and harder for Wenger.