Previewing the Prem, Oct. 6-8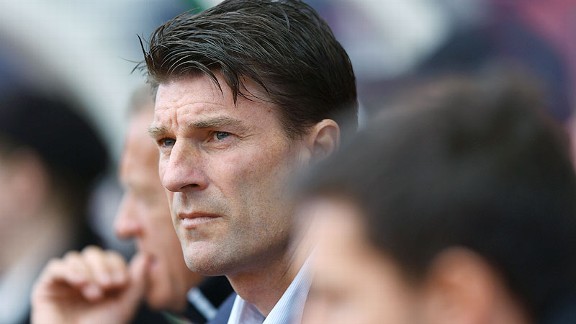 Michael Steele/Getty ImagesMichael Laudrup's baptism at Swansea has been far from smooth. How quickly can he get his side back to its confident, quick-passing roots?
President Obama and Manchester United both learned the same lesson in the past week: Never underestimate an opponent based upon prior performance. Our viewing audience, however, was ahead of the curve when talking about our recent predictions. The pastiche read something like this, "You half-bobbed knuckleheads aren't even going to get one of these four right."

Fortunately Everton's continued fine run of form showed that we could, in fact, figure out one game correctly, though we remain gobsmacked by the sensational first half that Spurs laid down at Old Trafford.

With that once-in-a-generation effort happily in our rearview mirror, we roll on.

Swansea City vs. Reading

Swansea was the delight of the 2011 EPL campaign. Rather than serving as everybody's favorite road kill, the Welsh's charges showed that true teamwork and commitment to a possession philosophy could comfortably trump a lack of star power.

It also has lots in common with the Royals: Both sides have leapt to the Prem in the past two seasons and have been headed by current TV reality star/armchair philosopher (or bloviator, depending on your perspective), Brendan Rodgers.

The Welsh side followed up its surprising 11th-place league finish in 2011 with a sizzling start to the new campaign, racking up seven points and 10 goals in its opening three games. From there, the Barca-lite passing game has been shown up by its Burton Albion-esque defense; three consecutive impotent defeats with no goals scored. The cumulative losses of Joe Allen, Gylfi Sigurdsson and Rodgers are finally catching up.

Now Reading comes across the border and with away fixtures against Manchester City and Chelsea on the horizon, the Swans can't afford to make Danish coach Michael Laudrup cry any more. To prevent a relegation battle -- something Laudrup has weathered previously with Mallorca -- Swansea must rediscover the pressing game that worked so effectively with Rodgers yet has wilted in the face of aggressive opponents.

Fortunately, Reading isn't very good. The side's two big summer acquisitions, defender Nicky Shorey and Russian attack man Pavel Pogrebnyak, both came in on free transfers and have failed thus far to inspire, leaving Brian McDermott to dance with the side that won last year's second tier Championship title.

It won't work.

Swansea 2, Reading 0

Chelsea vs. Norwich

Flash back roughly 13 months to a time when newly promoted Norwich marched into Stamford Bridge and gave Roman's millionaires just about all they could handle. Grant Holt was domineering, Wes Hoolahan at his most incisive, manager Paul Lambert was driving them to improve and goalie John Ruddy knocked Didier Drogba out cold. On the Chelsea side, Frank Lampard was undroppable, Andres Villas-Boas had not yet lost the dressing room, and Juan Mata was destined to score in this, his Chelsea debut.

Now, Chelsea are the Champions of Europe, a known cause of nausea and vomiting in most non-Kensington London boroughs, AVB has moved across town, Mata is arguably Chelsea's cleverest player since Gianfranco Zola and Didier is working on his Chinese footy relationships.

Meanwhile, even the most myopic Canary fan might concede that Chris Hughton is following the Brian Clough adage that a manager can make a team 50% worse. And just like Clough, a brilliant manager in his own right, couldn't connect with Don Revie's raised and nurtured Leeds side, Hughton and Norwich are as foreign to one another as West Ham supporters and the Queen's English.

Hughton's ostensible "plan" appears to involve bringing the previously florid Canaries down to his more robust and back-to-the-basics level. No more diamond midfield, minimal week-to-week tinkering and a six-foot agglomeration of horse droppings named Michael Turner anchoring the backline.

The slower, pragmatic approach has worked at one end -- with four goals in six games this season, Norwich would need 78 games to reach last season's tally of 52 -- but the defense has been so appalling that French historians are starting to take note. It's rare that a top-flight side will give up five goals in a single match, but Norwich has already managed the trick twice, including last week's 5-2 home debacle to Liverpool. Yes, if loathsome Luis Suarez suddenly blossoms, we have the Carrow Road Keystone Kops to blame.

With the unholy trinity of Oscar, Mata and Eden Hazard jelling in Roberto Di Matteo's wonky midfield, it will take a Herculean effort by Fernando "The Shank" Torres to keep Norwich in this match. We don't think Torres has that kind of talent.

Chelsea 4, Norwich 1

West Ham vs. Arsenal

To truly understand what it is to support West Ham, you only have to look at the chorus of the club's anthem: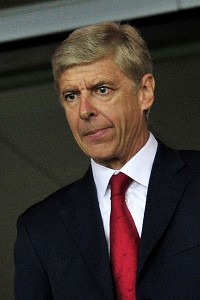 Glyn Kirk/Getty ImagesThough Arsenal has looked impressive this season, the timid defeat to Chelsea will have Arsene Wenger concerned about facing a physical West Ham side.
I'm forever blowing bubbles / Pretty bubbles in the air / They fly so high / Nearly reach the sky / Then like my dreams / They fade and die

This is not a club trained on optimism and that pessimistic bent has been richly rewarded. The Hammers have never won an English top flight title and you'd have to be at least 32 years old to have been alive when West Ham last won a significant trophy (some FA Cup glory in 1980). This year, the milk of kindness is being served to the Eastenders: a soft early schedule has been plundered to the tune of seventh in the table, two points ahead of this weekend's artful visitors.

As for Arsenal, it's business as usual: plenty of healthy momentum curtailed by an opportunistic Chelsea last Saturday, a disheartening home loss that nearly carried through Olympiakos' midweek Champions League visit. The resoundingly not famous Kostas Mitroglou reminded Arsene Wenger why he has been playing Per Mertesacker, as the reserve striker headed home an equalizer for the Greek champion. (The Gunners' sumptous passing eventually appeared in the second half to cement a 3-1 win.)

But this is precisely the type of game and opponent that is so often Wenger's undoing, as West Ham's strength and power will give the Gunners that oh-so-horrible Stoke feeling. With midfield glue Abou Diaby out with injury and the Achilles heel of defending from set pieces reemerging against Chelsea, this is not a comfortable matchup for the North London side. After all, in spite of his many perceived failings, Andy Carroll is a more potent aerial force than some nondescript Mediterranean.

We see an early goal to the home team, followed by increasing Arsenal possession until Gervinho knocks in a deserved equalizer. The Hammers will hide their delight while Wenger will complain about cockneys who sing off-key and thus diminish the ambience
of the beautiful game.

West Ham 1, Arsenal 1

Liverpool vs. Stoke

Until last Sunday's scoring deluge, the John Henry ownership group was exploring a TV sequel, Being: Beaten. So which team embodies the real Reds: the ones who ran around valiantly while losing 2-1 at home to Man United, the lot who epitomized futility during the 2-0 loss to Arsenal or the gang who showed up last weekend to terrorize Norwich?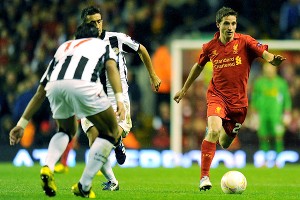 Andrew Powell/Liverpool FC via Getty ImagesJoe Allen has helped Liverpool gradually transition into Brendan Rodgers' system. Can he keep it going against Stoke?

For all of Rodgers' mercurial efforts and Joe Allen's impressively metronomic play, Liverpool continues to ebb and flow, its fortunes tied directly to the number of hideous errors made (see Martin Skrtel against Man City and Pepe Reina vs. anybody) and Luis Suarez' finishing touch.

All of which makes Stoke a very difficult customer as Suarez is destined to be splattered around like paint off a Jackson Pollock brush. If there's one thing the Potters won't do this weekend, it's respect Rodgers' mellifluous game plan.

Still, Stoke is apparently allergic to something in the Mersey River, not winning at Anfield since 1959 despite mustering two typically turgid 0-0 draws there in the past four years.

We know that Robert Huth and Ryan Shawcross will compete to see who can get the best splashdown out of Suarez, while the likes of Geoff Cameron will harry Stevie Gerrard all over the field. On the rare occasions that Stoke secures the ball, it will hoof it up to Peter Crouch, scorer of four goals in six Prem matches to date, and wait for Reina to commit his now-weekly gaffe.

If Liverpool brings the same shrugged-shoulders indifference as they exhibited against West Brom and Arsenal, then Stoke will hang in there, but we see a swift Liverpool strike, Allen pulling the midfield strings and a resurgent Liverpool continuing its upward march.

Liverpool 3, Stoke 1