The night Chelsea toppled mighty Madrid
PRAGUE -- The UEFA Super Cup is a competition that receives a mixed reception from the football fraternity. Some dismiss it as no more than a glamorous friendly, with Jose Mourinho even claiming "it's not a competition, it's a match that gives a trophy" ahead of Chelsea's involvement this year. It has been condemned as an unnecessary extra match in an already crowded calendar and accused of being a fixture simply designed to further line UEFA's pockets.

But it is also easy to see the lustre. Two teams who have earned the right to be considered the continent's masters of knockout football facing off in one winner-takes-all match: What's not to like? It is also a competition (sorry, Jose) that has produced a huge number of upsets -- always an outcome to delight the neutral. Since the Super Cup's inception, the European Cup holders have won 18 times and lost 18.

Both of this year's contenders have been on the wrong end of upsets. The absence of four-time European champions Bayern Munich from the Super Cup's roll of honour -- they have lost three times and didn't compete on another occasion -- is made all the more pertinent by the presence of the likes of Belgium's KV Mechelen, Aberdeen and Parma. Chelsea have experienced more recent embarrassment, having been thrashed 4-1 by a Falcao-inspired Atletico Madrid last year.

The Blues have, however, also caused a famous upset of their own.

In 1998, after 26 years as a two-legged affair (aside from a one-off contest between Steaua Bucharest and Dynamo Kiev), the Super Cup was changed into a single fixture by UEFA. Having clearly been impressed with the hospitality of the Stade Louis II for that anomalous match between Steaua and Dynamo, Monaco was chosen as the new permanent neutral home of the Super Cup.

The first to experience the re-jigged format were Real Madrid and Chelsea. Four months earlier Madrid had claimed the European Cup by beating Juventus 1-0, while Chelsea had also triumphed 1-0, against Stuttgart in the Cup Winners' Cup final. The Blues were inspired by a cosmopolitan contingent that included Gianfranco Zola, Frank Lebouef, Roberto Di Matteo and Gustavo Poyet. The Super Cup would prove another memorable night for a club growing in stature.

"I had very mixed emotions on the morning of the game," Poyet recalls to ESPN. "[Then Chelsea boss] Gianluca Vialli gave me the bad news that I wasn't starting, which was quite hard to take. He had decided he wanted to play a defensive game and somebody had to pay the price for that to happen. Unfortunately that somebody was me. At the moment of the decision you feel terrible because you really want to play but as the years pass you understand.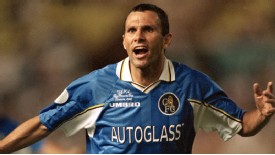 PA PhotosGus Poyet celebrates his winning goal against Real Madrid in the 1998 UEFA Super Cup.
"The game was a real tactical battle, Real Madrid were of course very attacking and we were forced to defend. They had Fernando Hierro leading from the back and Raul leading at the front -- it was a massive team and you know you are going to have a difficult day when you are playing against a team like Real Madrid. You know that you will have to do something special.

"I was desperate to get on and then the chance came in the second half. About 20 minutes later, we had a counter attack. I touched the ball to Gianfranco and wanted a pass back. He took a shot first and the ball came back to him, but then he spotted me. Gianfranco placed it perfectly in front of me as he always did and I just had to make sure I hit the target, which I did with a low shot past the 'keeper.

"We held on for the last few minutes and the Cup was ours to take back to London. To score in a final and for it to be the winning goal against Real Madrid is something I will never forget. It was a very special moment. I played in seven or eight finals and that was the only one I scored in so you can imagine it is a very important one for me. I was getting worried that I couldn't score in finals!

"I'm not sure how seriously Real Madrid took the game, or how much it hurt. And I know some people don't believe the Super Cup is important. But for that Chelsea team, in that moment in Chelsea's history, winning that game against Real Madrid was absolutely massive. We were a team that were able to win domestic cups but then we moved to winning the Cup Winners' Cup first and then to beat Real Madrid in Monaco was a great feeling. We started to believe we were getting better and better and better and closer to the best teams in Europe."

The Super Cup does not always act as a barometer of success – in fact, on 18 occasions the winner has failed to go on and win either their domestic league or a European trophy -- but it is a competition that can certainly breed confidence. Aberdeen went on to win successive league titles after lifting the 1983 Super Cup, while Lazio's victory over Manchester United in 1999 preceded their first Scudetto in 26 years and Chelsea followed up victory over Madrid by qualifying for their inaugural Champions League campaign.

The Super Cup's value may have depreciated as the Blues' trophy cabinet has swelled since the turn of the millennium, but there is no question that the 1998 triumph was a vital step in the club's evolution into European heavyweights and eventual continental champions.