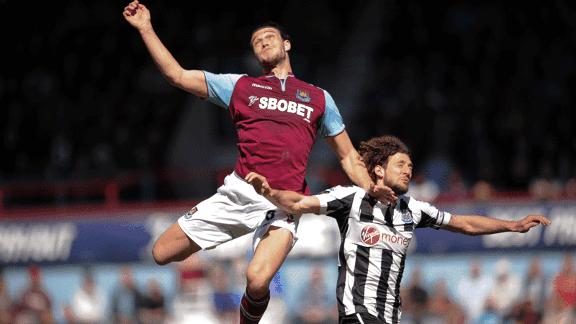 GettyImagesWest Ham's Andy Carroll in action against former club Newcastle.
On this occasion, Sir Alex Ferguson was offering no empty platitudes for an old friend; no gracious compliments after a great win. His team had been through an ordeal. So the former Manchester United manager put it rather starkly. For Ferguson, this trip to Sam Allardyce's West Ham was like a "war zone."

After Andy Carroll had flattened both David De Gea and Nemanja Vidic, and United had been forced to twice come from behind, the Scot knew he was lucky to get out of one his last ever away games with a fully fit team -- let alone a point.

"We have a few bumps and bruises," Ferguson said after April's 2-2 draw at Upton Park. "Vida has a beautiful bruise on his cheekbone. I think after coming out of that war zone I am pleased there is no one seriously injured. It's the type of game you get against Sam's teams. We had to deal with it."

It reads like the definitive description of a visit to Allardyce's West Ham. It has also created what may well prove the defining away game in the Premier League.

Last season, the London side saw by far the greatest discrepancy between their home form and away form -- 1.06 points a game. More relevantly, West Ham had the eighth-best home record in the division -- only behind all of the actual table's top seven.

Those elite squads certainly know the value of victories at such grounds. Throughout the 2008-11 period, and the peak of Tony Pulis' tenure at Stoke City, a telling trend developed. Three consecutive English champions all came out on top of tight title races after claiming desperate late winners at the Britannia Stadium. Almost all of their main rivals failed. For all the cliches about rainy Tuesday nights, it undeniably confirmed the respectable difficulty of a hugely testing trip. Moreover, many of those games fit the description that Ferguson set out in April. Points there were hard-fought in many senses.

Given the general position of the team as well as their fundamental style of play, the trip to Stoke could even have been seen as that baseline Premier League away game, the awkward acid test of a side's suitability to the division.

Except for the fact that last week, they ran around to an unfamiliar refrain. "We're Stoke City," the Britannia crowd chanted, "we're passing the ball." With Pulis gone, Mark Hughes appointed and the club even signing a ball-playing defender from Barcelona in Marc Muniesa, they enter a new era of encouraging uncertainty. On Saturday, however, that team will visit an outfit arguably even more assured at home than Stoke were.

Will West Ham replace them as the Premier League's most notorious opponents on the road? Have they already done so?

Allardyce has certainly been the subject of similar ironic chants. In his first season at Upton Park in 2010-11, when the side ironically had a far superior away record, a frequent sound was the support singing "We're West Ham United, we play on the floor."

The jibes were a reflection of the manner in which Allardyce's percentage-playing football supposedly went against the traditions of the club. The gradual disappearance of the chant, however, should not just be a reflection of the way in which the manager has won fans over but also the fact that his football has always been much more nuanced than that of Pulis.

West Ham may replicate the old Stoke in terms of a rigorous test but not necessarily as regards rigidly physical football. Pulis, after all, was all about long balls, set pieces and physicality. The approach was so ingrained that it was persistently resistant to the kind of evolution potentially offered by a succession of players such as Tuncay Sanli.

That has never quite been the case with Allardyce. While he undeniably enforces a largely constrictive collective template that makes frequent use of force in the air, it has always allowed more individual improvisation. The calculated rigidity has not so much been in the type of balls that Allardyce demands but rather the type of movement.

This was a difference well summed up in the past by Gavin Fleig, his former analyst at Bolton Wanderers.

"If a defender cleared the ball from a long throw, where would the ball land?" Fleig once illustrated. "Well, this is the area it most commonly lands. Right, well that's where we'll put our man."

The marriage of these approaches were perhaps best summed up by West Ham's opening home game of the 2013-14 season, against Cardiff City. Although it was basic industry that shut the promoted side down and then that functional football that opened them up, the moments that ultimately sealed a 2-0 win were borne of almost intuitive creativity. Joe Cole scored the first goal with a smart run; Kevin Nolan deliciously curled in the second.

Many opposition managers would have been exasperated, not least with some of the physicality. Malky Mackay saw it as an example.

"He [Allardyce] is certainly someone that knows about [home form and staying up], and I don't disagree," the Cardiff boss said. "It was always going to be a tough game. It's something to try, make our stadium a fortress."

West Ham have started to do so -- not that Allardyce ever sought the approval of the opposition.

"I didn't want managers telling TV how well we had played after beating us 3-0 and talking bulls--- before coming into my office," he said in a 2012 interview with the Daily Mail. "I wanted them to go and moan because I'd just beaten them."

Many know the feeling. The signs are many more will follow. Stoke may find out what life is like on the other side on Saturday.