Today's transfer window imperfect, but better than before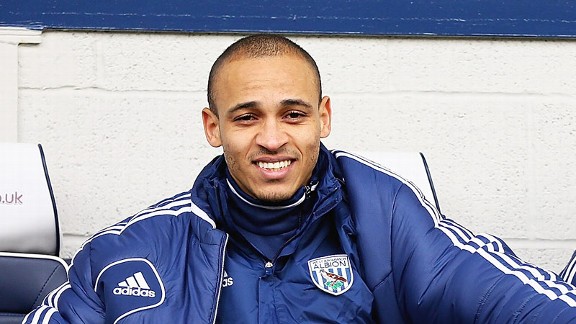 Matthew Lewis/Getty ImagesIf not for the current transfer window regulations, fans would not have been treated to Peter Odemwingie's premature mad dash to QPR last January.
The boys of summer: Gareth Bale, Luis Suarez, Wayne Rooney and Cesc Fabregas. They represent sanity and tedium tested in equal measure. Imagine putting up with their sagas all year round.

"The answer is to scrap the window -- it's an absolute joke," raged Crystal Palace manager Ian Holloway last weekend. "Do it how we used to do it."

This was no fresh complaint. "I cannot see the logic in a transfer window. It brings on a fire-sale mentality, causes unrest via the media and means clubs buy too many players," said Reading manager Steve Coppell back in 2008. "The old way of doing business, where a verbal response was sufficient, is now being ignored."

How they used to do it -- the old way -- was that transfers could happen all season, apart from during a few weeks at the end.

- Report: United back for Everton duo
- Darke: 10 things we've learned about EPL

A greater freedom of movement, then, but this was no time of even-handed utopia. The best teams still poached the lesser teams' stars and they could do so whenever they wanted. The final piece to a jigsaw could be added -- or removed -- as late as the third Thursday in March.

Nearing the end of the 1995-96 season, Manchester City were perilously close to relegation, but sold Garry Flitcroft, their most valuable asset, to cash-rich Blackburn Rovers. Relegation resulted for City. This was a not-uncommon occurrence.

There would be little sense in moving back to the old ways. Since the FIFA-delineated twin transfer windows in the summer and January appeared in English football in the summer of 2002, a whole industry has grown.

Transfers are far bigger news than they were back then. There is now a subsection of football journalists who label themselves "transfer specialists." A certain TV station gets very excited indeed about transfers. Imagine watching that all year round.

And then there are the football agents, whose opportunities for wealth creation have grown inestimably in the past decade. An ability to get business done throughout a season would be far more unsettling for players and their clubs. Should that scenario ever return, the depth and breadth of managerial whinges and whines does not even bear thinking about.

A more hard and fast rule of the transfer window might be to disregard everything a football manager says on the subject of transfers.

The protocols are well known. Clubs are not allowed to approach players without permission. They are not supposed to talk about them either. Both are completely and utterly ignored. The first casualties of a transfer window are honour and respect except when a manager is suggesting that his honour has been disrespected.

Another casualty would seem to be credulity. Football clubs must now act in complete amazement when other clubs bid for their players and want to pay less than their valuation. Alan Pardew was especially enraged when Arsenal bid for Yohan Cabaye, even though such a thing was perfectly within the rules. The rules also allow bids to be turned down.

A market is the process by which prices of goods and services are established, but the most heavily favoured football transfer negotiating techniques are outrage and guilt-tripping.

"Derisory and insulting," said an excitable Everton statement of Manchester United's bid for Marouane Fellaini and Leighton Baines, though at no point did the pained party suggest that the players were not for sale.

"If I had been Everton manager and Sir Alex Ferguson had come asking for Leighton Baines and Marouane Fellaini, I'd have found it very difficult to keep them because I always felt that the right thing was to do what was right for the players," said David Moyes last week.

"We have got to do what is right for our football club." said Moyes in 2009, when Manchester City were trying to buy Joleon Lescott for Everton. David, you've changed.

"At the moment I really feel for the game. We are concentrating on rumours too much," said Roberto Martinez on Wednesday night, earnestly serving as the conscience of a beautiful game sullied by the filthy activities of rival managers and football agents.

Should either Baines or Fellaini be sold, Martinez's movements are keenly awaited. He has made much of Moyes' inside knowledge of Everton's valuation of their star players. Wigan Athletic will no doubt be receiving their full £20 million valuation for James McCarthy.

"If managers start talking about players who are registered at other clubs, that is the end of the whole thing," said Martinez last week. Jose Mourinho is not heeding the great sage of honour and respect.

"One way or another he has to say 'I want to leave' or 'I want to stay,'" said Mourinho to Wayne Rooney on Monday. Rooney followed those instructions too, if cryptically.

"It was an unbelievable reaction from the fans, so thank you. I really appreciate your support. It means a lot," said Rooney on Facebook, though he might well have been referring to the Chelsea fans who had applauded him throughout the 0-0 draw. A 48-hour deadline set by Mourinho had been met in a most modern sense. Without a transfer window, Chelsea's pursuit might continue, and the player's distraction could continue too. Blessed relief has been provided by the window's closing.

The newest rule of the transfer window is that players must not speak on the record about their wishes. Gareth Bale has been a baseball-capped mute in pink when "papped" by photographers. Rooney, until his social media excursion, employed a spokesman to spread off-the-record messages of dissatisfaction to journalists. Luis Suarez was actually a beacon of truth until he stopped talking too. His silence has been bought by either a new contract or a lack of properly interested parties.

Under the old system, he and Rooney might keep up their agitation, the Bale deal could drag on and on until Christmas. Nobody, not even Ian Holloway, can want that. The transfer window is flecked with imperfections, but at least it shuts on Monday. Sanity can prevail, and tedium can be lifted.