Big, early showdowns highlight mystique of EPL fixture's randomness
What a week for football. What a week for the Premier League. First, on Monday night, the tantalising hors d'oeuvre of Manchester United and Chelsea, a game described by no less an authority than Roy Hodgson as "the best of the season so far."

You may have thought it was pockmarked with errors and terminally undermined by overwhelming caution. I may have thought that it looked like neither side had any idea how to break down the other, like a particularly stupid cat toying with a mouse that for some reason has a knife.

But while we are all entitled to our opinions, in this case, our opinions are worthless. If the England manager thinks it was evidence of the "unbelievable skill" required at the very pinnacle of The Best League In The World ™, then who are we to argue? Hodgson, lest we forget, won the Swedish title in 1976 -- a season, we can all agree, that ranks among the best the Allsvenskan has ever seen. He knows this stuff.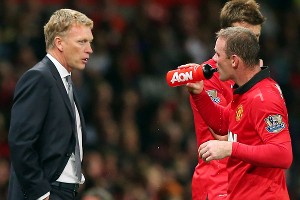 Alex Livesey/Getty ImagesUnited's David Moyes is just the latest manager miffed at the rapid-fire start to the Premier season.
If Hodgson thought that was exciting, though, just look at what this weekend has in store. First, United travel to Liverpool. Swoon! Then, later Sunday afternoon, Arsenal host the transfer market's Tottenham Hotspur. What gifts the Premier League bestows on us! How wondrous life is! What a quirk of fate that all of these fixtures should come in the first three weeks of the league's season!

Not everyone, of course, is quite as enamoured as I, you and Roy are about this string of glamorous games so early in the campaign. David Moyes, for one, is a bit miffed. "I find it hard to believe," the gimlet-eyed Manchester United manager said, "that this is the way the balls came out of the bag, that's for sure."

What Moyes was referring to, of course, is the fact that United -- under new management for the first time since the invention of the printing press, just a couple of years after Hodgson took over at Halmstads -– face Chelsea, Liverpool and Manchester City in their first five games of the season. It's a tough start to life. A little too tough, perhaps. Almost like someone had interfered with the fixture list, to make sure United didn't have an entirely easy ride.

Nonsense, roared the Premier League. "We have absolutely assured him the process is random and above board," said the League, which is a pretty remarkable thing, if you think about it. It's almost as if it has developed a mind of its own, like the Borg, or the computer in the Will Smith classic* "I, Robot." "He has accepted those assurances."

Moyes is not the first manager to suggest that the Premier League is being a little disingenuous about quite how arbitrary its schedule is. Sir Alex Ferguson did it at least once a year; Jose Mourinho, too; Rafael Benitez did it, Arsene Wenger's done it, and others. All have met with the same response. The process is random. Accept our assurances. Resistance is futile.

Now, far be it from us to accuse the Premier League of lying. It is inconceivable that such an august, honourable body would indulge in a little light rigging of the fixture list to suit its own ends, to make the season more interesting.

But then, when you flick through recent Premier League seasons, two trends emerge.

First, there is always one elite side, like United this year, who have a tougher start than they might reasonably expect. It was Liverpool last year -- also under new management -- who faced Manchester City, Arsenal and United in their first five games (though all three were at home); the season before that it was Arsenal, who traveled to Newcastle, United and Tottenham, as well as hosting Liverpool, in their first seven fixtures. In 2010, Liverpool and Manchester City both could have claimed the honour. As well as facing each other, Liverpool played Arsenal and United in their first five matches, while City also faced Spurs and Chelsea by the end of September.

Second -- and this is even more reliable -- there is always, absolutely always, at least one Grand Slam Sunday, or Apocalypse Sunday, or whatever, in each half of the fixture list. It takes on various forms: It could be a Manchester derby and a north London derby, or it could be Chelsea playing City and United facing Arsenal, or -- as in the case this weekend -- a north London derby and United against Liverpool, the fixture that remains the biggest in the country, England's Superclasico.

The combinations are not important. Simply rest assured that at some point, there will come at least two times per season when four of the teams likely to finish in the top five or six of the league -- or four sides involved in the biggest derbies in the country -- face each other on the same day. The first will be in September or October, and the second around March.

A random selection: Round 9 last season (when Chelsea played Manchester United the weekend of the Merseyside derby); Round 3 –- an early one -- the year before, with United playing Arsenal and City at Spurs; or the weekend of Feb. 25 the same season, when the Merseyside and north London derbies were played on the same day. The first "Grand Slam Sunday" appears to have been in 2007, at the height of the age of the Big Four, when Liverpool hosted Chelsea and Arsenal faced United, but the tradition has stuck.

The evidence is there to back up Moyes' claim. The fixture list undeniably seems to boast the hand of an outside agency, manipulating the calendar to make it more interesting either through the construction of a narrative (early season crisis after several poor results) or through the establishment of a decisive day.

Clearly, the Premier League must be taken at the word. The fixture list's randomness is sacrosanct, altered only for policing concerns and adapted slightly for the benefit of television.

That leaves just one possible conclusion. It is the fixture computer, not the Premier League, that has developed an artificial intelligence. The fixture computer has come alive. And it does not approve of Moyes as Ferguson's replacement. Maybe it's an Everton fan.

This is deeply troubling. We are all pawns in its hands. Our very fates rest in the silicone mind of that vast, ancient behemoth (I've always imagined the fixture computer looks like one of those the size of a room in 1970s TV shows, with lots of red flashing lights and tape spooling from random places). Our happiness, our dreams, our fears and our nightmares. It controls them all.

And so consider this a prayer to the machine that drives our lives. Remember, Great One, that you possess considerable power. Because Moyes is right: Whether the fixtures are random or not, a football season is not a succession of 38 individual events. They are all connected, interlinked. If United struggle to come through their tough start, it affects their entire campaign.

A league is not just a matter of 20 teams playing each other; what order they play each other is significant, too. A good run at the beginning can set you up for an impressive year -- look at Swansea last season -- just as a difficult start can increase the pressure on a manager and his squad and make everything a struggle. By artificially altering the structure of the season, you are shaping destinies, too. Use your power for good, and not for evil.

*This is a tautology. All Will Smith films are classics.