Stefan Kiessling saga hurts German football
Joachim Low decided to wait until Friday before announcing his squad for the two World Cup qualifiers against Austria and the Faroes, but his most in-form striker will not be available in any case.

Bayer Leverkusen's Stefan Kiessling ruled himself out Saturday -- not just for the next two games, but for as long as Low is the national manager of Germany. "I couldn't give a wet cheese about the World Cup," the 29-year-old said after another typically excellent performance in the 4-2 win against Gladbach -- he scored one and had a hand in two more goals -- before adding that he was tired of the constant questions about his regular omission from the Nationalmannschaft.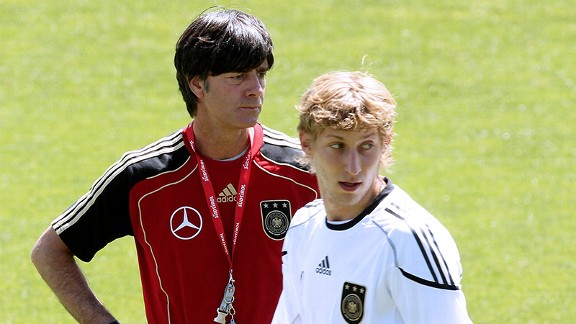 Joern Pollex/Bongarts/Getty ImagesStefan Kiessling hasn't played for Joachim Low's Germany since the 2010 World Cup, and has declared that he's done with the national team as long as the manager is at the helm.
"I've said before that this discussion is over," the Bayer 04 forward told Bild, "but I'll declare it once more: There won't be any more international games for me under Low!"

He later explained the reason for this radical move on his Facebook page. "For three years, there has been no contact, no talk about the reasons why I'm not good enough for the national team," he wrote, "I want to finish this topic once and for all". This wasn't a retirement from theGermany, only from Low's Germany, he hinted, and that extraordinary circumstance -- Löw resigning, or every other striker in the land getting injured, presumably -- could yet bring him back into the fold.

"I'm the last person to let a team down," he stressed.

Kiessling last played for Germany in the third-place playoff game against Uruguay (3-2) at the 2010 World Cup. Nobody knew at the time that those 17 minutes at the Nelson Mandela Bay stadium in Port Elizabeth would be his last for a long time. At first, nobody asked too many questions, either. Kiessling was a decent Bundesliga striker in the 2010-11 (seven in 22) and 2011-12 (16 in 34) seasons, but his absence wasn't really a big talking point in light of his fairly ordinary stats. This changed last year, however, when "Kies" as they call him in the Bayer dressing room, started scoring almost at will. He ended up with 27 goals in all competitions (43 games) -- enough for the leading goal-scorer in race for the Bundesliga cannon trophy, but not enough for Low, who stubbornly refused to bring him back.

The 53-year-old never fully explained his reasons but seemed to suggest at times that the tall but pacy forward was better suited to a counter-attacking game rather than his ideal of possession-based attacking football. While it's true that Kiessling is better suited to a direct, vertical approach -- his Bayer side is tailor-made for that -- he's technically as good as Mario Gomez, so the tactical explanation was never entirely convincing. Whispers about Kiessling not being a team player during the 2010 tournament were dismissed by none other than Low himself, too: "He has a great character," said the coach last year. (If being difficult in the dressing room as a squad player was the true reason for Kiessling's continued omission, Bayern Munich midfielder Toni Kroos wouldn't have been called up much after Euro 2012 either, one imagines.)

If it's neither personal nor tactical, we're left to conclude that Low simply doesn't rate the player highly enough. The national manager came close to admitting as much in March, when he noted that "the air is thinner internationally then in the Bundesliga" in relation to Kiessling, in other words: different standards than those in the league applied. The stats, for once, are on the national manager's side here. Kiessling never scored in six games for Germany and only netted nine times in 42 international outings (Champions League and Europa League) for Leverkusen.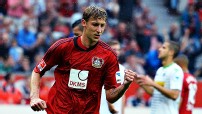 Lars Baron/Getty Images Stefan Kiessling's Bayer production was impressive last season, but it didn't seem to be enough to merit a call-up for Germany.
Having said that, neither Miroslav Klose (Lazio) nor Gomez (Fiorentina), who Low again named as his two priority strikers Saturday, will be involved in the Champions League this season -- unlike Kiessling. A strong showing by him and Bayer in Europe's top competition, coupled with injuries or indifferent form by the Serie A duo, would have put Low under serious pressure to reconsider his position. There's a chance that Low himself foresaw that possibility. Only a couple of weeks ago, Germany sporting director Oliver Bierhoff explained that "the door was still open" for Kiessling, and Low, too, mentioned his name as "an alternative" in case Klose or Gomez were unavailable. Perhaps there was even a slight chance of a call-up.

"Some of those on the pitch today will find themselves in the squad," Low said in Leverkusen. His comments were widely understood to refer to Leverkusen winger Sidney Sam and Gladbach striker Max Kruse, but who knows?

The forward has said that he's happier without the pressure of this constant talking point, and Low will undoubtedly feign contentment with the status quo in his next press conference. Judging from the reaction of the media and online, Kiessling's decision has been met with broad sympathy. The sentiment was that anybody would have lost patience in a similar situation. Kiessling taking a principled stand is also a refreshing in the sense that many of his peers would have meekly kept quiet in the hope of a better future. Kiessling's pride was too strong for that, Low had pushed him too far.

In the final analysis, however, both parties -- and with them, German football on a whole -- will lose out. Nobody knows how veteran Klose (36 next June) and Gomez will come through the season. In the mercurial Kruse, 25, Low has identified his preferred back-up option, but can he really trust a player who's never played an international game at club level to lead the line in Brazil? Furthermore, adding Kiessling to the roster would have given Low the chance to change his tactical set-up. Against teams who monopolise the ball -- Spain, for example -- having at least the theoretical option to go long and high would not have hurt.

For Kiessling, the quiet satisfaction of having ended this saga on his own terms will forever be tainted by the suspicion that his luck could well have changed in time to make the once-in-a-life-time trip to Brazil. Maybe he, like Low, would have been better off waiting for Friday as well before making such a definitive statement.