With twists and turns, Willian finally makes move to England
We all know modern football too much to feel skeptical when players talk about dream moves and eagerly awaited chances. In the case of Willian Borges da Silva, however, things are a bit more complex than merely the chance to escape the smoldering ruins of Anzhi Makhachkala. The Brazilian player has actually developed a soft spot for Chelsea, and it all goes back to a European night last November when the Brazilian was applauded by supporters at Stamford Bridge after the English club beat Shakhtar Donetsk 3-2 in the group stages of the Champions League -- Willian scored both goals for the Ukrainians.

Elated as he was by the demonstration from the crowd, things got even sweeter for Willian when a fan presented him with a personalized Chelsea shirt outside the stadium, with a question mark in lieu of a squad number. The London club had then tried to sign the Brazilian at least once, in 2011, only to be turned down by Shakhtar, whose financial robustness and consequent lack of feelings of intimidation is known by many a Brazilian player who tried to use them as a stepping stone.

- Chelsea complete deal for Willian

The problem is Willian was determined to move to the Premiership. At 25, not only he is from a generation of Brazilian footballers who came of age at the same time English football became a marketing behemoth, but the Corinthians youth academy graduate also saw in the style of play an opportunity for his game.

Hence why people should understand why he had gone through the whole medical fiasco at White Hart Lane. Although not unhappy at Anzhi, Willian saw in the North Londoners' bid a chance to finally make it to England.

"If he could have chosen, he would have gone straight to Chelsea," a source close to the player said. "He knows about their potential and Jose Mourinho still has a massive cred amongst players, even after his acrimonious spell at Real Madrid. But how could he just say no to Spurs when he always dreamed of playing England? Besides, he was under contract at Anzhi and the club was still listening to offers."

Willian is worried about the repercussions of the controversial last-minute switch to Chelsea. But he won't lose sleep. He knows there is love at Stamford Bridge, and, above all, a little Brazilian cluster commanded by David Luiz, his old buddy from Brazilian youth sides. One must suspect that the floppy-haired defender played a part in a Blue lobby.

Most of all, Willian is hardly a novice parachuted from Brazil. He has thrived in Ukraine, hardly one of the most welcoming environments in the world for a kid from the outskirts of Sao Paulo who had failed to impress immensely after only 16 games for Corinthians' first team.

The Brazilian has also seen top European action, having also won the then-UEFA Cup with Shakhtar in 2009. Used as a winger and a playmaker in different stages of his five-year spell with Shakhtar, he should not feel so out of the water if Mourinho adopts the tinkering way to try to fit him in at Chelsea.

While he faces direct competition from crowd favorite Juan Mata, there is no reason the Brazilian should be considered a panic buy or just a "meanie" move from Chelsea. While one could point out that a center forward should have ranked higher in Chelsea's transfer-window shopping, few other players in the world now could help the Europa League champions achieve the brand of passing and attacking football that billionaire Russian owner Roman Abramovich craves so much.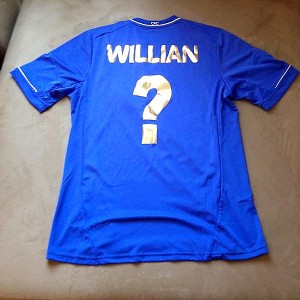 Courtesy of Fernando Duarte
That gifted shirt? Willian still has it. And ESPN FC has an exclusive snapshot for you here at right. . .