The politics of parking the bus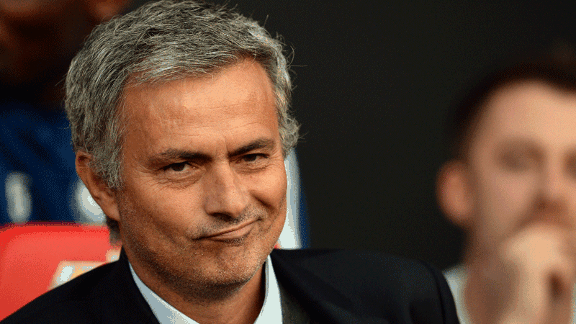 GettyImagesJose Mourinho sent out a message with his team selection against Man Utd.
It was such a pertinent quote that it swiftly became a cliche in English football. Tottenham Hotspur had turned up at Stamford Bridge with defence in mind. Jose Mourinho was not amused.

"They brought the bus and they left the bus in front of the goal," said Mourinho after a 0-0 draw in September 2004. "I would have been frustrated if I had been a supporter who paid £50 to watch this game because Spurs came to defend."

That did not mean that Mourinho would not consider it as a valid tactic. His interests lie in winning football matches and personal battles. Fashionable knitwear and designer trench coats can provide the style. Substance is always best provided by victory.

Nobody has ever quite perfected the deep-lying defensive tactical plan like Mourinho once did at Inter Milan. The Champions League semifinal of 2010 saw Barcelona, at their very peak, driven to distraction. Mourinho's plan was steel-plated in its rigidness, so tightly bound that he became annoyed when his players were in possession of the ball and tried to attack.

Very little was left to chance on Monday at Old Trafford. Those in English football might now be recalling the manner in which Mourinho departed Chelsea in 2007. The final months in charge were full of tactical frippery that did little to entertain those who paid £50. Roman Abramovich got bored too. And then there were the rows behind the scenes about playing personnel and, ultimately, just who was the most important person at the club.

Two games in seemed a little early to start all the politicking again, but Mourinho chose a 4-6-0 formation that variously sent messages to his strikers, Wayne Rooney, Juan Mata and Abramovich himself. Fernando Torres and Romelu Lukaku idled on the bench, while Demba Ba could not even make the match-day squad. Mata's inability to force himself into a six-man midfield was particularly damning. Those explanations of a slowness to come back to fitness after a busy summer are not entirely convincing.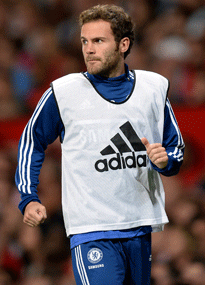 PA PhotosJuan Mata's future remains shrouded in doubt.
The speculation dampened by Chelsea's manager at Old Trafford was warmed back up by Mata's father -- his agent -- being at Emirates Stadium on Tuesday to take in the box-office entertainment of Arsenal's cakewalk against Fenerbahce. Arsene Wenger was hardly dismissive.

"I watched the game last night and I've heard, like you, Juan Mata could be on the market," said Wenger on Tuesday. "There is anyway in England a reluctance to sell to each other."

Mata may find himself as the first victim of the new Mourinho regime, a symbol that all these smiles of happy reunion can never mask the manager's desire to do the job in the manner he so chooses.

That Torres and Mata are two of Abramovich's favourite players can hardly have been omitted from Mourinho's calculations though the equations probably factor in that this honeymoon period is an ideal time to indulge in such machinations.

Such is the nostalgic glow at Chelsea that Mourinho is currently able to make free bets. He can still charm himself back in if something goes wrong. A glint of those eyes and a joke can melt the hearts of the fans who have missed him so badly, even if their club has hardly suffered much of a lack of success in his absence. The rest of the English game may not be so convinced. Mourinho's first Chelsea team are hardly recalled as representing the good old days.

The last time Chelsea and United played out a game so dull was the 2007 FA Cup final. A nation dozed uncomfortably until Didier Drogba's late goal provided blessed relief. Even United fans celebrated the end of that game. The years since have seen the rivalry between the clubs ebb and flow but almost always deliver in excitement terms. Last season, they met five times, and only the league fixture at Old Trafford, by which time United were all but champions, lacked excitement. In the space of four days last October, Stamford Bridge saw 14 goals shared between the teams in a 3-2 United league fixture victory and a 5-4 League Cup home win.

Rafa Benitez would never have got away with such tactics. His obsession with initially keeping his team in shape always moved into another phase of actually trying to take hold of a game by scoring goals. At Chelsea, Benitez could not do right for doing wrong. Mourinho, at present, can do no wrong. He intends to make the most of that.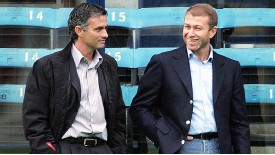 GettyImagesIf Roman Abramovich is seeking sexy football, Jose Mourinho may not be the man to deliver it.
On Monday, Chelsea offered no such thing as adventure, and while David Moyes' United team were complicit in a game that looked headed for stalemate from early on, it was Mourinho who was celebrating the 0-0 draw at the final whistle.

Then came the habitual post-match playfulness with TV and press, with Rooney as the pawn in this particular game. A 48-hour deadline was publicly set for a player under contract to another club, an ultimatum that did not meet with the amusement of Moyes.

Then, bored by the constant questioning on Rooney and the small matter of Mata, Mourinho was keen to show off fresh credentials as a father of football.

"Won't you let me speak about the kids?" he asked, seeking a diversionary avenue. Such is modern Chelsea that the cherubs he was cherishing cost well over £100 million between them.

At Old Trafford, Andre Schurrle and Kevin De Bruyne were indivisible in their ability to make an impact. Oscar and Eden Hazard skittered in and out, as a lack of focus in the forward line resulted from the lack of a designated striker. Creativity always needs a focal point, and that is best provided in football by a front man. Chelsea are neither Barcelona nor Spain, and Mourinho is hardly the coach to make them so. Which was part of the problem when it came apart at the seams last time.

Meet the new Mourinho, same as the old Mourinho. He has not taken long to reveal himself.