New Standards reached by Liege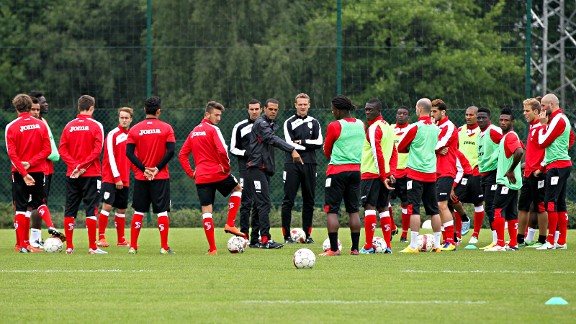 GettyImagesNew coach Guy Luzon has won over the players at Standard Liege.
Minus multiplied by minus equals plus. A very big plus, as far as Standard Liege and Guy Luzon are concerned. Just when everything seemed to be spiralling out of control at the Belgian club and the Israeli coach was being ridiculed and berated in his homeland, the two joined forces to create an unstoppable football machine. At least for now, as much tougher tests still await them.

In the summer of 2011, Standard Liege changed hands and the atmosphere in the biggest Wallonian city could hardly have been more toxic. New owner Roland Duchatelet, a successful local businessman and politician, courted controversy from the very first moments of his tenure as he strived to change everything at Standard, and the fans revolted. Duchatelet's policy of selling the big stars wasn't appreciated by those in the stands, with Axel Witsel, Steven Defour, Eliaquim Mangala and Mehdi Carcela-Gonzalez all leaving the team that went agonizingly close to winning the Jupiler Pro League title.

Things got worse in the summer of 2012 when fans' favourite Mohammed Tchite was sold to Club Brugge and promising prospect Cyriac was shipped out to bitter-rivals Anderlecht. There were protests and, following a poor start to 2012-13 season, they went too far in October; the fans, outraged with four successive defeats, bombarded the field with firecrackers during the big home fixture against Anderlecht, halting the game for many minutes. Standard actually managed to win it, but the unrest continued, and Duchatelet, desperate to turn the fire from himself, sacked the unfortunate new Dutch coach Ron Jans, even though the situation was clearly not his fault.

Mircea Rednic was brought in to please the crowd. The Romanian, once a brilliant student of the legendary Mircea Lucescu, spent five successful seasons with Standard as a player and is very popular in the city. It didn't really help the besieged owner, though. While the results on the pitch improved, Duchatelet's actions off it only deepened the ill-feeling towards him.

Stating that he wanted to make the squad younger, the owner forced important senior players out of the club in January 2013. He sold Sebastien Pocognoli to Hannover, sent Reginal Goreux to Russia against his will and even tried to get rid of the captain, Jelle van Damme. At the same time, Standard brought in a couple of relatively unknown Japanese players, Yuji Ono and Keisuke Nagai, and Duchatelet was accused of doing so to explore the lucrative Asian market at the expense of the team.

In early June 2013, though, the real bombshell exploded. The club announced the Rednic had been relieved of his duties and would be replaced by Guy Luzon. Guy who? Few in Belgium had ever heard of the 38-year-old Israeli. Unconfirmed reports soon emerged that Duchatelet originally wanted Luzon to take charge of his previous team, second division St Truiden, but that didn't work out, and so he ended up in Liege instead.

The fans couldn't take it anymore. Anti-Duchatelet Graffiti was daubed around the city, including the ticketing booths at the stadium. Supporters tried to gatecrash the press conference when the new coach was presented, shouting Rednic's name. Later, a reported 5,000 fans took to the streets, demanding the president to be ousted, and holding signs telling him to leave, in slightly cruder words. In the beginning of July, Duchatelet, exhausted by the pressure and tired of being guarded by police, announced that he was willing to sell the club to a suitable buyer.

But who, indeed, is Luzon? The Israeli might look like a kid, but he started coaching at the age of 25, and had remarkable success with Maccabi Petach Tikva, including staging an amazing comeback in the UEFA Cup, when his team lost 2-0 at home to Partizan Belgrade only to win 5-2 in the return leg. In 2005, Petach Tikva, a very modest club by local standards, finished second in the league.

Luzon's biggest problem, though, were his family ties, for Maccabi Petach Tikva are owned by his uncle Amos. Guy Luzon's whole career was seen by many a journalist as an extreme case of nepotism, and the coach's huge failure in 2007 while at the helm of Hapoel Tel Aviv, the only big club he got an opportunity to manage in his homeland, seemed to prove the point to some.

Guy's outspoken manner and somewhat arrogant behaviour didn't help him with the press. There is no surprise, then, that his appointment to coach the Under-21 national team was met unfavourably, especially since the FA chairman is none other than his other uncle, Avi Luzon.

Israel hosted the Under-21 European Championship in June and just days before the tournament started Luzon's appointment to Standard was announced. The local press went berserk, and Guy didn't help the situation by insisting on bringing his agent to the official press conference of the national team.

His attitude during the tournament could also been better. Eager to prove everyone wrong, Luzon wildly and bizarrely celebrated a rather meaningless 1-0 win over England in the last game of the group stage, despite his team being eliminated. Afterwards, the under fire coach said: "Call me next time Israel finishes above England, Germany and Russia in the future, no matter what sport it is."

That only added oil to the fire. A lot of people at home wanted Luzon to fail in Liege and as he arrived to take charge of the team with fans storming the club's offices it seemed very likely. It seemed an impossible situation for all involved. He had to fail. But he didn't.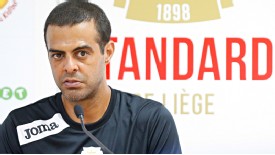 GettyImagesGuy Luzon is no longer a figure of fun.
Luzon dealt with the fans' displeasure at his appointment in a very smart and calm manner. "They don't know me, and I will just have to meet and talk to them. They want the team to succeed, and that is the most important thing," he said at his first press conference. He never looked uneasy, started working eagerly and quickly won over his players.

"The president made his choice because he felt that will be better for Standard, and I am also convinced. I really believe that we can have a great season with Luzon, and we will make it together – the directors, the players, the coaching staff and the supporters," captain van Damme said. Even he didn't expect the results that followed, though.

Amazingly, Standard have become one of Europe's most in-form teams since Luzon's appointment. In fact, the coach has won all his official games so far. Liege lead the Pro League with a perfect record after five games, and are even yet to concede a goal. The best win was achieved in a local derby away at Genk, while Mechelen, Lierse, Leuven and Enzo Scifo's Mons were also beaten. In addition, Standard easily won every game in Europa League qualifiers en route to the group stages, albeit against significantly inferior opposition.

In the process, Luzon proved himself as a charismatic person, smiling during interviews and making amusing remarks. The open and youthful atmosphere in the squad is clear for all to see, Luzon even jokingly chased after his centre-back Kanu after he scored against Mons last weekend. Right now, the whole league is chasing them. Standard were blessed with an easy schedule at the start of the season to allow Luzon to adjust and things to settle down, but their style and achievements are remarkable nevertheless.

The protests on the streets of Liege are forgotten. The Belgian press, so suspicious of the new coach just a couple of months ago, can't stop hailing him, and one of the internet sites even labelled Luzon to be "Standard's Mourinho". The embattled uncle Avi claimed back in March: "I guarantee that in five years Guy will be one of Europe's top ten coaches. He only has to get a chance to prove himself, and he will take it". He's certainly took his chance at Standard Liege thus far, and who knows what subsequent seasons might bring.