How can Real Madrid afford Gareth Bale?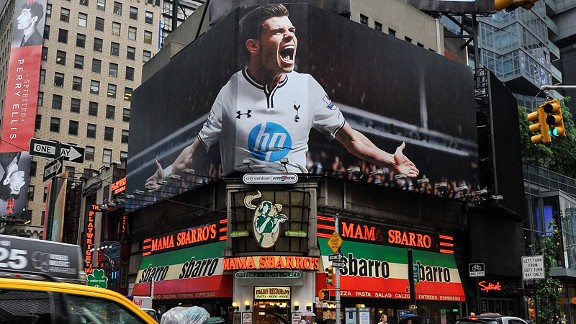 GettyImagesGareth Bale's image adorns a billboard in Times Square, New York.
Almost exactly four years since the arrival of Cristiano Ronaldo and Kaka at a combined cost of £140 million, Real Madrid president Florentino Perez is expected to present the traditional white shirt to another Galactico.

For Perez, the signing of Gareth Bale will be a victory -- further evidence of his astuteness in the transfer market and ability to bring the best financial results to the club he has presided over for 10 years, over two stints.

But for many, the question remains: How can Real Madrid afford to pay so much for a single player? A world-record £86 million transfer fee alongside a reported salary of £8 million (take-home pay) a season means the club will have forked out £134 million over the course of the Welshman's mooted six-year contract.

Real Madrid are £500 million in debt, according to reports, are under investigation by the EU over allegations of receiving illegal state aid regarding colluding with the city council over the price of land around Bernabeu, and are close to losing what is seen as their biggest competitive advantage -- the ability to negotiate their own TV rights. (Sources quote that Barcelona and Real currently secure themselves 23% each of the revenue from the TV market).

As Arsenal manager Arsene Wenger commented over the weekend: "It makes a joke of the financial fair play regulations. I find it amazing that in the year the regulations come in, world football has gone completely crazy."

But Real Madrid are in no kind of trouble.

Firstly, the headline debt figure of £500 million widely quoted in newspapers in July is taken wildly out of context and does not get close to telling the story of Real Madrid's finances.

That top-line debt figure is misleading as it includes things like season-ticket sales for the upcoming campaign, and transfer fees not scheduled to be paid in that year's accounts, both of which are more liabilities than debts.

If you looked at the same figures for Arsenal and Manchester United, for example, you would get a debt of £849 million and £458 million, respectively. Those figures are shouldered on much smaller revenues, as well: United pull in a full £100 million less than Real Madrid a year, while Arsenal bring in £191 million a year less than the Spanish club.

But if you apply UEFA's definition of debt, the figure is a lot smaller. Real Madrid had bank debts of £125 million in its 2011-12 accounts, and with cash at the bank of about £84 million the club has a debt of about £41 million. Adding transfer liabilities brings the figure to £106 million -- sizeable but very manageable considering their ability to generate such large revenues.

Those revenues have made the Spanish giants the biggest club in the world. Real Madrid topped the Deloitte's Annual Review of Football Finance for the fourth year running with an annual revenue of €513 million (£440 million) for its 2011-12 accounts.

And that figure is going up: Revenue has risen at least 10 percent year on year for the last four seasons. Real Madrid -- even without a boost in revenue from a new marquee signing like Bale -- would expect to post an extra £80 million in revenue by the end of next season.

A planned law change to force Real Madrid and Barcelona into collective TV rights in Spain will cut revenue slightly, but the £15-20 million they are likely to lose in TV revenue will be more than made up by rising merchandise sales.

Perez's genius in taking Real Madrid from a financially battered club up to the most bankable club of the modern era is based upon seemingly crazy spending on big signings.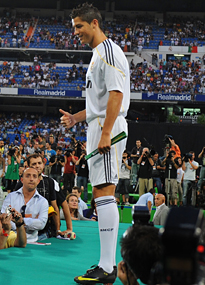 GettyImagesReal Madrid made £90 million on the back of mainly shirt sales after signing Ronaldo.
He believes that the really big stars in world football -- the Galacticos -- will eventually pay their own way in merchandising sales. And he has been proved right time and time again.

Real Madrid's previous transfer-fee record was in 2009 when they tempted Ronaldo away from Manchester United for what was a world-record fee of £80 million. At the time, Perez boasted that he will make the money back in merchandise sales.

It was no idle boast, either, as the club announced just a year later that they had made £90 million, mainly on the back of shirt sales of the Portuguese forward's No. 9 jersey and other memorabilia in the preceding year. That included 1.2 million shirt sales in Madrid alone.

The club had been there before. In 2003, when they brought David Beckham over from United for a fee of £35.1 million, the club were fourth in the Deloitte football finances table. By 2005, they were on top -- where they have remained -- primarily on a 67 percent rise in sales of merchandise, thanks to the pretty one's global appeal. Beckham has sold £1 billion worth of shirts during his career -- and 1 million shirts in his first year in Real Madrid alone.

Looking to strike oil twice, Real brought in Kaka from AC Milan in the same window as Ronaldo for £56.1 million. The Brazilian striker's popularity in Asia helping to recoup the huge outlay.

But will Bale have the same effect as Ronaldo or Beckham? Football experts are already questioning the value Bale will bring as a player with just one season of Champions League experience behind him, and little exposure to the kind of pressure associated with playing for a truly global football club.

While he is not established as a superstar, playing for Real Madrid should push him into the appropriate spotlight. And he taps into the Premier League audience, which is now truly global. More than 40 percent of the last TV-rights contract for the English league was made up of foreign sales.

Bale will be the first Galactico since Ronaldo in 2009, and well-timed as the world climbs slowly out of recession. Perez is betting that the global fan base is ready to spend £60 million each on a new shirt for a new modern superstar.

With such profit to be made, the question people should be asking is not can Real Madrid afford it, but why aren't they spending silly money more often?

Article updated on 28/8/13