Austria Vienna on the edge of greatness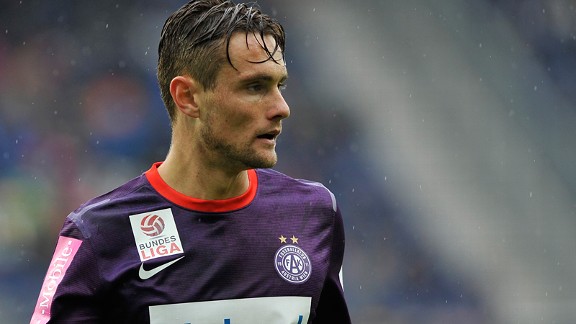 GettyImagesAustralian James Holland has been a key figure for Austria Vienna.
Austria Vienna are on the verge of making history.

One of Austria's most successful clubs -- with 24 league championships, second to rivals Rapid Vienna (32) -- are within 90 minutes of adding their name into the draw for the UEFA Champions League. It's the first time the 'Violet' have progressed to the group stages of the competition. They came close back in 1992, but lost on away goals to FC Bruges in the qualifying round.

The anticipation in Vienna is palpable. Austria, or Fussballklub Austria Wien to give them their official name, reclaimed the national championship last season -- their first in seven campaigns -- with tremendous swagger. The club smashed the Austrian Bundesliga's record points total and even managed to pip Red Bull Salzburg to the crown, as the unfavourable RB side racked up their highest points tally, to no avail.

- Paul: Advancing in UCL a must for Milan
- Limbert: Wenger has few rotation options

"Ten million for 90 minutes", reads one Austrian newspaper. The club would safeguard around €10 million, excluding extra merchandising and ticket sales, which inevitably come with qualification, providing a massive financial boost to FK Austria.

Vienna carry a two-goal lead into the second leg against Croatian giants Dinamo Zagreb -- but Australian international James Holland, who joined Vienna from Sparta Rotterdam in January 2012, is taking nothing for granted as history beckons.

"Two-nil is obviously good," Holland said. "We can't get complacent because they're favourites for a reason and they've been around the Champions League for the last few seasons now. You see their history, their team on paper and clearly, they're more seasoned than us. So, obviously, we're aware of this and we don't want to get caught up in the hype."

The former Newcastle Jets midfielder added: "Personally, I try not to look at the media too much. This is one of the reasons. Obviously, the media are getting involved now because it could be Vienna's first time in the Champions League. It's fantastic for Austrian football; for financial reasons as well for our club, of course."

For the last decade, FK Austria have been battling to protect the club's tradition, with sides from Salzburg -- one backed financially by Austrian energy drink Red Bull -- and Sturm Graz taking advantage of FK Vienna's gradual decline. The landscape of Austrian football has been very inconsistent over the last five years, with Rapid Vienna, the country's most decorated club, last winning the championship in 2008.

After financial problems in the 1990s, Austro-Canadian businessman Frank Stronach backed the club through Magna, of which he's now the honorary chairman, leading to Vienna selling their naming identity and marking the beginning of a new era: FK Austria Memphis Magna.

Stronach's support brought the 2003 Austrian title, their first championship in a decade, with regular spells in the UEFA Cup. An improved, coherent academy setup provided the right ingredients for the club long-term, but the downsizing began to show. Austria Vienna -- or now FK Austria Magna by 2006 -- fell way behind the free-spending Red Bull Salzburg, who have controversially dominated the Austrian Bundesliga in recent years.

But, with their old identity now regained, the budget sheets have looked in good shape. In 2012, FK Austria cashed in on talents, such as, Nacer Barazite -- ex-Arsenal -- Julian Baumgartliner and Zlatko Junuzovic for nearly £5 million; the latter two moving to the Bundesliga. The club's transfer policy and focus on signing the hidden gems in Austrian football has largely been a successful strategy.

Philipp Hosiner, who signed from Admira Wacker late in the summer 2012 window for £600,000 has been a shrewd move. The 24-year-old has settled to life at FK Austria comfortably, managing the step-up with relative ease. Hosiner struck 36 goals in 42 games last season, including 32 goals in the Austrian Bundesliga.

"For us last season, he was amazing," Holland, a tidy, defensive-midfielder, said. "He's a fantastic striker in-front of goal. Right-foot, left-foot, head: he's just got that eye for goal.

"The Austrian league might not be respected as other leagues, but to score 30 goals anywhere in Europe is a brilliant achievement. He's a clever striker and it's brilliant to have him around."

Hosiner held the role of central striker in Nenad Bljecia's 4-3-3 formation, flanked by Alexander Gordon, a home-grown talent with 10 goals and seven assists last season and Tomas Jun, a free transfer from Teplice.

Midfielder Alexander Grunwald, 24, created 10 goals and scored seven, arriving from Wiener Neustadt, as the link between midfield and attack, while attacking full-back Markus Suttner, 26, another home-grown player, contributed three goals and eight assists in his increasing forward duties. Not forgetting Holland, of course, whose smart use of the ball and defensive-qualities make him an invaluable shield to the back-four.

All were integral to Austria Vienna's 2-0 win in Zagreb: a measured performance with a stronger control of the game in the second half. Goals from Marin Leovac and Marko Stankovic hands the Austrian champions a big advantage ahead of the second leg in Vienna on Tuesday night.

"Tactically, we were fantastic." Holland said. "I think for a period of the first-half we were under pressure for a bit, but that was our own doing. After half-time, we performed well, defensively, and we could've even had one or two more at the other end. If someone had offered me 2-0 before the game, I'd have taken that."

FK Austria have come through some challenging times, wrestling for that identity we take for granted in modern football. If they can hold out for another 90 minutes, the historic club will better placed than ever before.