Happy homecoming offers Mourinho the chance to prove a point
For the moment, he would not like to be known as a Special One. He would prefer to be personified as a Happy One back in his "natural habitat."

"I know they love me," he trilled last Sunday after Stamford Bridge's stands had been wreathed in cooing messages of amorous intentions. Kisses were blown in both directions. The Shed End was full of beery grown men in blue with tears in their eyes, delighted to be reliving the glory days with the only manager they have ever truly loved.

• Delaney: Mourinho the main element in showdown
• Worrall: Chelsea set to test United's credentials
• Payne: Moyes after first blood vs. Chelsea, Mourinho
• Miller: Top Tenner: Jose Mourinho feuds
• Watch: Mourinho: Moyes in best moment

Such adoration has had a therapeutic effect. The knowing glint in Jose Mourinho's eye is revived. The thousand-yard-stared, greying and paunchy exhaustion of the final months at Real Madrid has been left on Spanish shores. The raconteur is rolling out his most popular act, tipping back his chair and charming his way back into the affections of an appreciative audience. It's good to be back.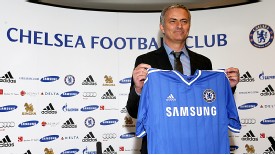 GettyImagesJose Mourinho is happy to be back at Chelsea.
He has been joshing with journalists and match officials, cuddling up to Steve Bruce and even extending a hand of friendship to Paul Lambert after an old-style touchline spat.

However, there are still scores to be settled, boils to be lanced. Old Trafford is an early chance to correct a slight on Mourinho's special sense of self-worth.

Mourinho has always personified himself as an adventurer, right from the time he took on a poisoned chalice at Benfica for an ill-fated spell in 2000. He took on the Chelsea project in 2004 when the club was football's new bandit force, suspected by the elite. Mourinho even succeeded in making the faded grandeur of Internazionale into European champions. Then he accepted the challenge of taking on Barcelona's best team of all time, wresting back La Liga's title to the Santiago Bernabeu and playing no small part in breaking Pep Guardiola's resolve to continue.

At times in Madrid, it seemed as if Mourinho was taking on the whole of Spain. He eventually found himself isolated, never insulated against the criticism that came his way on a daily basis. The factions and cliques that run the club eventually forced him out. It was the most significant blot on his career so far. Perhaps, after all the rage and rancour, he wanted to be able to feel secure, wanted and loved. Chelsea, of course, can offer him a friendly and indulgent smile, a comfortable chair and custard cream biscuits. Home, sweet home.

"I was still incomplete in my passion for this football adventure of going round and trying to win in other championships and trying to make myself better by going to other football countries," Mourinho said last week. "In this moment, I don't have that ambition. My ambition is to give everything I have to my club and the league I most like." The wanderlust is sated, Mourinho is at Chelsea to stay, he seems keen to suggest.

Except, except, that Chelsea was not actually his first choice. "It's my natural habitat," he flirted familiarly when his Real team had beaten Tottenham in the Champions League in 2011. "It's where I want to come." He was talking of the Premier League. This was a time when Carlo Ancelotti was on his last legs at Chelsea, and their players were briefing journalists that they hoped their former manager could return.

"I stay in Real Madrid next season, unless the press sacks me," he said that April night. He did not want to return to Chelsea. The magpie eyes were hungry for another prize. The fearless adventurer wanted to grasp the most stinging nettle of all -- succeeding Sir Alex Ferguson at Manchester United. As the Madrid mission came apart at the seams, Mourinho made eyes towards Manchester.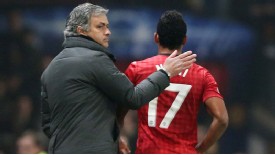 APMourinho consoles Nani as he is sent from the pitch at Old Trafford.
When his Real team won their Champions League last-16 tie in Manchester in March, Mourinho could not have made his intention clearer. When Nani was sent off amid controversy, Mourinho consoled Ferguson. Instead of making a celebratory run of joy down the sidelines when victory was secured, as he had with Porto in 2004, Mourinho made an early exit, applauding Old Trafford's fans as he went. "The best team … lost," he demurred in postmatch. Football's most ultra-competitive coach had suddenly metamorphosed into an even-handed Corinthian. Anyone might think he had an ulterior motive.

Yet the Special One was not Manchester United;s or Ferguson's chosen one. Despite the support of some high-level United officials for his candidacy, the charm offensive fell on unresponsive ears. A suspicion remained that he might be more trouble than he is worth. The antics and arguments in Madrid hardly helped his pitch, and then there was a reputation as a chequebook manager, who might not follow the club's traditions of blooding and trusting youth. The intensity of Mourinho's scorched-earth policy to achieving football glory can be an enemy to legacy and stability.

Instead, Ferguson played kingmaker to David Moyes before putting in a courtesy call to Mourinho to inform that he would not be offered the chance to succeed the elder Scot at Old Trafford.

Moyes has the job that Jose so wanted and did little to hide his interest in. Chelsea have since provided a convenient and welcoming home for him. The delight at being back at the Bridge is genuine enough; even Mourinho does not possess such a Lee Strasberg-like grasp of method acting to carry off such obvious enjoyment in his new/old lifestyle.

However, Manchester United have not strayed far from his thoughts. Journalists on Chelsea's summer tour to Asia noted a frequent inquisitiveness about how Moyes was getting on in his new job.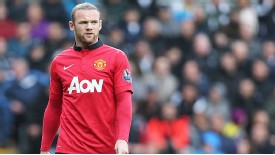 GettyImagesMourinho's chase of Wayne Rooney shows the Chelsea boss' "taste for making mischief."
And there is little coincidence that Chelsea's most public pursuit of a player came for Wayne Rooney; Mourinho's taste for making mischief has not deserted him. Even if Rooney does not join them, Chelsea have succeeded in unsettling one of United's leading men, the player most susceptible to drops in form and prone to distractions. A drop in United's dressing-room morale can be nothing but good for Chelsea.

"I think this period, by the ethical point of view, is a period where we're going to be quiet," Mourinho said last week about any potential further moves for Rooney, knowing full well that not closing the door jimmied open a continuing corridor of uncertainty. He also neglected to mention that his club were beginning the process of hijacking Spurs' deal for Willian, a Machiavellian move that had him openly chuckling with media by Friday.

United have been the opponent for many key moments in Mourinho's career, from that 2004 night his Porto team blew United from the Champions League, to the May evening the following year when his Chelsea team proved their primacy with a dominant 3-1 victory at Old Trafford. The year after that, a second successive Premier League title was claimed by destroying United at the Bridge in April. March's visit with Madrid was a night to prove credentials, to show that he could pay deference to United's traditions and behave himself.

Monday night now offers Mourinho an opportunity to show Manchester United what they could have had. The tone continues to be conciliatory to United and Moyes, but the intention of victory, of proving a point, could not be clearer.