Mourinho the main element in Old Trafford showdown
The question had an edge, but the response was blunt.

Halfway through a wide-ranging pregame news conference at Cobham on Friday, Jose Mourinho was asked whether he would ever sell one of his best players to a direct rival. The answer was without hesitation.

"Yes."

• Worrall: Chelsea set to test United's credentials
• Payne: Moyes after first blood vs. Chelsea, Mourinho
• Miller: Top Tenner: Jose Mourinho feuds
• Watch: Mourinho: Moyes in best moment

The subtext, of course, was Chelsea's pursuit of Wayne Rooney. Mourinho pointed to some of the players he'd sold over the years, as well as the various examples from Italy, where the likes of Andrea Pirlo can move around the three big clubs "without any kind of problem." When asked why it wasn't the same in England, the Chelsea manager said he didn't know.

In truth, United have already made it known why. In various off-the-record briefings to the media, the English champions have insisted that they have no intention of weakening their own position while strengthening that of a rival; they certainly do not want to make the same mistake Arsenal did in selling that very club Robin van Persie. It is as much about status as strength; perception as position.
Similarly, as much as the Rooney saga adds an extra narrative to this individual match between United and Chelsea on Monday, it is those wider issues it brings out that effectively underscore the broader dynamic between the two clubs at present. This is a game with latent tension, even this early in the season.

Because, while it would obviously be foolish to ever dismiss a squad as formidable as that possessed by the English champions or a manager as talented as David Moyes, it cannot be denied that a degree of uncertainty still pervades United. At present, they have yet to sign any of the marquee names -- or even any midfield additions at all -- that they made clear they need. It also remains to be seen whether Moyes can overcome the gaps in an otherwise excellent squad as effectively as Alex Ferguson.

This is by no means to say the new United boss is unsure of himself or that he will not end up a thoroughly superb manager of the club. It's just, right now, there remains that element of uncertainty that the sale of Rooney would only further tilt.

There is not a hint of it with Mourinho. For all his faults, it cannot be disputed that he is essentially the closest figure to a "sure thing" in football as you can get. The feeling remains that, had United appointed the Portuguese ahead of Moyes for this particularly big job, there would be none of this. The narrative would have transformed. Instead of still being about replacing Ferguson, it would have been almost exclusively about Mourinho.

As it stands, at least until Monday, Chelsea are benefiting from his assurance while United adjust to a new world.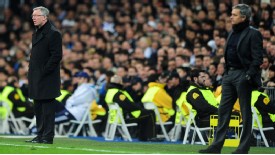 PA PhotosJose Mourinho will miss his "friend," Sir Alex Ferguson, when he arrives at Old Trafford.
Mourinho did get a little wistful when discussing what will be a completely new situation at Old Trafford on Monday without Ferguson.

"For me, the difference is the routine of meeting a friend, being together before the game, having the guarantee that, after the match, independent of the result, we are together again enjoying our time and having a laugh."

It was in one of those meetings, throughout the course of United's two-legged elimination to Real Madrid in last season's Champions League, that Mourinho claims he and Ferguson exchanged admissions about their futures.

"We kept so many secrets in between us in relation to players we wanted to sign, my opinion on players I want, his opinion on players," he said.

"The same way he told me that he was going to retire -- and I kept secret on that -- I also told him that I was coming in this direction -- not definitely, because I couldn't say. It was not done, and I had a contract with Madrid."

It is that "not definitely" which has left open an element of intrigue; whether there was any late prospect of Mourinho replacing Ferguson.

The Portuguese coach claims the thought of managing Manchester United did not cross his mind, not even when he stood on the touchline as coach of FC Porto in 2004 looking around the stadium.

"I never had those dreams. I'm focused on my club, I don't think about any other thing," he said.

"I was on the touchline, thinking how could I win this match."

There are wildly contradictory accounts of what happened in May, with those around Chelsea insisting he only ever wanted a return to the club he truly loves and those close to United maintaining that there was contact once Ferguson's retirement became public.

Whatever is actually true, the United board did discuss Mourinho. It is said that, while David Gill was supportive of an approach, many others felt a manager with a history of controversy would have been too difficult to contain without the outgoing chief executive.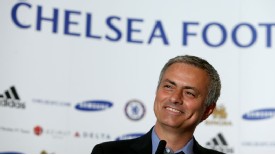 PA PhotosJose Mourinho "has been on his best behaviour" since returning to Chelsea.
So far, Mourinho has been on his best behaviour. His early news conferences have been relaxed and humorous affairs, and he went out of his way to praise Moyes on Friday.

"I think he did his job very well at Everton. That's why he's at Man United. You have to measure success in relation to the potential of the teams. David was successful at Everton. Now he knows he has to win trophies with Man United, but, as I was saying before, now he has the potential by the club, by the support and he's a good manager."

Just like in his early news conferences, though, such comments can be seen from another perspective. As well as pointing out Moyes' potential, he might have been indicating why the new United boss shouldn't possibly fail. Mourinho has done it before. Similarly, it will be revealing whether his demeanour will be the same after the first defeat. On Friday, there were a fair few indications of the old irascibility.

That was clearest when asked by a German journalist, ahead of next Friday's Super Cup, whether "the Bayern Munich of Pep Guardiola" are the best team in Europe.

"The team of Jupp Heynckes was the strongest team in Europe last year, for sure."

Mourinho also plainly revelled in revealing his club's hijacking of Willian from Spurs.

The Chelsea boss did play it straighter when asked whether he was only pursuing Rooney to further unsettle Moyes and United.

"I don't understand it. It's normal people want to strengthen our squad in every position. We did from the goalkeeper, we did it in midfield, we did it in creative positions. We didn't in the striker position, so I think it's basic and normal we want to give more quality to the whole structure. It's obvious the striker position is the position we will try to improve," he said.

"We are going to get the maximum of two players in this transfer window. So if we get the second piece, [it] will be the final piece."

When asked whether he was wasting his time with Rooney given United's stance, Mourinho was again flippant.

"Let's see. What do we lose? One email?"

The Chelsea boss went on to offer some insight on the entire issue of keeping unhappy players.

"But, many times, they are unhappy because they want new contracts, and, other times, they are unhappy because they want to leave and that's a different situation. And, sometimes, they are happy and the agents are unhappy. It's all about new contract, more money or 'I have one year, I want two' and they are happy again. Other times, it's because they really want to go. I was so sad about William Gallas."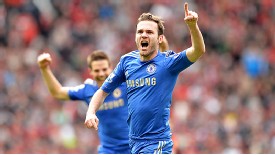 GettyImagesJose Mourinho has ruled out the sale of Juan Mata.
The French defender's departure from Stamford Bridge is a pointed example. Right at the very end of the 2006 window, Gallas was directly swapped for Ashley Cole. Given United's interest in Juan Mata, a similar deal might offer a mutually beneficial end to the Rooney saga. Not only would Chelsea solve their outstanding issue, Moyes would lose a potential negative influence while replacing him with a proper marquee name that enhances his team.

Except, when the prospect of selling one of his best players to a rival was raised, Mourinho was a little less sure of that earlier stance.

"We want more quality in the team. We don't want less quality," the Chelsea boss said. "So Juan is not a player we want to lose.

"[A swap] is you trying to imagine a scenario. The two answers we got from Manchester United is we don't accept the bid. That's the only official contact we had with Man United."

At the same time, it's not exactly cast-iron. The only thing that is certain is that it is another element that adds even more edge to Monday's game.